Call of Duty: Modern Warfare, the reboot, is a fantastic game to play. It has several impressive weapons and perks for the players, which can be used to your advantage. The MK2 Carbine is one such weapon that's available in the game, which is a great marksman rifle for experienced shooters. For a beginner, this weapon may not be that good compared to the other rifles. However, if you want to use it, then we've got the best MK2 Carbine loadout to make it an excellent marksman rifle. Read on to find out all about this loadout that you can create in Call of Duty: Modern Warfare.
Best MK2 Carbine loadout
When you use the following MK2 Carbine loadout in the game, you will find that the weapon becomes highly effective. You may also want to use perks to improve your chances against the enemies in the game. Do not confuse this weapon with a sniper, as this is a marksman rifle, and is much better. Sniper rifles aren't really a good choice in Call of Duty: Modern Warfare. There are plenty of attachments available in the game to improve the MK2 Carbine. However, you must be careful not to add attachments that may weigh your gun down or Let's find out how to be a gunsmith and create the best MK2 Carbine loadout. The following loadout will improve the weapon speed and its accuracy to help you get more kills.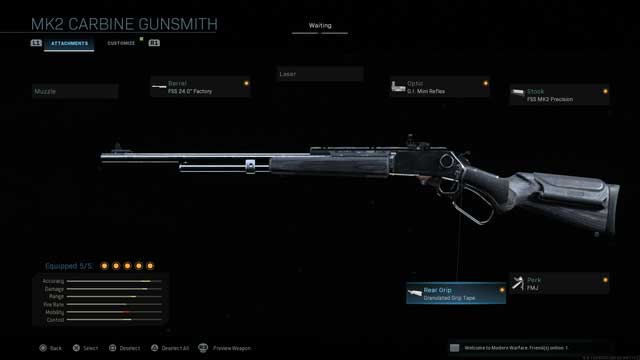 Barrel – FSS 24.0 Factory
This 24.0-inch barrel will extend the muzzle velocity and the range, but also slightly affect mobility. It improves the damage range, bullet velocity, and recoil control. However, Aim Down Sight speed and Movement speed will take a hit.
Laser – Tac Laser
You can use the Tac Laser to improve the accuracy of the weapon. The high power 5mW tactical green laser will improve Aim Down Sight Speed, Aiming stability, and the Aim of Walking steadiness. Unfortunately, the laser will also expose your position to the enemy.
Optic – Choice is yours
This depends on whether you want to use the MK2 Carbine as a marksman rifle and aren't comfortable with your aim. You can add any optic of your choice to improve your aim as well as gain magnification for easy target spotting.
Stock – Light Stock
The Light Stock will help you keep the weapon weight at a minimum, and this will improve the movement speed and recoil control. Experience players will find it easier to control this weapon with the Light Stock.
Rear Grip – Stippled Grip
The stippled pistol grip offers easy to control when you're taking down a group of enemies at a close range. It makes the MK2 Carbine very agile but may affect its stability based on your experience.
Stock – .458
This stock improves damage and the range, but the Fire Rate, Aiming Recoil Control, and the Magazine Ammo Capacity do take a hit.
Also Read: Fix: Warzone Download Failed Error Codes 47, 48, 38, and 6
Underbarrel – Vertical or Angled Foregrip
Once again, you can choose the underbarrel/foregrip of your liking as it will improve certain aspects of the weapon.
The above setup will improve the speed of the MK2 Carbine and turn it into a fast marksman rifle with good range and damage. Yes, there might be some impact on the accuracy, but if you're an experienced player, this shouldn't be a problem. We believe that this is the best MK2 Carbine loadout in Call of Duty: Modern Warfare. As mentioned in the beginning, if you don't want to use a sniper, then try out this weapon. The MK2 Carbine is a great gun if you know how to use it well, and this loadout will definitely help with that. If you've got any questions or suggestions, please use the comments section.