The meteor in Mortal Kombat 11 has been showing up in the game for quite some time now. However, although it is of some mystery, the meteor is no longer the best-kept secret as we're through multiple updates already and we still have the meteor in the game. But what if the meteor we're talking about serves some purpose in the game?
Just recently, the Mortal Kombat 11 community discovered that it summons a secret tower, which holds a secret fight within. In order to pick up this fight, you must first know the meteor code to summon the secret tower that hosts the fight. To get through the hurdle, just read our guide on Mortal Kombat 11 Meteor Code | How to Summon Secret Tower.
Mortal Kombat 11 Meteor Code | How to Summon Secret Tower
Before we get into the actual code to summon the Secret Tower, the first we need to look at is when the meteor appears in the game. In contrast, the meteor in the Mortal Kombat 11 Towers of Time appears within the time period of every two hours. For better understanding, here's the breakdown of a more specific timeline:
12:10 AM PT
2:10 AM PT
4:10 AM PT
6:10 AM PT
8:10 AM PT
10:10 AM PT
12:10 PM PT
2:10 PM PT
4:10 PM PT
6:10 PM PT
8:10 PM PT
10:10 PM PT
As we're through with that, let's look right at how to summon the secret tower in Mortal Kombat 11. In order to do this, you must first wait for the meteor to fly across the screen. You can keep track of the meteor's timeline by looking at its schedule given above. Once you see the meteor, quickly input the following code:
Up, left, up, left, right, left, up, up
After successfully inputting the above code, the game will return a popup message saying that a random tower platform is summoned. After you get this popup message, proceed by clicking OK and you'll find the new tower platform on the top right side of the screen. Inside, you'll find the summoned towers.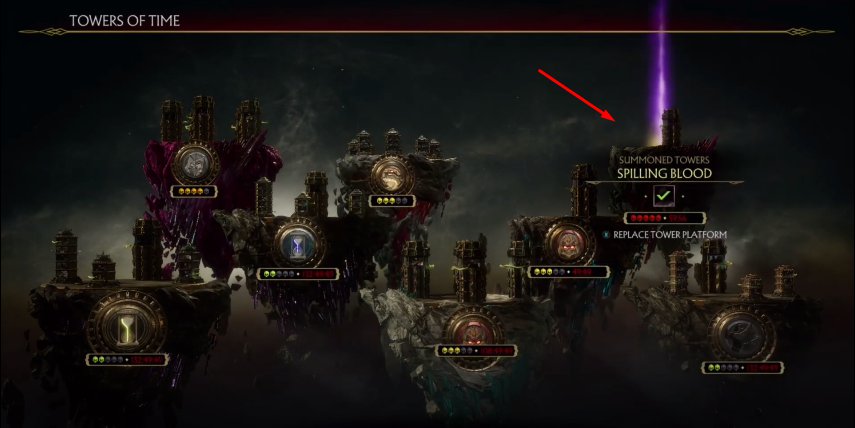 The fight you're getting into here is pretty expensive. However, you'll certainly get an equally satisfying reward if you come out successful. What we're talking about is a cost of 250,000 koins, 500 hearts, and 2,500 soul fragments. As for the rewards, we're looking at a Kombat League skin, level four Jinsei augment, and two random augments or cosmetic items.
Summing up our guide, we warn you that this fight will be pretty hard as the enemy will have health points of 3,000. In addition to this, the enemy will also use a lot of modifiers to take you down. Hence, be well prepared. That said, we hope reading the guide above has brought some valuable information and help to you.
Please let us know by commenting down below if you have any further queries regarding the same. Also, check out our iPhone Tips and Tricks, PC tips and tricks, and Android Tips and Tricks if you've got queries for it or want help. Thank you!