A new variant of Moto G6 phone joins the Google Project-Fi. This phone goes by the name of Moto G6 blush variant. Project-Fi official twitter handle declared the inclusion of this new Moto G6 Blush variant. The Moto G6 usually comes in black color which is available over Project-Fi. Motorola Moto G6 Blush variant's hue is similar to that of rose gold color we see in other devices.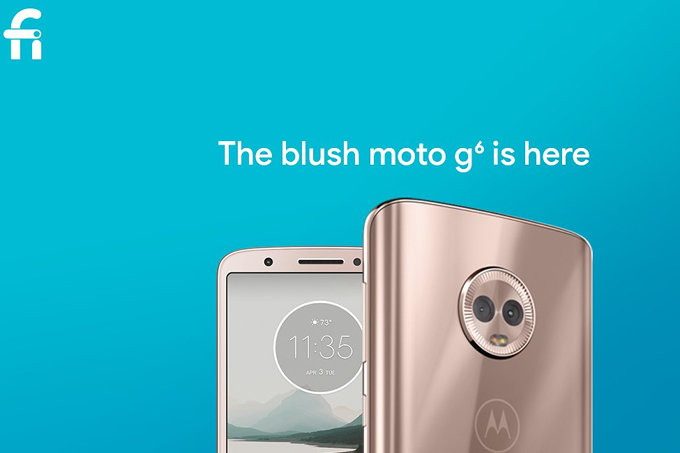 The Moto G6 is a mid-range device. It flaunts a large 5.7-inch edge-to-edge display with a 1080 X 2160 pixels resolution.  Moto G6 runs on 1.8GHz octa-core processor and comes with  3 GB of  RAM. It has a 32GB of expandable device storage. The Moto G6 camera section packs a 12-megapixel rear primary camera and an 8-megapixel selfie shooter.
Project Fi is a tele carrier network operator by Google. It aims to provide phone, messaging and data services.  The tele-carrier makes use of both Wi-Fi and cellular networks. Currently, it has tie-ups with Sprint, T-Mobile, U.S. Cellular, and Three. It was launched on April 22, 2015. This teleservice can automatically switch between networks depending on signal strength and speed. Connection to Wi-Fi hotspots is automatic. It encrypts data through an automatic VPN. Phone calls seamlessly move between Wi-Fi and phone networks. Project Fi covers more than 135 countries around the world.
So, now you have one more option to choose from two Moto G6 color variants if you are picky about colors. Moto G6 is definitely an efficient mid-range device now coming under the belt of Google project-Fi. There are cool offers and discounts available on Project-Fi. Buyers can take advantage of that and buy the new Moto G6 blush variant.