Rust is one of the most survival games out there. The game has witnessed immense popularity since launch owing to the fact that it is a pretty fun game to play out with your friends. The game is inspired by multiple games out there, such as  DayZ, Minecraft, and Stalker. The game is set in a post-apocalyptic island and pits players against the odds of nature, with their only goal being surviving through the hard times.
Rust's DLC pack Instruments, which was its first paid DLC pack, was launched back last year. The DLC added a number of musical instruments to the game. However, the instruments in the game were not your regular instruments. They had a lot of features, along with just playing the instrument. For instance, the standard note range could be bind to any key, and from there, players could also bind sharp and octave modifier keys. That's not all. You can also connect a MIDI device and play instruments in real-time if you are really interested!
To be able to get the musical instruments in the game, you need to first get the DLC. Once you have the DLC, crafting the musical instruments is pretty straightforward. Here are the recipes for all the instruments available in the game
Acoustic Guitar – 50 wood and 10 cloth
Canbourine – 25 metal fragments
Cowbell – 35 metal fragments
Junkyard Drum Kit – 100 metal fragments and 200 wood
Jerry Can Guitar – 50 metal fragments and 25 wood
Pan Flute – 20 metal fragments and 5 cloth
Plumber's Trumpet – 75 metal fragments
Sousaphone – 100 metal fragments
Shovel Bass – 75 metal fragments and 50 wood
Wheelbarrow Piano – 100 metal fragments and 200 wood
Xylobones – 50 bone fragments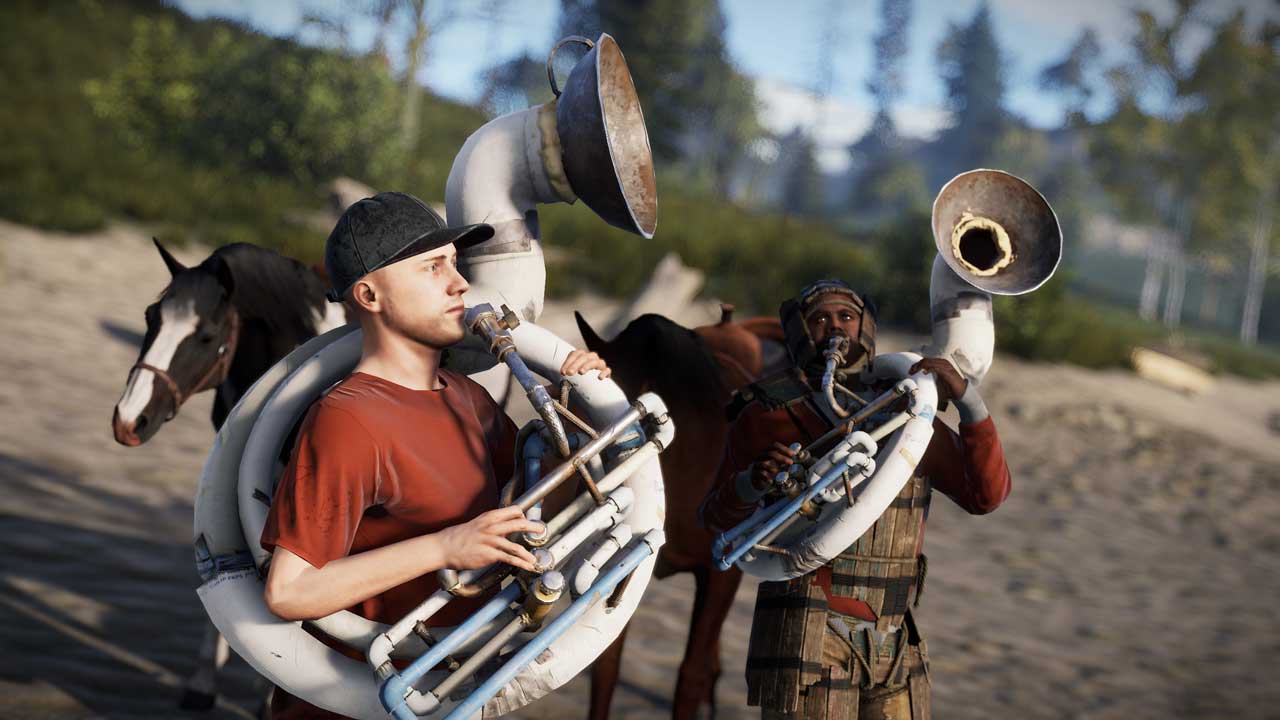 If you are an avid player of the game, you might have noticed that none of the materials required in the game are very hard to procure. While making sure you have enough of the materials can be time-consuming, if you are a regular player, it shouldn't take much of time overall. However, if you don't have time to do all the boring stuff of chopping trees and want to get the instruments right away, there is an easier way out there.
For this to work, you need to ensure two things. First, you should own the DLC. And secondly, you should find a guy who owns the DLC as well. The rest is pretty simple. If the guy owns an instrument you want, you can just ask him to trade it with you, and you will be able to use it just like a normal instrument. The second option is looting the instrument from the dead body of a person who is dead and has the instrument. However, do note one thing. If you can loot other's instruments, the same can come back to you, and your instrument can be looted as well. So make sure you keep it pretty safe else you will have to craft it all over again, which can get very tedious, to say the least.
That's all you need to know about how to get instruments in Rust. If you need any other help regarding Rust or any other game out there, do let us know in the comments section below, and we will be happy to help you out!