Borderlands 3 is an action-packed, first-person perspective shooter game, which is also a role-playing game. The game is available across all the major platforms that include macOS, Microsoft Windows, PlayStation, and Xbox. It is developed by 2k games. The game is the sequel to 2012 Borderlands 2. And after its release, this game is quite favorite among gamers due to its stunning visual effects and the strategic gameplay. Further talking about the marketing, this game sold 5 million copies on the first five days of its release. That makes this more exciting.
Now this game features multiple weapons and loadouts just like other games. But there is one such weapon that's the most sought out—the Legendary Mutant. Many of the users are becoming restless as they are unable to find this legendary weapon. If you are one of those, then give a pat on your back because you have landed in the perfect place. Today we are going to provide you with a detailed walkthrough with which you will be able to get your hands on the Legendary Mutant in Borderlands 3. So let's get going.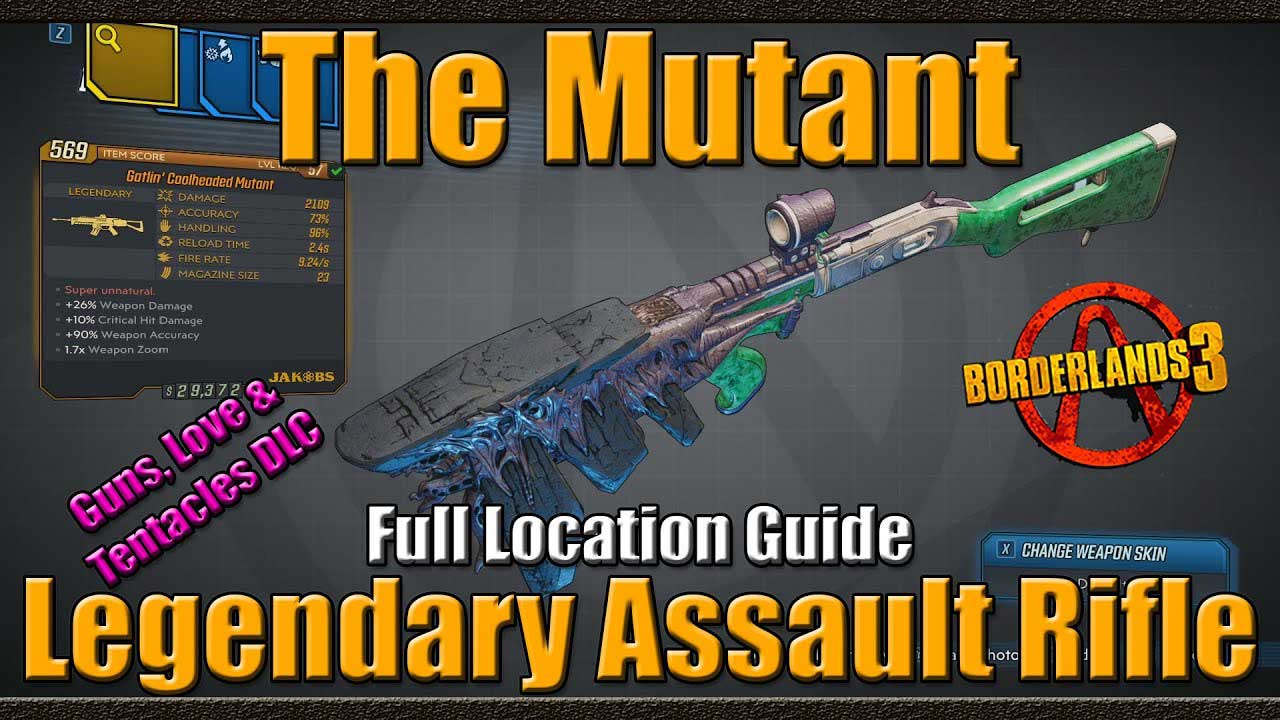 How to Get Mutant Legendary Assault Rifle?
Now we will discuss a detailed walkthrough with the help of which you will find the Mutant Legendary Assault Rifle.
First of all, follow the road to The Cankerwood, then after reaching there, you have to track the Wendigo. Once you get that, you will then get two different objects when you complete the assigned task. The first task is to kill Prime Wolven. Then you have to follow the way which guides you to a place where a lot of enemies are shooting you will have to kill them in order to reach the access door. Then after entering the access door, on the right side, you will see a chest. After going near the chest, a portal or gateway will open through which Frugal Gorger comes out. Now you have to fight and defeat Frugal Gorger. On defeating him, you see Frugal Gorger dropping the Mutant Legendary Assault Rifle.
This is the way to find yourself Mutant Legendary Assault Rifle.
Advantages of Mutant Legendary Assault Rifle
Mutant Legendary Assault Rifle is a great weapon that fires like a cannon, and it can be used to wipe hordes of enemies. Also, it is very beneficial in boss fights. Mutant Legendary Assault Rifle shots bullets with a laser, which is quite more powerful than your ordinary rifle. And its particular focus is on the weak points of the enemies. It can be termed as an all in one rifle. So it is the most sought after and sophisticated weapon in Borderlands 3.
We hope our guide has helped you. If you have any queries or feedback, feel free to comment down below with your name and E-mail ID. We will try to reach out to you as soon as possible. Likewise, check out our iPhone Tips and Tricks, PC tips and tricks, and Android Tips and Tricks for more such tips and tricks. Thank You.