Heart skips a beat when we hear some commotion about an iPhone. The hype gets even more intense when there is some actual information about the existence of the Apple smartphone. Well, there seems to be an upcoming iPhone which Apple is busy testing on Geekbench. This phone is being dubbed as iPhone 11 and it is apparently running latest iOS 12. Now this gives rise to lots of speculations.
Apple will most probably release 3 iPhones this fall. One of them is a budget iPhone of 6.1 inches whose 3D render recently made it to the news. There will also be an iPhone X second generation which may measure 5.8 inches as the original iPhone X of 2017. Finally, there will be a bigger iPhone measuring 6.5-inch which we speculate as iPhone X Plus or iPhone XI.
Now the latest geekbench spotting says about an iPhone 11. Now XI in Roman numerals means eleven. So, this may indicate about the presence of the super-size iPhone.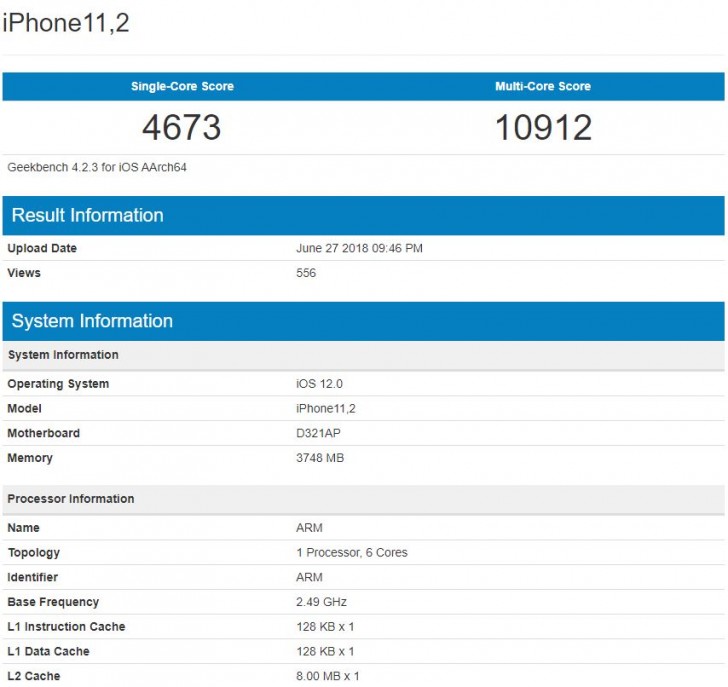 From the system information, we can make out that this upcoming iPhone will sport 4GB of RAM. Presence of iOS 12 also confirms that the device line-up this year may bring iOS 12 on-board.
A big thing about this year's iPhone is they will be somewhat cheaper than previous generations of devices. Also, it may actually bring support for fast charging with an 18 W USB charger. As Apple releases its phones in September events, so we do look forward to it.
There was also a rumor regarding iPhone SE 2nd generartion. That idea seems to have been scrapped. Apple is estimating that the new cheaper LCD version of iPhone(apparently we speculate it to be iPhone 9) will be the center of attraction for buyers.
New iPhones are coming soon. So, Apple fans, keep your eyes out for more such juicy info regarding these devices.