The MyPlayer Badge List in both NBA 2K20 and 2K21 is more or less identical. However, some badges have gained more importance in the latter because of unavoidable alterations to the gameplay. Of course, you still need to carefully select various badges in accordance with your player's build. But the difference is that many of the more significant ones can be helpful for all players.
There are four main categories featured in the game – Defense/Rebounding, Finishing, Playmaking, and Shooting. If you decide beforehand about the specialties of the player you are aiming to build, you can make out appropriate badges for them as well. You can then get on the sticks and start grinding for the choicest starting badges in NBA 2K21. Our latest guide here will help you do just that.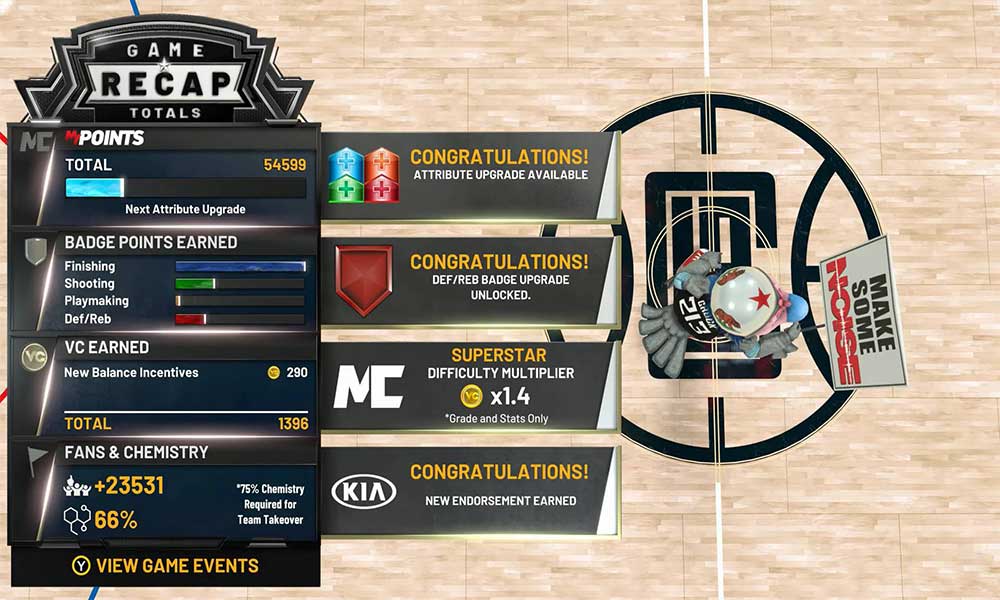 Best MyPlayer Badges to Unlock in NBA 2K21
Best Defensive/Rebounding Badges
Clamps – This will enhance your player's ability to maintain their position in front of the ball handler on the boundary. Defenders can execute faster cut-off moves and have a greater chance of succeeding when they hip ride or bump the ball handler.
Intimidator – This will frighten your opponents and lead to them missing shots more frequently, and thus be less successful at shooting. When you are closely guarding an opposing player, it will also enhance your shot defense ratings.
Lighting Reflexes – This will get an earlier cue on the Read and React system when you are operating in defensive mode. This will offer you the opportunity to read where the ball handler is heading in the Read and React system.
Rebound Chaser – This will enhance your player's ability to go after rebounds. It will also enhance their ability to cover longer distances during the same.
Tireless Defender – This will decrease the amount of energy depleted when you are in defensive mode. By virtue of this, your player will be able to defend more effectively by conserving their strength more than usual.
These badges are generally similar in the way they work, by allowing players to control the speed of the game without dominating over the ball. Rebound Chaser, in particular, is highly useful for supporting players who are helping their team keep the odds in their favor.
Best Finisher Badges
Acrobat – This will enhance your player's ability to achieve a high level of difficulty layups. By virtue of this, layup attempts like change shot, cradle, euro step, hop step, reverse, spin, and half-spin layup attempts will get a powerful boost.
Consistent Finisher – This decreases the penalty for abysmally released layups. This lets your player make layups more effectively.
Contact Finisher – This will enhance your player's ability to turn dunks and contact layups in traffic. Slashers playing below the rim will finish contact layups more effectively, and dunkers will perform more contact dunks.
Pick & Roller – This will boost the shot percentage as the roller in pick and roll. When you roll off the pick and roll, you will receive a shot boost if your dunk or layup attempt is made within a few seconds of catching the pass.
Relentless Finisher – This will decrease the effects of fatigue due to repeatedly finishing at the rim with contact. It will also enhance your player's ability to withstand extended contact by conserving energy when attacking the rim for contact shots.
These badges are useful for wings and slashing guards in particular.
Best Playmaking Badges
Floor General – By virtue of this, your teammates will get an extra offensive attribute on the floor when you participate in the game. At the Hall of Fame level, it allows you to see your teammates' potential shot percentages when in offensive mode.
Handles for Days – This decreases energy loss when you execute dribble moves. Your players will deplete lesser energy when they dribble consecutively. This will enable them to pull off combos faster and for lengthier durations of time.
Needle Threader – This will boost the chances of difficult passes to slip past the defense. Your player's passing ability will be boosted when they go for a pass through a narrow window between defenders.
Space Creator – This enhances your players' ability to create space from a defending player. You will have a better chance of creating separation from your opponent when you execute any stepback shot or move.
Unpluckable – This will make you less vulnerable to get stripped by the defender. Defenders will be hard-pressed to poke the ball free when trying to steal during dribble moves.
These badges are arguably the most vital in the game. For example, Handles for Days will help to reduce the effect of the new stamina meter, preventing you from pulling off the consecutive dribble moves one after the other. The other badges will aid you in retaining the ball when you run into an opponent.
Best Shooting Badges
Catch & Shoot – This will elevate the chances of your player pulling off a jump shot just after a catch. The receiving player's outside shooting attributes will be notably enhanced after receiving a pass, albeit briefly.
Deadeye – This will decrease the effect of a defender who is about to close out. Jump shots pulled off by such a defender will be penalized less from a shot contest. This applies to both 3PT and midrange shots.
Difficult Shots – This will enhance your player's ability to execute tough shots off the dribble. Higher difficulty jumpers like pull-ups, spins, hop steps, and stepbacks will get an elevated shot percentage.
Flexible Release – By virtue of this, your player will be penalized less for a mistimed jump shot released. Thus, they will be able to easily pull off knockdown attempts even when releasing early or late.
Pick & Popper – This will boost the shot percentage for any attempt taken off a pick and fade scenario. Shot attempts made after setting a screen are enhanced if the shot is executed a certain distance away from the rim, and not more than a few seconds after the setting of the screen.
Considering the removal of the Quick Draw feature, you can count on these badges to enhance your shooting side. Catch & Shoot will especially come in handy for scoring if you happen to be a wing.
That is it for now. We hope this guide helped you to understand all about these helpful badges in NBA 2K21. Check out our Windows Guides, Gaming Guides, Social Media Guides, iPhone, and Android Guides to find out more. However, if there are any queries or feedback, comment below with your name & email ID. We will try to reply soon. Moreover, subscribe to our YouTube Channel in order to watch awesome videos on gaming and smartphone tips and tricks. Thank you!