New update:
Today Nokia started rolling a new update for Nokia 6.2 with software version V1.170. The update is still running on the January 2020 patch and includes a changelog with system stability improvements and user interface enhancements. You can grab the download link below to flash the Nokia 6.2 to V1.170.
Though Nokia is delaying the Android 10 update for Nokia 6.2 and 7.2, it is still pushing the January 2020 security for both the devices. The latest security upgrade is still based on the older Android 9.0 Pie. Usually, when we talk of a timely software update, Nokia is always at the forefront. The Finnish OEM's devices deploy near-stock Android OS. So, every month it gets guaranteed security patches right in time. However, the routine somehow seems broken as the Nokia 6.2 and 7.2 are yet to receive the new Android 10 step-up.
Talking of the January 2020 security patch, Nokia 6.2 is receiving the V1.16A build. At the same time, Nokia 7.2 is receiving the monthly update with the V1.39A version number. Along with the Android security patch, the device duo is also getting some bug fixes. The current update should patch the mobile data related bug and presumably some other glitches as well.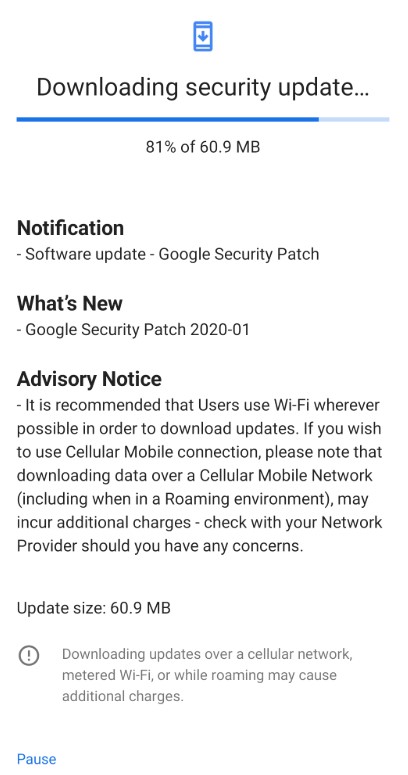 OTA updates may take some time to reach out to all the devices in various regions. Normally, OTA updates move gradually. In the meantime, users can check for the availability fo the new update on their own. To manually check for the OTA update, go to Settings >  System > Software Update.
Try to search for the newest update available for your respective device. If you get notified about the latest 16A or 39A build depending on your device, then use Wi-Fi and download the software update. Before installing the software, make sure to sufficiently charge the battery of your smartphones.
To make things easier for you, we also have put up the OTA firmware file for the build V1.16A and V1.39A.
Now, in case you are looking for a guide to install the above mentioned ROM zip files, then check out our guide on how to install stock ROM on any Nokia smartphone. The installation process is pretty simple. All you need to do is enter the device into stock recovery mode. Then apply the latest ROM build file via ADB. Follow the guide interlinked above and you should be good. However, make sure to download the ROM depending upon which region your device is in.
Fix the bugs with the January 2020 patch and keep your eyes out for the Android 10 update for Nokia 6.2 and Nokia 7.2.