Nokia is popular for its wide range of devices and extensive software support. Another important aspect of Nokia devices is its camera which is powered by ZEISS. It brings a lot of features which make use of the AI, and also it has a Pro-Mode. Lately The . Now, every Android users who use other android phones may want t experiment something new and different. To help them out, XDA developer Linux has ported out the Nokia Camera v91.9 for all Android devices out there. This Nokia Camera v91.9 pack Animoji and Pro Mode support.
In this post, we bring you the Nokia Camera v91.9 which comes with both support for Animoki and Pro Mode. Below you can find the APK download link. We have also briefly mentioned how you can install the APK on any Android device you use. According to the developer, if your Android device has Level 3 Camera2 API, then you will be able to run this ported Nokia Camera APK.
Features of Nokia Camera v91.9
Here are some the features the ported Nokia camera packs. It will be very well available on any Android device you want to use it.
Animoji
Pro Mode
Portrait Mode
Google Lens
Slow Motion
Timelapse
Panorama
Live Bokeh
Download Nokia Camera v91.9
Here is the download link for Nokia camera v91.9.
Nokia Camera v91.9 | Download [APK File]
How To Install Nokia Camera v91.9 On Any Android Device
The installation is pretty simple. You will install this APK as you install any other App on your smartphone. However, you have to remember a few points, that will tell you whether your device has those features to effectively run the Nokia Camera v91.9.
Pre-Requisites
The APK will run on devices running Android 8.0 Oreo and higher version.
Devices with ARM64 Architecture will support this Nokia Camera version 91.9.
Installing the APK
Step-1 Download the APK from the source above.
Step-2 As the APK comes from a third party, so you have to enable permission to install it on your device.
Step-3 Go to Settings > App & Notifications > Install Apps from Unknown Source> slide to enable the toggle.
Step-4 Now go to the directory where you have saved the APK file > Tap to install it.
That's it. now the Nokia Camera v91.9 is installed on your device. So, those of you want to try out a new camera app with cool features, then grab this ported Nokia APK now. Install and enjoy.
Download Nokia 7 Stock Camera APK
To enjoy the Lumia Pro Mode feature on your Nokia devices, here is the APK to download the unreleased stock camera APK.
Unreleased Nokia 7 Stock Camera App With Lumia Pro Mode [APK Download]
You have to install it as any regular APK you install. Your device might block the APK as it is from unknown third party source. So, enable the "Allow Applications From Unknown source" option. To do it go to the device Settings > Apps and Notifications > Allow Apps from unknown sources.
Here is how the interface of Nokia's Lumia Pro Mode looks.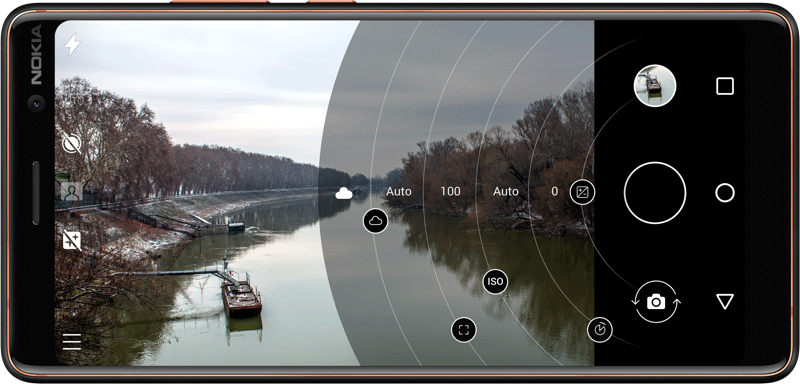 You May Also Like,
So, try out the APK on your Nokia smartphones and share with us how is the camera performance with the Lumia Pro Mode.