After its integration with HMD Global, Nokia has managed to carve a niche for itself in the smartphone world. Nokia brings high-end hardware combined with seamless software support in all of its devices. In fact, Nokia is very punctual in providing efficient monthly updates and system upgrades. The Finnish OEM rolled out the Android 9.0 Pie last year around this time to its Nokia 7 Plus flagship. So, enthusiasts must be eager to know Nokia's plan for 2019 Android 10 rollout. Let us break it to you that Nokia 8.1 will be the first device to receive the Android 10.
Watch The Video on What's new on Android 10
The Nokia 8.1 Android 10 update will roll by September 2019 itself. There is no rocket science to this. Nokia 8.1 is the only Nokia phone which participated in the Android 10 developer preview testing. So, naturally, it will get the system update first. HMD Global confirms this fact with a statement on the official website. On the other hand, Nokia 8.1 has already received the September 2019 security patch update.
Here is Nokia's neat little roadmap for Android 10.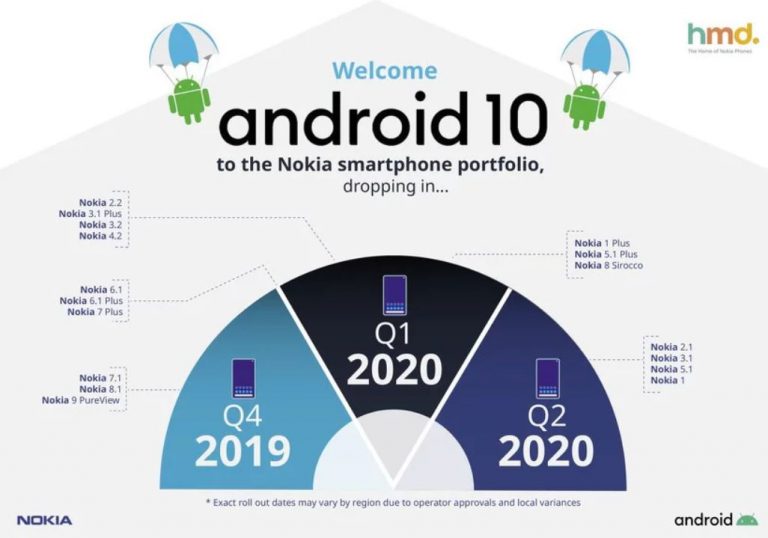 You can see the Q4 2019 will see Android 10 update for Nokia 8.1, Nokia 7.1 and Nokia 9 PureView. Then in the Q1 and Q2 of 2020, various other mid-range and lower mid-range Nokia devices will step up to the 10th generation of the Android OS. Basically, the OEM is providing the Android 10 for flagships first. Then other models will follow up.
So, in case you are sporting a Nokia 8.1, you have to fulfill two conditions to be able to receive an Android 10 system update. Your phone should run on stock Android 9.0 Pie. Otherwise, it should run Android 10 developer preview builds. The device should be on v4.070 or v5.070 Android 10 beta software.
We are very sure that like every time the process of software rollout will be smooth for Nokia. The roadmap itself is so interesting. Nokia has a plethora of Android devices in all ranges. Almost, all of them are getting the Android 10 update.
So, Nokia 8.1 users.! get ready for the Android 10. Nokia 7.1 and Pureview users keep your fingers crossed. You are next in the line for Android OS 10.