It seems that the device we were speculating as Nubia Z18s, is actually the Nubia X. This is a unique entry in the smartphone market and is first of its kind. It is a dual-screen smartphone. A few weeks ago Nubia X marked its appearance on Master Lu benchmarking website. A teaser poster of this device is now out officially. Also, the Nubia X Release Date Reveals in the poster. It will release on 31st October. This poster was shared by Ni Fei, the CEO of Nubia on a Chinese website.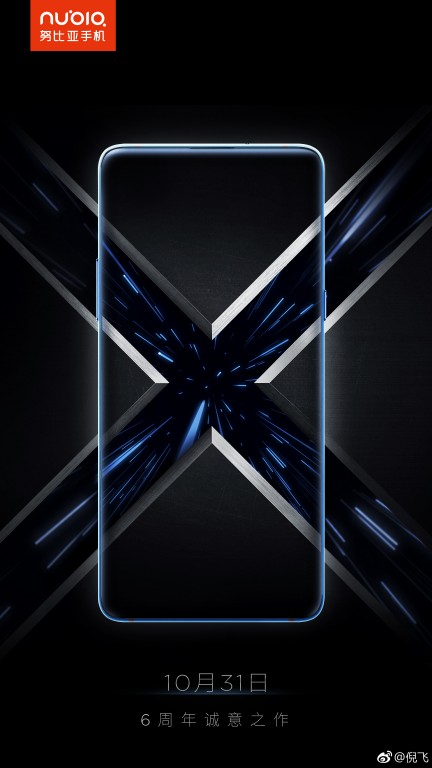 As you may see, the Nubia X has no notch on the display. Coming to the dual screen scenario, in the device, you will have a 6.26 inch LCD display of 1,080 X 2,280-pixel resolution. There is another screen on the rear which measures 5.1-inches OLED display of 720 X 1,520-pixel resolution. Nubia X will pack another unique feature which is the dual fingerprint sensors on the sides. There will be no selfie shooter. However, there will be the dual camera on the rear with 16 + 24 MP lens. It will support EIS, OS, and PDAF.
We already know from Master Lu listing that Nubia X will pack a RAM of 8GB with Snapdragon 845 chipset. It will run Android 8.1 Oreo with Nubia UI 6.0. Adreno 630 GPU will handle the graphics section. It will have 3800 mAh battery with support for the Quick charge. We still have 2 weeks left for the release. In the meantime, we hope to get some info on its price tag and some live images. The device is a flagship entry and looks promising. The naming is however pretty conventional. What's your take on this..? Share your views on the dual screen Nubia X.