And finally, Verizon started rolling out the Android 8.0 Oreo update for Moto Z and Moto Z Force Droid. The update is given as an over the air or OTA update. Users have already started receiving the OTA update notifications on their Verizon Moto Z and Moto Z Force Droid. All the users are expected to receive the notification very soon. The update brings the software version to OCL27.76-69-4. Currently, the update is available only via OTA and we will soon update the post with the download link to manually install OCL27.76-69-4 Android Oreo for Verizon Moto Z and Moto Z Force Droid.
The new rolling out is reported to be a fully-fledged and stable one. This article will explain everything you need to know about the Verizon Moto Z and Moto Z Force Droid Oreo update.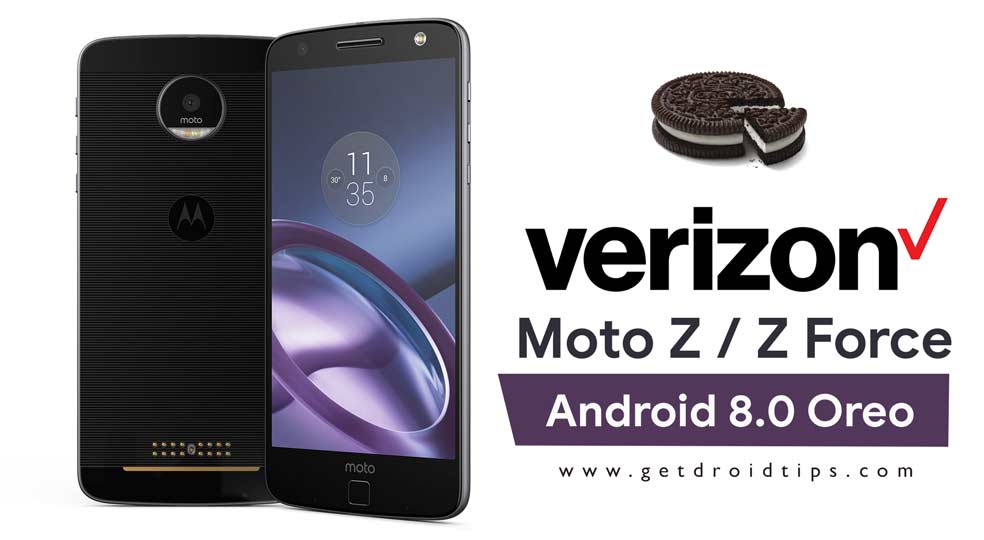 Everything about the Verizon Moto Z and Moto Z Force Droid Oreo update – OCL27.76-69-4
Coming out with the version number OCL27.76-69-4 the Android Oreo update for Moto Z and Moto Z Force Droid has many noticeable additions. The most common of these are notification badges, new emoji designs, change in the call screen, the picture in picture mode, a smart text selection and a lot more. In addition to the entire added feature, the new May 2018 security patch from Android will also be included in the update.
Here is the feature what comes in Android 8.0 Oreo. Let us recap about Android Oreo: 
Android 8.0 Oreo is the latest and 8th major version of the Android mobile operating system after the release of Android Nougat. The latest features of Android Oreo includes New app notifications, notification dots on app icons, picture-in-picture mode, Android Instant App compatibility, Auto-fill (like on Chrome), Better copy and paste, Faster Android behind the scenes, Better battery life with more advanced Doze mode, and much more. With Android Oreo, you will see the new UI improvements along with redesigned settings menu.
Picture In A Picture – Videos will switch to smaller, minimized versions when you navigate to other apps. This feature is similar to what a YouTube video does in the YouTube mobile app when you drag it to the corner.
Multi-Display Support – This feature would provide you with the ability to launch an activity, say, Chrome, on a remote display like your HDTV or PC display. The potential applications for this feature are endless.
Background Limits – This feature will let you set a limit to what an app can do while it's operating in the background. You can use this to conserve power and in turn get more battery life.
New Wi-Fi Features – This new Android version would include more Wi-Fi features like Neighborhood Aware Networking (NAN), which makes it easy for devices to connect with one another without an internet access point or internet access at all.
Notifications Channels – This feature provides the ability to group notifications from numerous apps into one channel. This means you can group notifications for certain apps together and make it easier for the management of notifications.
AutoFill: Autofill is Google's own password manager, which will securely stores that information in a database in its cloud. This password manager will automatically fill the username and password whenever you open your desired application with login credentials.
[su_note note_color="#fbfae1″ text_color="#000000″]Important Note: It is recommended that the official OTA update has to be done, which will arrive in the next few days. And also make sure to backup the important data is taken to avoid loss of it due to a failure. And a minimum of 50% battery life is necessary for the update process. Many other Motorola device will also be getting the update soon, please stay tuned to us to never miss out on news.[/su_note]
How to manually Check The OTA Update on Moto Z and Moto Z Force Droid?
If you have not received the OTA update with build number OCL27.76-69-4 then you can manually check for the OTA update by following the simple instructions given here. To manually check for the OTA, Go to Settings –> About Phone–> System updates to see if you have an Over-The-Air update. If your phone has received the latest OTA update, then tap YES, IM IN and select Wi-Fi or Mobile network to download. Once the download is done, tap on INSTALL button to start updating your Verizon Moto Z and Moto Z Force Droid with OCL27.76-69-4.
Download Full OTA Update OCL27.76-69-4
Link Expired. New will come out soon.
Steps to Install OTA update on Verizon Moto Z and Moto Z Force Droid:
Before downloading and installing the firmware, make sure to follow the given important notes. Also, install the Motorola USB drivers on your pc.
Note: