The beauty of Android lies in the fact that no device is never left out from the scene just because it did not receive the latest system update. With that said, Android's open-source nature has always made it possible for ROMs to be ported and made available on any device unofficially. This happens when a phone does not get a system update officially. Same is the case with Samsung Galaxy J7 Prime. In this guide, we bring you the One UI based Android Pie Ported ROM for Galaxy J7 Prime.
Yes, you heard it right. Recently Samsung successfully rolled out the all-new Android Pie update for its newer flagships such as the Galaxy S9 Plus, Galaxy Note 9, etc. However, the older flagship Galaxy J7 Prime were obviously left out as they had been in the scene for over three years now. So, as the rule of thumb goes we see that a device receives major system upgrades within two years of its release. Already a lot of previous years flagship were on the line to receive the Pie system update. Not to mention the upcoming mid-range phones are also in the line to taste the Pie.
Amidst all this, an older device tends to be ignored by the OEM even though the device is working and used by many. This is where unofficial developers break-into the scene and ported the OneUI Android Pie for both Galaxy J7 Prime. This ported ROM goes by the name PrometheusOneUI. This ROM port is possible due to XDA developer Kill-Switch. So, kudos to his work.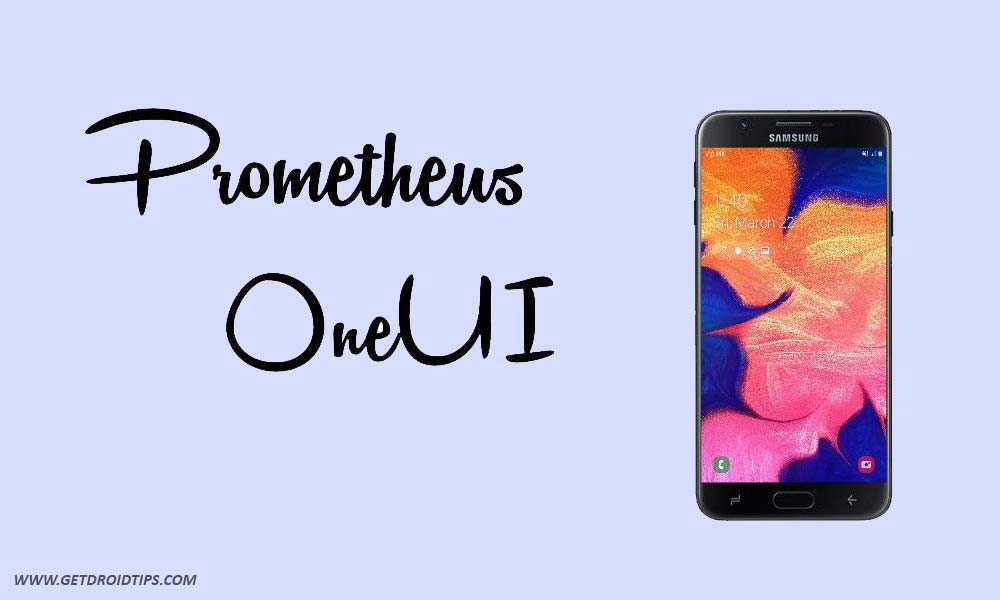 Well, the PrometheusOneUI Android Pie ported ROM for Galaxy J7 Prime is in its beta phase. According to the developer, there are a few issues which you face after you install the ROM. However, these are not serious though. You have to manually turn on the Wi-Fi after each reboot. Also, you cannot enable Bluetooth if Wi-Fi is running. So, first, enable Bluetooth and then go for the Wi-Fi.
We have shared the ROM download link below along with basic installation guide. That should help you out. The installation process requires you to flash the ROM via TWRP. It will be a clean flash which means you have to wipe your device data. We have detailed the whole process out, so do check it out.
Features and Bugs of PrometheusOneUI:
Fully ported A600N/A105FN ROM
Android 9.0
Samsung OneUI V1.1
Semi-Deodexed
Full international Languages added to A600N base
Full DualSIM Support
SafteyNet CTS Pass
Heavily debloated
Zipaligned
Very Optimised
Battery and performance focused
Full Samsung OneUI without missing vital apps
Rootable with Magisk
RMM/KnoxGuard/Defex Free
And many more
Extra Features :-
All the original features are present (Wifi,Bluetooth etc)
A10 Wallpapers + Multi Wallpaper sets
BixbyVision
Latest Camera UI
DolbyAtmos With DualSpeaker mods
Adjusted the framework for 16:9 Aspect ratio (instead of buggy 18.5:9)
DE-Knoxed and disabled Additoinal samsung root preventions and secuirty spams
Note 8 modded OMC with Additional Features
VoLTE Support for INS users and countries that use it
Uptodate APN Configration
Added navbar selection (Aroma)
Heavly Debloated with a BLOAT add-ons (Aroma)
Added exclusive samsung apps (Aroma)
Dualsound and BoostedAudio configs (Aroma)
1700+ Fonts MOD (Aroma)
IOS 12 / Android Pie Emojis (Aroma)
GoodLock 2019 Suite (Aroma)
AdAway (Aroma)
BixbyHome And Bixby Routines
Full Pie YUVA Suite (SecureWifi, AppLock, Call Blocker and so on)
Native Screen Videorecorder
Native Call recorder
Many prop tweaks
Many feature tweaks
And many more additions from My previous ROMs
Check the changelogs for the FULL feature set
Manual VPN might not work. Use OpenVPN instead
FM Radio
Samsung FaceUnlock (Unfixable Due to conflicts with fingerprint)
Might have some Pie BETA bugs that we didnt find
Download OneUI based Android Pie Ported ROM for Galaxy J7 Prime
Here is the download link for the PrometheusOneUI Android Pie ported ROM for Galaxy J7 Prime.
You May Also Like,
How to Install the ROM
Before beginning to install the ported ROM, you have to keep some guidelines in the mind. Check out the section below to understand better.
This ported ROM is exclusive for Galaxy J7 Prime. Don't use it on other devices.
Make sure to have around 50 to 70% charge on your device
Take a backup of your device data before installing the ROM
Do not restore Apps through any backup sources. Instead, download/install from Play Store.
GetDroidTips will not be responsible for bricked devices or hardware/software related issues happening due to third-party ROMs. Install the ROM at your own risk.
Installation Guide
Step-1 Download the ROM Zip file
Step-2 Copy the ROM to device storage such as External SD card.
Step-3 Switch off your device > Press Vol Up + Power button to enter TWRP Recovery
Step-4 Now from the TWRP Menu perform the Internal memory, system, data, dalvik, cache Wipe.
Step-5 Agan from the TWRP Menu tap on Install.
Step-6 Browse and select the ROM zip file from the folder on your device.
Step-7 Swipe to confirm and install the ported ROM.
Now, after the ROM installation completes your device will reboot. That will take a couple of minutes. so, have some patience while it happens.
Congrats..! Now you have successfully installed Android Pie ported ROM for Galaxy J7 Prime. Enjoy the Pie treat. We hope that this guide was useful to you.
Source: XDA