The ongoing COVID-19 global crisis has resulted in a toll on everybody's life and work. Now that the majority of people are forced to work from home (remotely), they are required to be available on various apps for their meetings and other official work. One such instance is Google Meet which is, as the name suggests, Google's app and integrates itself well with the Google ecosystem. This enabled the app to get a huge response with millions of users using it daily.
However, not everything is fine for some OnePlus users. Reportedly, users have experienced Google Meet crash issue with OnePlus 7, OnePlus 7T, OnePlus 6T, and OnePlus 6 launches it. This has resulted in a slew of complaints on OnePlus Community forum among other places according to which, users with OnePlus 6/6T and 7/7T can use the Google Meet app when they try to enter the Work Profile.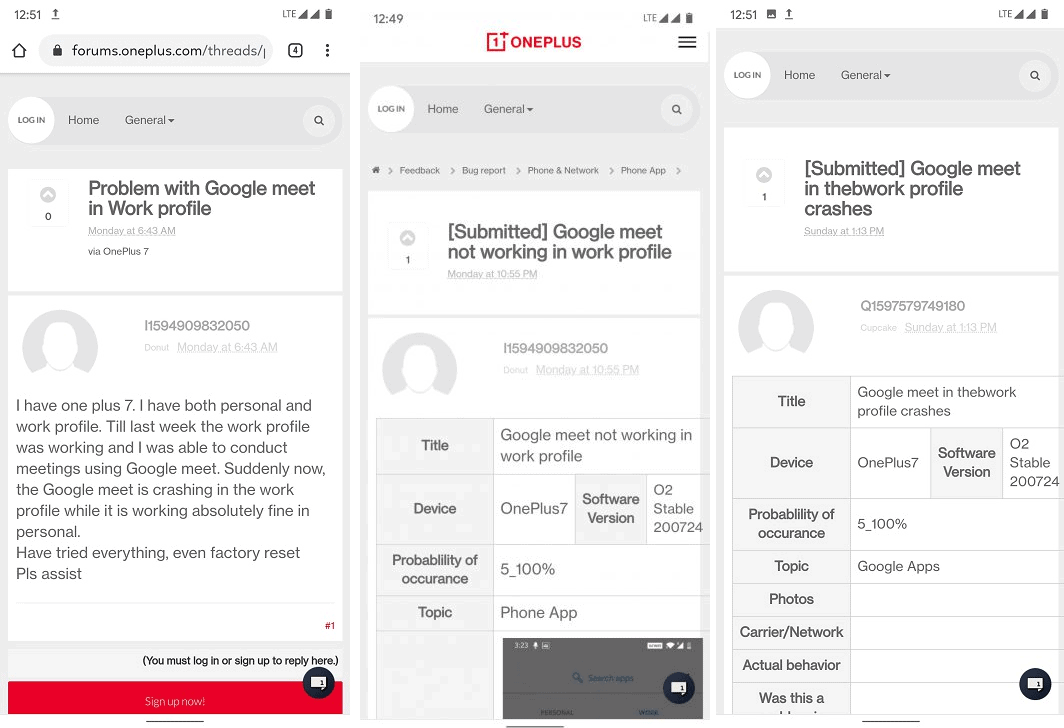 According to the various users, when they tried entering Work Profile, the app crashed with a warning prompting users to force close the app. This behavior is limited to the Work Profile of the app since the Personal Profile is working fine as usual. We went through the OnePlus Community and there are numerous complaints and reports from exasperated users as they cannot access the Work profile. One such report states that the app crashes abruptly when trying to enter a meeting or a scheduled meeting for that matter.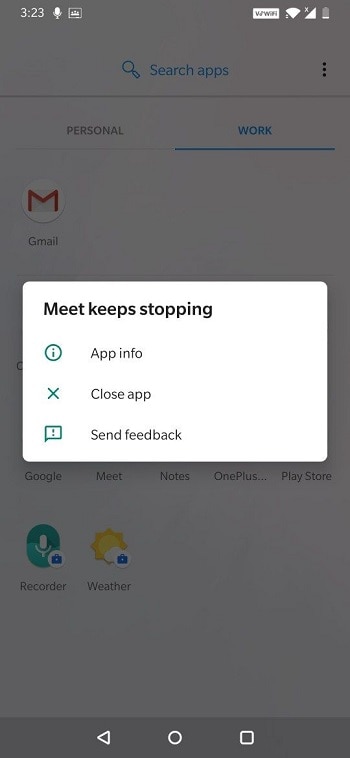 Another report states that the problem isn't with all the devices but these four devices are especially facing this abrupt Google Meet crash issue. Possible troubleshooting methods include clearing the cache and data, reinstalling the app, restarting the phone, or even resetting the device although some have found that the issue still exists. This could be a server-side issue from Google. Another user claimed that the problem commenced on his OnePlus 7T when upgraded to OxygenOS 10.3.4 hinting at a possible bug in the firmware.
We cannot confirm what caused the issue and when it will be fixed since OnePlus hasn't acknowledged it yet. This has let to countless reports on both Google and OnePlus Community since these are the two parties involved.
Check out this blog at GetDroidTips as will update you once there's progress in the story.