In this tutorial, we will show you how to install the AOSP Android 11 on OnePlus 6 (codenamed enchilada). Recently, Google released its latest stable Android 11 for the general public. And with that, many OEMs were quick to adopt the same. First in the line were the Pixel devices, which were anyways along the expected lines. Later Google released the AOSP source code for Android 11 which is undoubtedly the main ingredient to compile Android 11-based custom ROMs.
Android 11 and It's Features
Well, Android 11, Google's 11th iteration looks similar to Android 10 but with a handful of new features and changes. The update brings notification history, Chat bubbles, Conversation notifications, screen recorder, new media controls, smart device controls, one-time permission, improved dark theme with the scheduling system, app suggestions, wireless android auto, and many more. For more, check out our article Android 11 supported list, Android 11 Custom ROM list, best Android 11 features, and many more.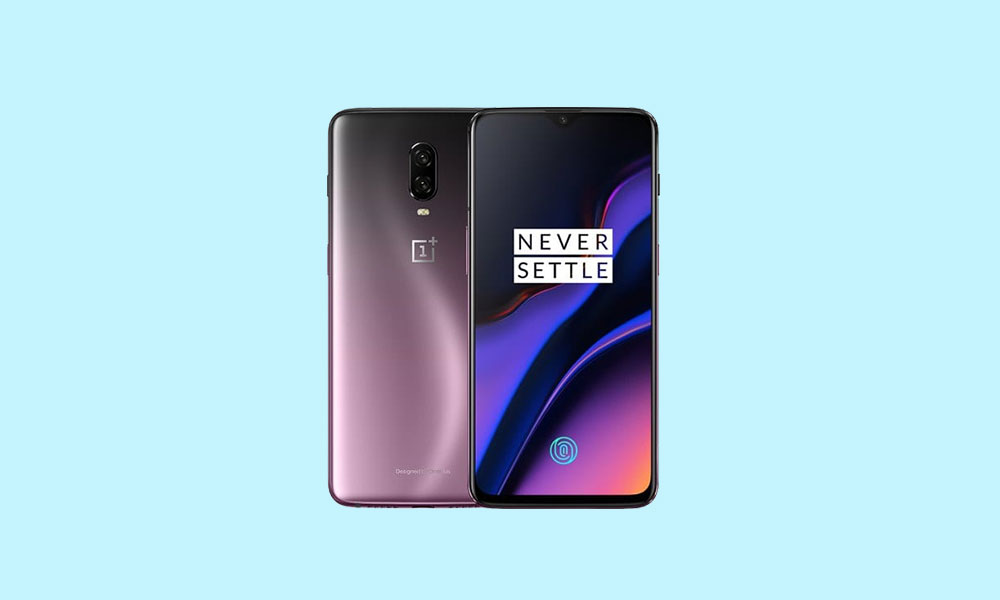 How to Install AOSP Android 11 on OnePlus 6
With such a long list of goodies to offer, no doubt you will want to try out the AOSP Android 11 on OnePlus 6 (enchilada). But before we list out the installation steps, please go through the prerequisites section. Make sure your device meets all the mentioned requirements. After this, go through the working features and the list of known issues present in this ROM. Once you have gone through all the requirements section, you may then proceed with the installation steps.
Prerequisites
Tested only on OnePlus 6 (enchilada)
First and foremost, create a complete device backup.
Next time, enable USB Debugging on your OnePlus 6. This will make your device recognizable by your PC in ADB mode. So head over to Settings > About Phone > Tap on Build Number 7 times > Go back to Settings > System > Advanced > Developer Options > Enable USB Debugging.

Your device also needs to have the bootloader unlocked. If you haven't done so, then refer to our detailed guide on How To Unlock Bootloader On OnePlus 6 [Official Method].
Next up, you will also need to install the TWRP Recovery on your device. This will be needed to flash the AOSP Android 11 on your OnePlus 6. You could refer to our comprehensive tutorial on how to Install TWRP Recovery For OnePlus 6.
What's Working?
Boots
RIL (Calls, SMS, Data)
Fingerprint
Wi-Fi
Bluetooth
Camera
Camcorder
Video Playback
Audio
Sensors
Flash
LED
Volte
VoWiFi
Known Issues
DeviceSettings is not added yet, alert slider won't work
Permissive, if you consider it as bug :P
Front cam crashes rarely in stock cam, fine in third party apps
GPS
Download AOSP Android 11
Before you download the firmware file, there is a pretty important worth mentioning. You should only use the proper vendor and firmware of your device of stable ROM. On that note, we would like to thank XDA Member Lucchetto00 for this ROM.
Once you have downloaded the above files, transfer it to your device. Then proceed with the below steps to install AOSP Android 11 on your OnePlus 6 (enchilada) device.
Warning
Before we begin with this procedure, I would strongly recommend you to create a backup of your device storage and all your files stored on your device. Moreover, it is advised to follow the steps mentioned in this post very carefully to avoid permanent damage or to brick your device. If anything goes wrong the author or GetDroidTips is not responsible for it.
Install AOSP Android 11 on OnePlus 6 (enchilada)
Connect your device to PC via USB cable. Make sure USB Debugging is enabled.
Then head over to the platform-tools folder, type in CMD in the address bar, and hit Enter. This will launch the Command Prompt.

Execute the below command in the CMD window to boot your device to TWRP Recovery:

adb reboot recovery

Now head over to the wipe section and format system, data, and cache. Perform a right swipe to complete the format.

TWRP Home

Its now time to flash the AOSP Android 11 ROM onto your OnePlus 6. For that, head over to Install, select the AOSP ROM ZIP file and perform a right swipe to install the file.
If you want Google Apps as well, then you need to flash it at this instance itself. Go to Install, select the GApps ZIP file, and perform a right swipe to flash this file.
When that is done, you may reboot your device. Head over to Reboot and select System.

Your device will now boot to the newly installed OS. With this, we conclude the guide on how to install the AOSP Android 11 on OnePlus 6. Do keep in mind that the first boot might take up some time and you might have to set up your device from scratch.
Official Update News:
Android 11 update has become one of the hot topics of the recent past. Ever since Google, pushed the Developer Preview of the Android 11 update for the developers, users are pretty excited to know whether their smartphones will be getting the update or not. The fact of the matter is that Android 10 is still to rolled out to the majority of the devices before every OEM can call it 100% complete. Slowly but steadily, the smartphone brands are rolling out the Android 10 updates for their devices.
But, the Android 10 OS is now over 6 months old and it is about time when OEMs should start working on the next iteration of the Android 11 for their smartphones. Moreover, heavy skinned OEMs like Samsung, Xiaomi, Realme, etc. have to gear up for the development of their new custom UI. Amidst this, users of OnePlus 6 and 6T, that runs almost stock UI, are asking questions, whether their phones are eligible to get Android 11 update or not. Notably, OnePlus 6 and 6T are now officially running the Android 10 operating system.
And if we go by the default update cycle of any major smartphone brand to update their phones, all devices are eligible to get 2 major OS updates. Since, the OnePlus 6 and 6T came were launched back in 2018 with Android Oreo out of the box, they have already grabbed two major updates in the form of Android 9 Pie and Android 10. But, OnePlus has promised to deliver 2 years of software updates from the date of launch and 1 year more for security updates. This means that by the completion of 2 years, which is 2020, both the units should ideally get updated to Android 11.

But, this depends on OnePlus on how they define the "2 Year software update" promise because as we have already mentioned, the OnePlus 6 and 6T have already received their two major OS updates. But technically speaking they are still eligible to receive Android 11, as that would mark the completion of two years for the devices. One important point to note is that OnePlus 5/5T Chinese variants have grabbed the Android 10 update, which makes three updates for the device. So, all in all, we can expect the Android 11 update to arrive on the OnePlus 6 and 6T, but at a much later stage when all the latest phones are upgraded with it.
Furthermore, once you have installed the ROM, do share your opinions about the same in the comments section. Rounding off, here are some iPhone Tips and Tricks, PC tips and tricks, and Android Tips and Trick that you should check out as well.