Updated on March 05, 2020: The Chinese OEM OnePlus is very much popular in terms of manufacturing affordable flagship series devices and faster software updates to its devices for at least two years or so. Last year, OnePlus has released its OnePlus 7 series models and OnePlus 7 Pro 5G variant is one of them. Currently, the company has started pushing the OxygenOS 10 for the OnePlus 7 Pro 5G unit in Europe. You can easily download and install OnePlus 7 Pro 5G Android 10 update from this article. Check it out.
Keep in mind that OnePlus is rolling out the latest firmware update in a phased manner via OTA and it will take a couple of days or more to arrive on all the units completely. OnePlus has included a lot of improvements and features like new UI design, privacy improvements, gestures, game space, etc in this update along with the much-awaited Android 10 version. It brings the new software version V10.0.4 that weighs around 2.1GB in size for the European OnePlus 7 Pro 5G variant.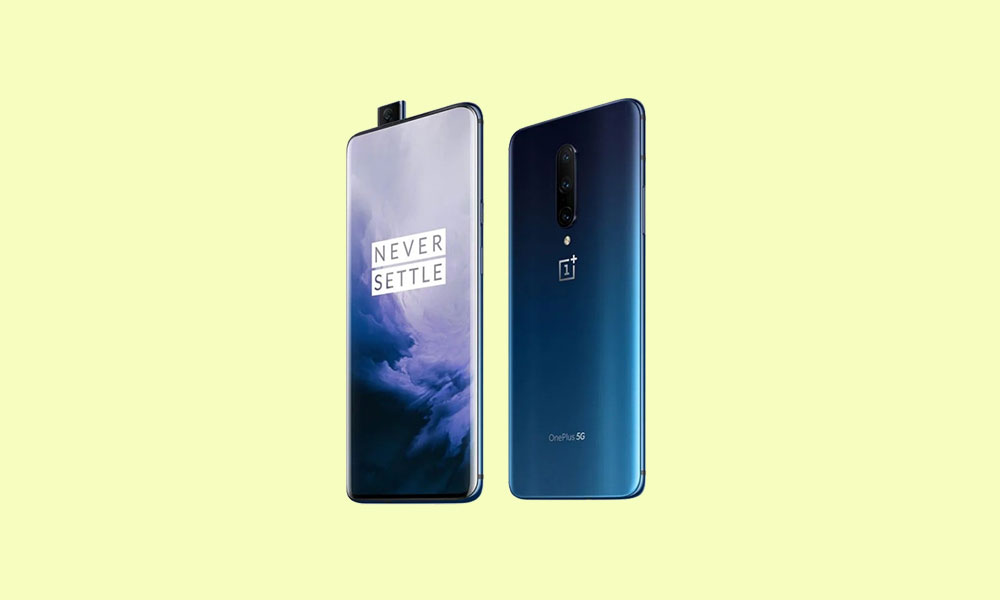 Changelog: OnePlus 7 Pro 5G Android 10
System

Upgraded to Android 10
Brand new UI design
Enhanced location permissions for privacy
New customization feature in Settings allowing you to choose icon shapes to be displayed in the Quick Settings

Full-Screen Gestures

Added inward swipes from the left or right edge of the screen to go back
Added a bottom navigation bar to allow switching left or right for recent apps

Game Space

New Game Space feature now joins all your favorite games in one place for easier access and better gaming experience

Contextual Info

Intelligent info based on specific times, locations and events for Ambient Display (Settings – Display – Ambient Display – Contextual Info)

Message

Now possible to block spam by keywords for Message (Messages – Spam – Settings – Blocking settings)
Check OTA Update
The firmware OTA update always roll-out in batches and may take some time to hit all the units. Therefore, you should always check for OTA updates manually on your device via Settings > System > System update > Check for update.
Tip:
Make sure that your phone is charged enough for a smoother update process.
Try to connect to a Wi-Fi network for a faster and stable OTA download.
Steps to Install OnePlus 7 Pro 5G Android 10 (OxygenOS 10.0.4)
Check out the full guide below to manually install the firmware file on your OnePlus device. Either you can choose the local upgrade method or the ADB sideload method for your OnePlus 7 Pro 5G.
1. Local Upgrade Method
Download the firmware from the link above and copy it to the internal storage.
Go to the phone Settings > System > System update > select Local upgrade.
Now, browse and locate the downloaded firmware zip file > choose Upgrade Now.
Wait for the complete installation process and your device will reboot into the new system automatically.
The first boot will take some time. Have some patience and enjoy it!
2. ADB Sideload Method:
You can also follow the ADB Sideload method to install or update the firmware version on your OnePlus 7 Pro 5G quite easily.
Guide to Install OnePlus Firmware using ADB Sideload Method
We assume that this guide was helpful to you and you've installed or updated the latest firmware on your OnePlus 7 Pro 5G model successfully. You can comment below for any queries.
---
Updated on December 26, 2019: OnePlus has evolved itself to be a top OEM among every other smartphone manufacturer out in the market. Its USP is providing timely system updates for all of its devices. We already know of the closed beta testing that OnePlus carries out before pushing a new update. The phone maker last year joined hands with T-Mobile to enter the American market. So, jointly both the parties have initiated the Friendly User Testing program(FUT).
It is similar to closed beta testing where a limited number of users get to test new software. Then the OEM can push it to a wider range of users. Speaking of which we can soon expect the Android 10 beta updates for T-Mobile OnePlus 6T and 7 Pro to start under the FUT program.
However, a OnePlus community member has reported of a strange event. This user has received an email inviting him to take part in FUT for Sprint OnePlus 7 Pro 5G Android 10 update. As mentioned before the FUT is for the T-Mobile variants of OnePlus devices. So, definitely this is quite confusing.
Here you can have a look at the screengrab of the email.

This user also confirmed it from customer support that the OnePlus 7 Pro 5G Android 10 FUT is for T-Mobile variants. As this OnePlus community member raised this query, he was joined by other users as well. These members also confirm receiving similar e-mails.
So, this may be a green signal for starting of the Android 10 update for the 5G smartphones from OnePlus. The FUT is definitely a good initiative for rigorous testing of updates and reporting bugs. However, OnePlus should bring more clarity in its FUT programs. This way users won't be confused while receiving official mailers inviting them to be test users for new system updates for a certain device.