OnePlus 6 is one of the biggest releases so far in 2018. The device is being appreciated for everything that it has to offer. Well, that's not it. The OEM also teased another cool product in the keynote event which is the OnePlus  Bullets Wireless. If killing flagship smartphones weren't enough, OnePlus also brings a killer wireless earphone.
OnePlus Bullets Wireless will open its sales over popular E-commerce site Amazon on June 19th, 2018 i.e. today at sharp 12 PM.
Since this will be a debut sales of this amazing device, stocks may go out sooner than you expect. There is a history to this that whenever flagship level of any device goes up for sale for the first time, it sells out like hot cakes.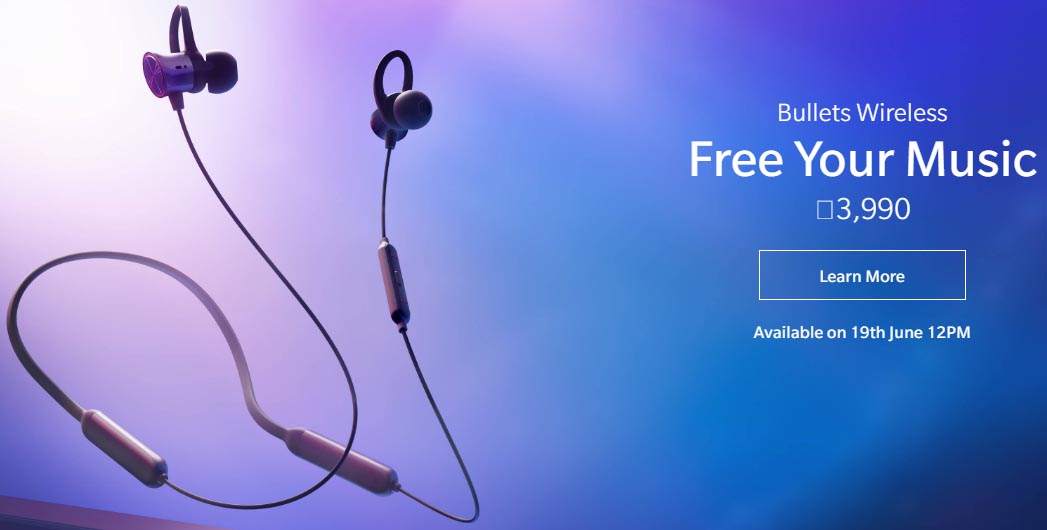 Alternatively, Bullets wireless can also be purchased on the OnePlus official website.
Features Of OnePlus Bullets Wireless
Let's take a glance on the features of this earpiece. First of all, regarding looks, the OnePlus Bullets Wireless is looking sleek and really cool. Of course, it brings wireless connectivity through Bluetooth. This wireless earphones support BlueTooth version 4.1. Apart from music and phone calls this wireless earpiece also supports Google assistant.
With Google Assistant support you can give and receive instructions handsfree. You do not have to take the phone out of your pocket.
To enable Google Assistant and Voice Calls, first pair your Bullets Wireless with your phone. Then go to Settings > Sound & vibration > Earphone mode > turn on Call information broadcast.
It also has the unique feature of magnetic switch that allows the earpieces to go on and off according to the magnetically connected earpieces. That means simply clip the bullets together magnetically to turn them off or pause the song. Again unclip/use it to resume the song.
This device is waterproof and sweatproof. Definitely, the proofing here indicates to minimal contact with foreign elements. Apparently drenching the Bullets Wireless in heavy rain may cause trouble for the device.
The box of OnePlus Bullets wireless will pack one set of Bullets wireless, a USB charger for the same and one user manual. It will also provide 3 extra set of earplugs and fins. There will also be a red color pouch to keep the earphones in it. Obviously, a warranty card is provided with the packaging.
Its battery is quite durable. Users can get up to 5 hours of listening time on charging for 10-minutes only. Bullets Wireless provide a talk time of 10.5 hours, music playback of 8 hours and standby time of 255 hours.
There are some users who have already used the OnePlus Bullets Wireless. Some even tested this with various smartphones of flagship grade. Most of them say that Bullets Wireless is easily compatible with any smartphone with Bluetooth support. The twist is it is more compatible if the device supports APTX.
If you wonder what APTX is, then it is an audio codec compression algorithms which belongs to Qualcomm. It is used for consumer and automotive wireless audio applications. Most notably it is used for  the real-time streaming of lossy stereo audio over the Bluetooth connection between a "source" device (such as a smartphone) and a "sink" (Bluetooth earphone such as Bullets wireless)
Again, some users mention that the feature of song pausing and resuming upon joining and detaching the magnetic ends is partial to OnePlus 6 only. This means on other devices upon joining the magnetic ends, the song will only pause and it won't resume on separating the magnetic pieces.
Now coming to budget, this magnificent piece of hardware costs around Rs 4,000/- (US$59). Given the features, it provides and supports charging, definitely, the price tag has to be of premium range. So, if you like things handfree then OnePlus Bullets wireless is something you should try out.