Google always brings the monthly security patches as early as possible. Speaking of which, the latest Android security updates for Pixel series and Nexus devices are now rolling. Various Pixel phones such as Pixel, Pixel 2, Pixel XL and Pixel 2XL are receiving the update. In all the Pixel devices, the build number will move to OPM2.171019.029. Again, two of the older flagships from Google, the Nexus 5X, and 6P also receive the latest month's software upgrade. The device build number of Nexus devices moves to OPM5.171019.019(6P) and OPM5.171019.029(5X).
The OPM2.171019.029 April 2018 software update for Pixel devices and corresponding software for Nexus devices solve around 100 CVEs and security issues.  You can view these in the latest April Android Security Bulletin issued by Google.
As normally it happens most of the users should receive the latest software update with OPM2.171019.029 build number via OTA(over-the-air) rollout. You can manually check for and capture the OTA update too. Now not all devices are going to receive the software upgrade at a time. The software seeds in batches, so gradually all devices will be covered. To manually check for the OTA, simply go to device Settings > System Update > Check for Update. If you find a fresh update with above-mentioned build numbers OPM2.171019.019 or  OPM5.171019.029(5X).
Although update rolls gradually, that doesn't mean you have to wait for a lifetime to get it. We have listed the factory image and full OTA that brings the April 2018 software for your respective Pixel and Nexus devices. You can manually download and install the update. You can use the ADB sideloading or factory image installation to update your Pixel devices to OPM5.171019.029 and other Nexus devices to their respective latest builds. We have covered both the methods below.
First, let's start to download the respective OTA and factory image for various Pixel and nexus devices.
Download April 2018 Security Update OPM2.171019.029 for Pixel and Nexus Devices
Here are the Pixel and Nexus devices with their corresponding OTA and factory images.
Steps to Install Latest April 2018 Security Update for Pixel and Nexus Devices
For installing the OTA Update on your respective phones, you need to perform ADB sideloading or factory image flashing. Before that make sure to download the required tools and drivers mentioned below on your PC.
Pre-Requisite:
Make sure to completely charge the battery of your phone.
Install the latest USB Drivers on your PC/laptop.
Download the ADB and Fastboot tool and install it.
Take a full backup on your phone before installing the firmware.
GetDroidTips will not be responsible if your device bricks/crashes while installing these updates.
Steps To Flash the Latest Factory Image on Pixel/Nexus Devices
Step-1 To begin with you have to enable USB debugging and unlock OEM on your device.
Step-2 Then you have to unlock the bootloader of the device.
Step-3 Install ADB and Fastboot tool on your respective Windows or MAC OS.
Step-4 Download and extract the respective files for your device.
Step-5 Move these files to the folder where you have set-up the ADB and fastboot.
Step-6 In the ADB  folder, press and hold the 'Shift" key and right-click inside the folder. You will see a dialog appear. From the options select 'Open command window here.'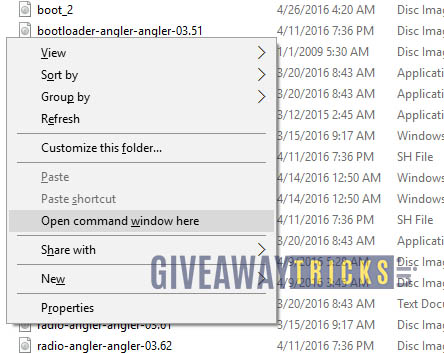 Step-7 Now to connect your phone to the PC/Laptop, give te following command in the prompt.
adb devices
Step-8 Now to enter your device into bootloader mode, give the below command.
adb reboot bootloader
Step-9 Now you will see your device reboots and enter bootloader mode.
Step-10 Open the system files for respective devices in the ADB folder where you've moved the files earlier.
Step-11 Locate the flash-all script and double click on the files to begin the flashing.
Step-12  As soon as you are through with flashing the firmware, you will be asked to press any key to exit.
Step-13 To finish the process reboot your respective device.
Apart from this, you can ADB sideload the ROM as well. Follow the link below to know the exact steps.
[su_button url=" https://www.getdroidtips.com/how-to-sideload-roms-mods-adb-sideload/" target="blank" background="#31528e" color="#ffffff" size="7″ center="yes" text_shadow="0px 0px 0px #fa6512″]Flash Latest April 2018 Firmware on Pixel and Nexus Devices Via ADB Sideload [/su_button]
So, that's all. Grab  and flash the update for your respective Pixel and Nexus devices and let us know if you have any queries.
Follow GetDroidTips to know about all the latest software updates from Google.