Recently, the Chinese smartphone manufacturer Oppo has started Android 9.0 Pie Soak Test for Oppo Find X in India over ColorOS 6 UI. The users are getting the pre-release testing option from the device settings itself. In order to receive trial testing, users need to update the Oppo Find X to ColorOS 5.2 version. Oppo Find X Android 9.0 Pie Soak Test Goes live in India [ColorOS 6].
If you want to give a try Oppo Find X Android 9.0 Pie Soak Test, for now, you may have to wait for a few days more. Because so many users are already requested for the testing and the quota is full now. We have provided useful tips and information before upgrading to the beta testing. If you're really intended to give it a try, follow all the details.
Here in this article, we will share with you the changelog of ColorOS 6 for Find X model which is in beta testing mode.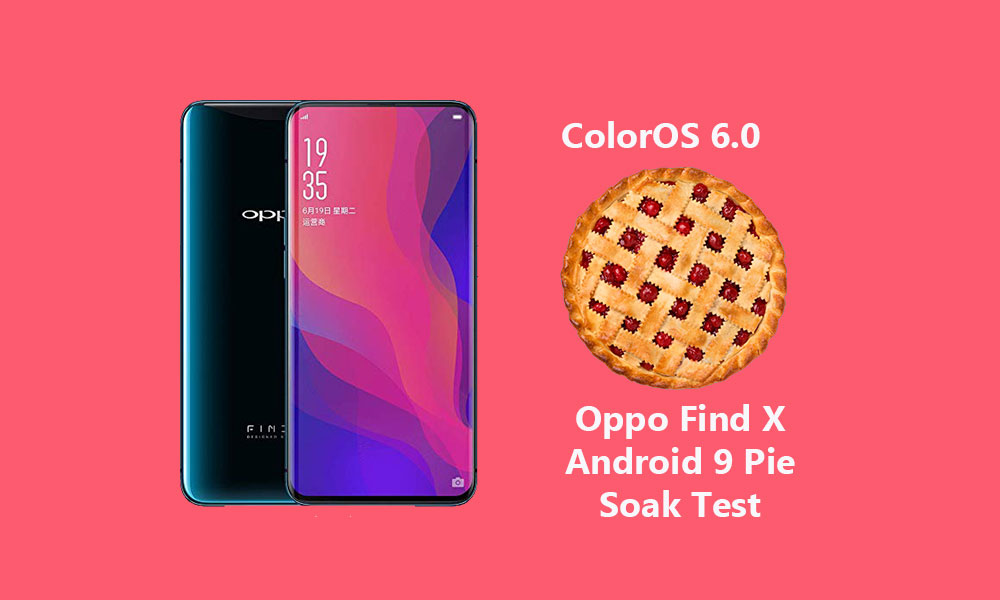 Changelog: Oppo Find X Android 9.0 Pie Soak Test [ColorOS 6]
Visuals

New UI to suit the bezel-less screen. Blank spaces and color gradients are carefully harnessed to interpret aesthetics, grace, and youth.

Hyper Boost

Adds Game Boost 2.0 (which integrates Frame Boost and Touch Boost), reducing game lags.
System Boost Added: Optimized the whole system through improved compatibility between bottom-layer hardware platforms.
Adds App Boost: optimized platform-level heavy-weight apps.

System

Adds a button to hide unimportant notifications with just a tap.
Swipe gestures add on both sides to go back, allowing easier navigation.
Added custom "Do Not Disturb" scenarios. Different time ranges can be set dependent on the scenario.

Game Space

Game Space: new visuals, avatar game console, landscape, and portrait screen orientations.
My Games Moments: screenshots and screen recordings of games can collect here and view independently.
You can reduce image quality to save power in Low Power Mode.

Home Screen

Added default wallpapers with aesthetics and modern feel.
Drawer mode on Home screen adds.
Live wallpapers to satisfy different users.
Batch icon management on Home Screen adds.

Tools

Calculator: the result of each step immediately displays.

Camera

Optimized Portrait mode.
Optimized UI.

Photos

Optimized UI.
Added Favourites function: Photos and albums can add to Favourites.

Communication

Added block rule: block calls and messages from numbers that start with certain prefixes.
You can connect to two Bluetooth devices at the same time, allowing quick switching between them.

Settings

Added a setting option to adjust the animation speed upon app launch.
Added Screen Colour Mode: screen display effects can be changed.
Riding Mode added (applies to partial regions).
Added Low-Brightness Flicker-Free Eye Care.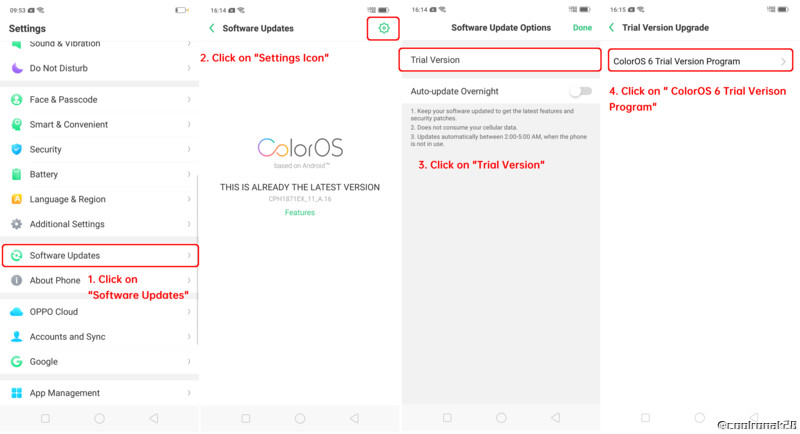 Apply for Oppo Find X Android 9.0 Pie Soak Test
Please make sure that you are updated to the latest official ColorOS version of Oppo Find X.
In order to apply for the trial version, go to "Settings > Software Updates".
Tap on the Settings icon in the upper right corner, tap on "Trial Version", fill in the information, select the must-know checkbox, and tap on "Apply Now".
That's it. If the application quota is full, please wait for the next round.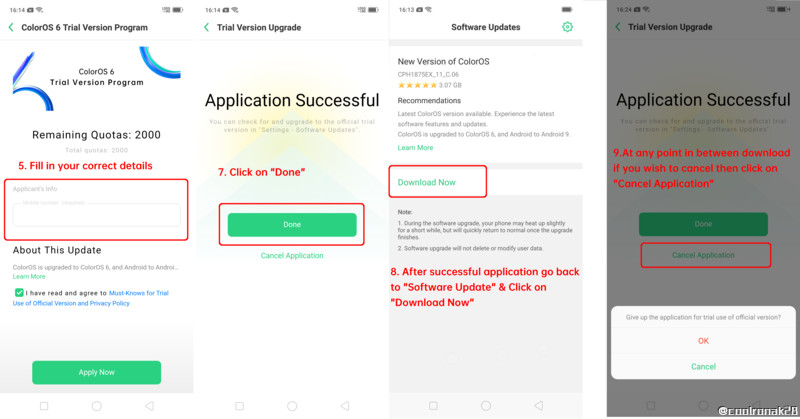 Requirements:
This trial version aims at functional testing and may be unstable, but user requirements can be basically met. You may encounter some bugs so report these bugs to us to help us solve these problems.
If you are a tech enthusiast and would like to experience new features, apply for the trial. This beta build may contain bugs or stability issues. So, you can also wait for the stable version.
If you encounter any problems when using the trial version, report them in the ColorOS Community App. Open the app, tap the edit icon at the bottom of the Home Screen, and Tap Feedback. Alternatively, contact the customer service center directly.
The build may contain some of the minor bugs or performance issues which will be fixed with an incremental update. However, if you're getting any error, you can submit a bug via the ColorOS Community app.
Source: ColorOS Community