Today there is There is great demand for gaming and other multimedia purposes. This requires the smartphone to have an efficient hardware. Not every device packs high-end hardware and software to run heavy programs like games. We already know about Huawei's GPU Turbo technology for hardware acceleration. Now Oppo is going to introduce something similar. This technology is called Hyper Boost. The Chinese OEM has rolled out the press invites for an event. This event will take place on 11th of October.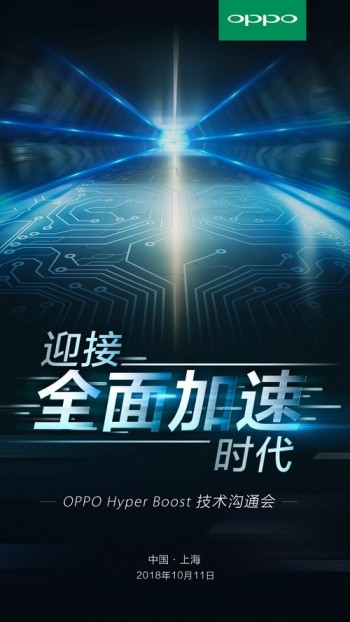 There is no exact info for this technology, the Hyper Boost. However, we can assume it will optimize the device for heavy usage. According to the event poster, Oppo calls it as the Hyper Boost Tech Meeting. Also, the poster mentions "Towards an era of acceleration". This does indicate hat Oppo is referring to the acceleration of hardware units such as CPU and GPU.
It is pretty evident of the fact that gaming is one of the trending features a smartphone can bring to a user. That too not all smartphones can fulfill the gaming requirements. So, we see the entry of dedicated gaming phones. Huawei further dropped its GPU Turbo to bridge the hardware and software gap. This, in turn, will provide a seamless gaming experience. No wonder counterpart Oppo wants to bring a similar technology for its own devices. So, let's look forward to the 11th October event of Shanghai to know more about Hyper Boost.