New Update on November 21, 2020: Still no info about the Oppo K1 to get the official Android 10 update, but today Oppo released a new software update to upgrade the Oppo K1 to November patch. Check the Oppo K1 software update here.
New update on September 1, 2020: Some bad news is incoming for the Oppo K1 Android 10 ColorOS 7 hopefuls as the official Twitter handle of ColorOS has denied the fact that Oppo K1 will receive the update. It is quite interesting to know as the Android 10 ColorOS 7 beta update is already live for the users in China. And not releasing it for other regions could be a shame from the OEM side. Several users took to Twitter to know when they will get their hands on the Android 10 update, to which ColorOS Twitter handle replied:
Hello, for this model, we're sorry that there is no further updated information for this model now. We will continue providing security patch upgrades to ensure your long-term stable use. Thanks for your support and understanding.

(Source)
Note that it mentions that the company will continue to support the device with the latest security patches. And has specifically mentioned that there is no update information available regarding Android 10. So, this response has puzzled the users including us. We will keep our eyes on the lookout for any further clarification from Oppo about this matter.
---
New update on August 28, 2020: Well, the Android 10 ColorOS 7 is available for users in China. However, it was limited to select users of Oppo K1. Now, users outside of China are questioning the company regarding the Android 10 update. Note that Oppo K1 is the only device from Oppo that is still waiting to get updated to the Android 10 update. Though it has technically received the ColorOS 7 Android 10 update in China, other region users have still not yet received the update. Several users took to various platforms to ask whether the update will be released for the Oppo K1 users in China or not.
Fortunately enough for the users Oppo has responded to all the queries related to Oppo K1 Android 10 ColorOS 7 update. Sadly though, users will not like what Oppo has to say regarding the update. Noticeably, Oppo has mentioned that there is no information available as to when the Android 10 ColorOS 7 update will be released for the users. Here is what the actual statement from Oppo reads:
Hey there, please be informed that any information regarding a new update for OPPO K1 is currently unavailable. Kindly stay tuned to our social media channels to know more regarding the same. Thank you!

(Source)
Albeit it is good to see Oppo at least giving clarification to all the user queries, it is still not the best answer you would expect from a company. We will keep our eyes glued for any further developments in this regard.
---
New update on August 18, 2020: After months of the trial of the Android 10 ColorOS 7 update, finally oppo has released the stable update for the Oppo K1 smartphone. Notably, this new stable update is live for the audience in China. But we expect other regions to join this bandwagon soon. This piece of information was shared by the official community website of ColorOS China. The update arrives with version number F.11 and will be arriving via OTA. Here is the complete changelog of the latest update for Oppo K1:
[su_spoiler title="Changelog"]
Visuals
New borderless design is newly upgraded, the vision is more shocking, the operation is more efficient, and the experience is more natural.
Added OPPO Sans default font, overall simple and elegant, full of technological beauty.
Breeno
Added Breeno instructions, allowing you to complete daily tasks faster with fewer steps, and create personalized shortcut instructions.
Added Breeno voice and photo search function, you can perform voice search based on photo time, place, person, etc.
Added Breeno voice, camera wake-up, voice switchable camera mode.
Added Breeno voice, turn on and off dark mode, query step count, open Breeno screen and other voice commands.
Added Breeno suggestions, wake-up reminders, today 's schedule and recommendations for dressing, etc.
Added Breeno suggestion, bus information card, real-time reminder bus information.
Added Breeno suggestion, low battery reminder, automatic detection of nearby charging treasure merchants when low battery.
Added Breeno sleep mode, enter dark mode at night, and turn on DND.
Added Breeno screen, meeting schedule information identification, you can add a schedule with one click.
Optimized Breeno scan, independent scanning and identification, easy to evoke.
Added Breeno driving, which can quickly open the phone, music, WeChat and a recently used application.
Added Breeno quick tour, news information module.
Smart Sidebar
Optimize visual interaction and enhance one-handed operation experience.
Optimize the smart sidebar, replace the file table with file management, and remove the Breeno voice, ultra-clear visual effects, and notification not to disturb three shortcut tools.
Add notes shortcut tool.
Added support for drag and drop applications to achieve fast split screen.
Added "buoy transparency" and "buoy full screen hidden" settings.
Optimize the floating window mode adaptation range, more applications support floating window opening.
Added floating window bubble function to support fast expansion/collapse of floating window.
Screenshot
Optimized three-finger screen capture, you can press and slide with three fingers to select the screen capture area; long press and slide down to drag the screen to quickly take a screenshot.
Added screenshot settings, which can adjust the position of the preview floating window, set the prompt sound, etc.
Optimize screenshots to preview floating windows, pull down to share, and pull up floating windows for long screenshots.
Navigation Gestures 3.0
Added swipe in from the sides of the screen and pause to switch to the previous app.
Optimize all gestures to support landscape scenes.
System
Added flashback button, support desktop display of important information such as navigation, taxi and game, quick return to application with one click.
Added dark mode, saving power and protecting eyes.
Added focus mode to help block outside interruptions while working or studying.
Added new charging animation style.
Optimize the control center interaction, making the one-handed operation experience more friendly.
Added screen recording pause function.
Added screen recording floating window and recording settings.
Added 360 cleanup engine.
New global themes, themes add more playability.
Added global delete sound effects, calculator key sounds, compass pointing sound feedback.
Optimize built-in ringtone resources.
Added accessibility TalkBack hover tips.
Added accessibility color mode to improve the user experience of visually impaired users.
Added the latest task management page, including the latest task display memory information switch and application lock management.
Game
Optimize visual interaction in game space.
Optimize the game space to start the animation.
Optimize game assistant interaction and callout methods, add gamepad connection entrance.
Desktop
Added new interactive live wallpaper.
Added Art + static wallpaper.
Added desktop sliding settings, which can be customized to open the global search or notification center.
Add desktop icon customization, you can customize icon size, shape, style.
Optimize the unlocking process, you can switch the unlock mode by swiping up.
Optimize password unlocking vision, more convenient for one-handed unlocking.
Added lock screen support for live wallpapers.
Optimize the clock style of interest screen, more personality choices.
Added simple desktop mode, larger font icons, more concise and clear.
Safety
Add password function, auto-fill password, realize one-click login.
Added the remote guard application usage time, you can check the use of the mobile phone in the past 7 days.
Added remote guardian deactivation period, which can set the deactivation period of the bound mobile phone.
Added a time limit for the remote guard application, you can set the duration of the mobile phone application, and limit the number of games.
Add remote guard one-click navigation, one-click navigation to the location of the bound mobile phone.
Added SOS emergency contact smart customer service for help. When the emergency contact does not answer the call, the intelligent customer service will help continue to call the emergency contact.
Added random MAC address to connect to WiFi, block targeted advertisements, protect privacy, and make information more secure.
Added status bar icon prompts when using sensitive permissions, you can view the details of the specific invoked application to prevent personal privacy from leaking.
Added permission usage records, you can view the history of application call permissions.
Tool
Add note palace pattern.
Added note background setting, providing 6 colors and 4 skin backgrounds.
Added reminder time reminder function, you can set reminder time for reminders.
Added the function of deleting and retrieving notes, deleted notes will be kept in the recently deleted folder for 30 days.
Added calculator small window mode, support quick start through control center and smart sidebar.
Add recording trimming function, you can trim existing recordings to get important clips.
Added calendar support to customize the recurrence period of the schedule.
Add alarm clock dynamic weather ringtone to match different ringtones according to the weather of the day.
New weather animation effects, showing different dynamic effects according to different weather.
New file management Add OPPO cloud disk entrance to access OPPO cloud content.
Camera
Optimize camera interaction and improve operation experience.
Optimized camera countdown interaction and prompt sound.
Album
Optimize the interaction of albums and albums, the levels are clearer, and the pictures are more convenient.
Added album recommendation, support more than 80 types of scene recognition.
Communication
Added OPPO mutual transmission support and mutual transmission with Vivo and Xiaomi devices.
Optimize phonebook vision, bring more concise and efficient experience.
Add new phone number shortcut settings page, one-click to create new contacts, add tags or add to blacklist.
Settings
Add new inactive periods, customize inactive periods, and effectively manage phone usage time.
Added time limit for new applications, you can set the application duration, limit the number of games in some games, and prevent apps and games from being addicted.
Optimized search function, support fuzzy search and search record display.
Application
Added Soloop Instant Recording to better understand your video intelligent creation tools.
Add health, monitor sports health data, and provide health services.
[/su_spoiler]
---
New update on July 22, 2020: On July 21, Oppo has increased the Android 10 (ColorOS 7) beta recruitment quota for the users. Now those of Oppo K1 users who could not register themselves in the initial recruitment, can hop onto this increased quota and experience the latest Android 10 Beta update. The quota is set at 10,000 (along with Oppo R15x).
---
New update on June 29, 2020: Finally, as on the said date, Oppo has kick-started the Android 10 (ColorOS 7) beta recruitment for the Oppo K1 smartphone. This beta program is currently live for the users in China and soon will be made available for other regions as well. A total of 5000 seats is available for the Oppo K1 users (along with Oppo R15x) for beta testing. Moreover, Oppo K1 users are required to be running version C.62 in order to be eligible to register in this program. Besides, if you are successful in registering yourself with this beta program, then Oppo will push the beta update within 3 days (before July 2).
In order to enroll in this early adopters program, you can head over to Settings> Software Update> Settings> Upgrade early adopters> ColorOS 7 official version early adopters, fill in the required information, check the early adopters notice and privacy policy, and click Apply Now.
---
New update on June 24, 2020: Oppo has now shared an update plan on its official community platform revealing that the Android 10 (ColorOS 7) beta recruitment for the Oppo k1 will begin from June 29, 2020. The Oppo K1 was launched back in 2018 and it came with Android 8 Oreo out of the box and Android 10 will be the devices second and last major OS update. This beta recruitment will commence in the home country of China first and then will gradually make its way to other regions.
---
Smartphone brands with heavy custom UIs like the Oppo, Xiaomi, Realme, Huawei, etc. have to take a whole lot of time in delivering the Android 10 updates for their phones. Matter of fact, there are a lot of devices among these few OEMs that are still waiting to be updated to the Android 10 OS. Moreover, some of the brands have recently started with the beta recruitment of the Android 10 update which gives us a clear hint that why a stock UI or close to stock UI using a smartphone is more preferable if you wish to get speedy updates. But, you cannot blame the OEM wholly as the current COVID-19 scenario is also not helping either.
It seems like the whole world has been put under lockdown and all we can do is to give sufficient time to the OEMs to push out properly baked Android 10 OS updates for the phones. Talking about updates, Oppo has been on its toes in the recent past, in delivering the latest Android 10 updates. However, there are a lot of phones, including the Oppo K1 that is waiting for the grand update to Android 10. Note that the device was launched back in 2018 and it came with Android 8.1 Oreo out of the box which means that the device is eligible for one more Android OS upgrade in the form of Android 10.
Taking a look at the Android 10 Q2 2020 roadmap shared by Oppo, there was no mention of the Oppo K1, which straightly hinted that the company is not in the mood to update the device anytime sooner.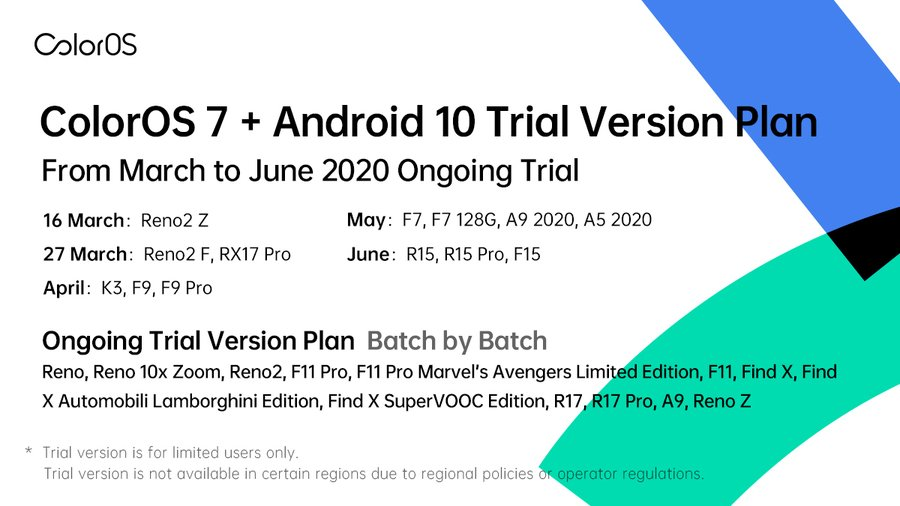 The company has been stating that the update is under development and will be released in the future whenever any users ask queries regarding the Android 10 update status for the Oppo K1. And this has not changed a bit, because as per recent reports, the official Twitter handle of Oppo Customer Care has again stated clearly that the development team is working on bringing the Android 10 update for the Oppo K1 and it will be released soon.
our development team constantly works on the updates to bring a better user experience for all our customers. However, the new update for OPPO K1 will be released soon. Kindly stay tuned to our social media pages for further announcements.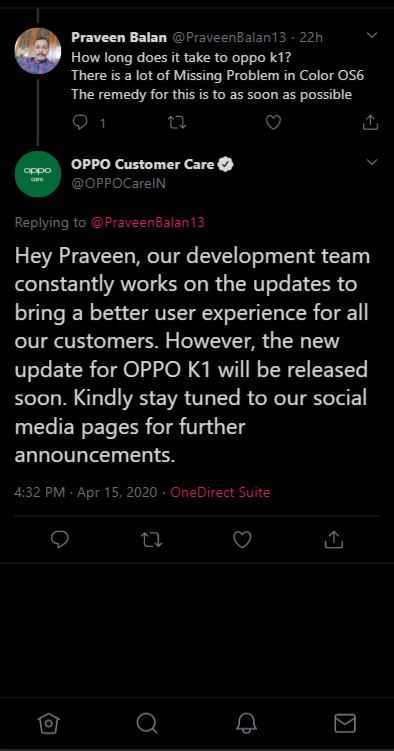 Though the above statement does not deny the Android 10 update for the Oppo K1, it also does not mention any specific date as on when the stable update will arrive for the Oppo K1 smartphone. Moreover, as per all of this development and information surrounding the Oppo K1 Android 10 update, we can only speculate that the Android 10 update for the device might arrive in Q3 of 2020. We will keep you posted once we have more information in this regard.