If you have been installed the Beta Version of macOS Catalina, which is Pre-Release operating system software. However, there were many users who didn't like the macOS BETA. This is because the BETA version was having a lot of Bugs and issues that might interrupt and ruin your experience. That's why users like to opt-out because they don't want to receive further software updates on their BETA version.
Today we are going to help you get out-out of receiving a beta version of macOS Catalina. Not to mention, you will stop the upcoming update on macOS Catalina BETA, but your existing BETA will not be affected. We believe you will be able and understand preventing the future BETA updates from being arriving at your Mac.
Noteworthy
You can try the same method to opt-out of macOS Catalina BETA for Public Beta and Alpha Beta, also known as Developer BETA.
This method helps you to receive future updates, rather than removing the installed Beta Version of macOS from your Profile.
If you want to remove the beta version of macOS, then you need to downgrade macOS Catalina.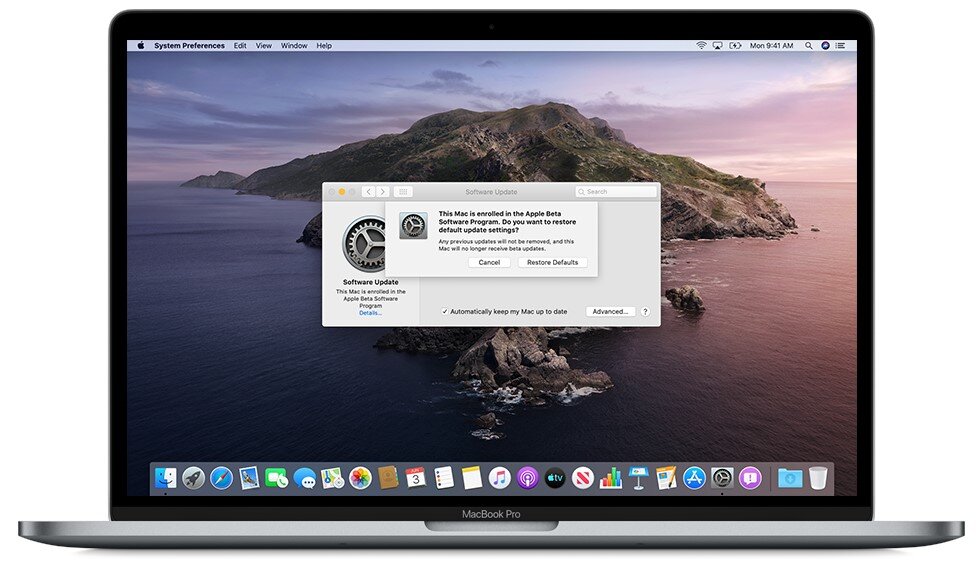 How to Opt-Out of BETA macOS Catalina software update.
It is as simple as Opt-Out of BETA iPhoneOS, follow the following steps to Opt-Out of BETA macOS Catalina.
Starting with, Open the "Apple" menu.
Head over to "System Preferences."
Then, select the "Software Update."
After that, There the Software details appear With a message "This Mac is enrolled in the Apple BETA
Software Program" alongside upgrade details on the right.
Click on the "Details" placed below Software Update.
Now, you have to choose the "Restore Defaults" option to opt-out from the macOS Catalina Beta program.
(You will instantly stop rolling out the future beta software updates for your device.)
That's it, Exit the System preference as usual.
Furthermore, next time you open the software update from the system preference, you will get the stable updates when it arrives if you were thinking your system has been downgraded, but it is not, as it just stops the BETA version from arriving at your Mac. Your Mac was having the Pre-Release macOS until the stable has arrived. Meanwhile, if you want to install and download the macOS, then you can use the APFS volume for specific beta and then remove it when you no longer need it. Likewise, Opt-Out from macOS Catalina beta version ways seems to be quite different based on your computer preferences.
Hopefully, this article helped you to Opt-Out from macOS Catalina beta, and it's worth your time. We would like to know your experience and valuable feedback if any query is shared with us in the comment section down below.