With its various tools and instrumentality, Phasmophobia is a real-life ghost tracking as a person s will get (or most likely wish to get) while not making a real attempt. Players should team up to track, explore, and while hunting the phantoms in various sites. With this, there comes an Ouija Board to interrogate and have a convo with ghosts.
In phasmophobia, players collect proof and search ghostly localities to search out the ghosts, evil spirits, and other dreadful horrors. Phasmophobia is the latest four-player online horror game in which the players will spy the phantoms. You have to find the proofs and those scary ghosts loiter in that specific place in this game. However, the Ouija board seems to be slightly different, so here's everything you need to know about it.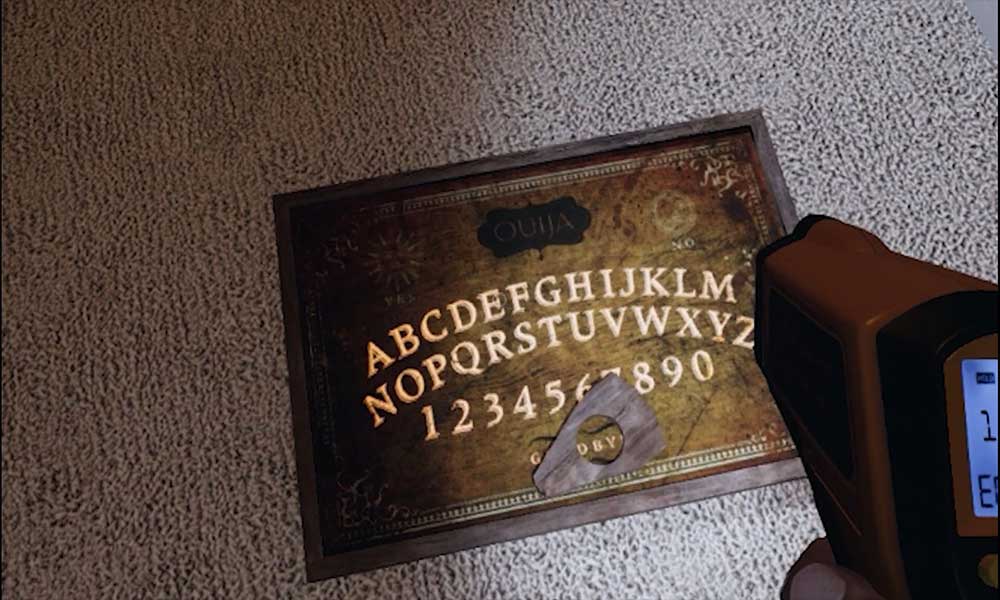 How to Use the Ouija board in Phasmophobia
Ouija board is also referred to as a talking or a spirit board. It comprises of digits from 0 to 9, an option for "Yes" or "No," alphabets, several symbols, and often "hello" or "goodbye" phrase. It also has a small heart-shaped wooden or plastic piece used to type or ask the spirits' question.
Ouija Board is commonly made up of wood. Spiritualists assume that we can communicate with the spirits and phantoms via this Ouija Board. It is one of the tools that is used during the various levels of the phasmophobia game.  It is used to collect the evidence and also to talk with the phantoms.
The use of an Ouija board might be risky sometimes because talking and questioning the ghost is at the cost of your sanity level. Phantoms or spirits may get furious, which will also dwindle your sanity level more. An angry ghost could be even life-threatening for a player. Now we will discuss how we will use this Ouija board in spying on the ghost.
How the Ouija Board Works
If you want to use an Ouija board in Phasmophobia, you must first find it. It must be present in the surrounding area where you collect pieces of evidence and search for the spirits. If you don't find it, then you must have to shop for one.
Now, after finding the Ouija board, you can carry it anywhere with you or to the place where you feel is a phantom living or is present.
You will ask when the alphabets are lighten-up. The luminous alphabets indicate that the Ouija board is responsive now.
If the ghost is close or nearby, he will respond; otherwise, the talking board fails to respond.
Further Details
Ouija Board does not always help you to talk with the ghost. There's a 66.67% chance that the ghost will respond, while 33.37 times the Ouija board fails to respond. When it fails to communicate between you and the spirit, the lights will flicker up mainly the flickering of lights will decrease your sanity level up to 40%.
Decreased sanity level ends up the setup phase due to which you will become more susceptible to hunt. If the Ouija board responds to your questions, what happens is, a ghost will create an EMF in the vicinity of the Ouija board. If it is an evil spirit, it will further reduce the sanity level of the player.
Questions You May Ask Using Ouija Board
You can ask five types of questions from the ghosts; they are:
Questions Related to death
Some related to age
Questions related to prey
Some questions related to locations
Questions related to a specific area or a room
Some Question samples are given below.
Death:
"How many years before you die?"
"When did you died?"
"How you died?"
Age:
"What is your age?"
"Are you young or old?"
Prey:
"Who is your prey?"
"Whom you wanted to kill?"
"Why you want to kill your victim?"
"What is the name of a person you killed?"
"Who got murdered?"
Location:
"Which is your favorite room?"
"Are you near us?"
"Are you here?"
"where do you live?"
"Can you see us?"
Room:
"How many individuals are currently present in the room?"
"How many spirits/ghosts live here?"
"Are you alone?"
"Who is in the room?"
Well, that's all we have for you with the working and use of the Ouija Board in Phasmophobia. Now, check out our Gaming Guides, Windows Guides, Social Media Guides, iPhone, and Android Guides to know more. However, if you have any queries, comment below with your name & email ID. Also, subscribe to our very own YouTube Channel in order to watch awesome videos on gaming and smartphone tips and tricks.