When you see or hear the term Fortnite, the first thing that comes to our mind is its cartoony multiplayer gameplay. Of course, it is a multiplayer game but what if you need to practice and improve with your skills in the game? Getting into a normal match for practicing is risky. This is why we all need a normal game mode, where you can practice without losing anything at all.
This is where bots come in and the feature to play purposefully against bots in Fortnite was added in Chapter 2. In this guide today, we'll take you through the simple process of getting into battles against a whole map of bots so you can test, practice, and learn your skills. So without any further ado, let's see how to play against bots in Fortnite Chapter 2.
How to Play against Bots in Fortnite Chapter 2
You can intentionally play against bots in Fortnite by taking advantage of the Fortnite Battle Lab, which was added in Chapter 2. This is literally like a training ground in Fortnite where players can further develop their skills, find better strategies, practice, and learn. As you enter the battle lab, the mode gives you plenty of options. These are settings that you can customize, which determines how the match you play in the battle lab technically works. These options let you remove fall damage, set starting health, toggle between keeping or losing items upon death, etc.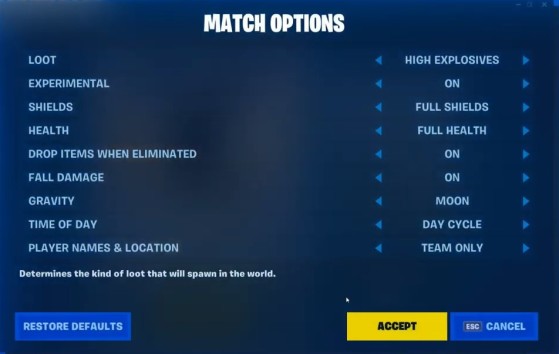 Once you're done messing around the options, you'll enter the match in the Battle Lab. You're only halfway to playing against bots as you still got something more to do. Once you're in the match, look out for Enemy Bot Grenade while you're looting around. These are your ticket to bots. Once you do find these grenades, simply thrown them and the enemy bot will place where it was thrown at. This bot will immediately start shooting at you the second it is spawned.
Conclusion
Summing up our guide, you need to go into the Fortnite Battle Lab in order to play against bots in Fortnite. Once you enter the mode, you see many options that you can alter, which decides the technicalities of matches in the Battle Lab. After setting the options and entering the match, look out for Enemy bot grenades while looting. These grenades will spawn bots at the point where they're thrown to. That said, we hope reading the guide above has brought some valuable information and help to you. Please let us know by commenting down below if you have any further queries regarding the same.
Also, check out our iPhone Tips and Tricks, PC tips and tricks, and Android Tips and Tricks if you've got queries for it or want help. Thank you!