Fortnite is the biggest name between battle royale games. It is based on a post-apocalyptic, zombie-infested world and free-to-play for all. A most common feature that this new generation battle royale game has is the capability to play against bots. So here are insightful tips for playing against bots in Fortnite chapter 2.
The best part about chapter 2 of Fortnite is the ability to fight or practice with bots.  This is a clever trick by developers of Fortnite to retain new players for the game. In this trick, the players with a brand new account will find bot lobbies for some of their new matches. But there are ways to get bots in all of your matches.
How To Play Against Bots In Fortnite Chapter 2
Want to play against bots in Fortnite Chapter 2? Then, you have only one way to do so. If we are talking fairly, killing the bots is totally technical in an online match, and the number of bots that appear in a match is random. Also, you didn't have an option to choose how the bots act or battle against you. However, in Fortnite chapter 2, first of all, jump into the Fortnite Battle Lab to practice against bots.
For those who don't know about the battle lab, it is a gaming mode in Fortnite added in late 2019 in which players are allowed to practice against the AI bot to build their skills or mastery of any weapon.
Meanwhile, within the Battle Lab, you will get plenty of various customizable settings that you can change as per your liking. It has settings like keeping your items upon death, removing fall damage, starting health, and more. So, select any of the settings and jump into the match of the battle lab along with your up to 15 friends. When you start looting chests and search for weapons, keep your eyes on Enemy Bot Grenade or Friendly Bot Grenade. As its name shows, you can use these to spawn an enemy bot or friendly bot, depending upon which grenade you used. It would be best if you find and use an Enemy Bot Grenade. But, in case you want any assistance, you may opt for Friendly Bot Grenade.
Spawning the bots on the battlefield isn't a challenging task to do. You can do it by throwing the grenade anywhere. In our opinion, this is the best option available till now to practice and to build the skills.
Tips to Defeat Bots in Fortnite Chapter 2
As an official announcement via Fortnite, the developers specify that they are adding bots in the new release, i.e. chapter 2. Now, these bots will evolve as players get more skilled and capable. Eventually, you will stop getting bots but only real people in the game.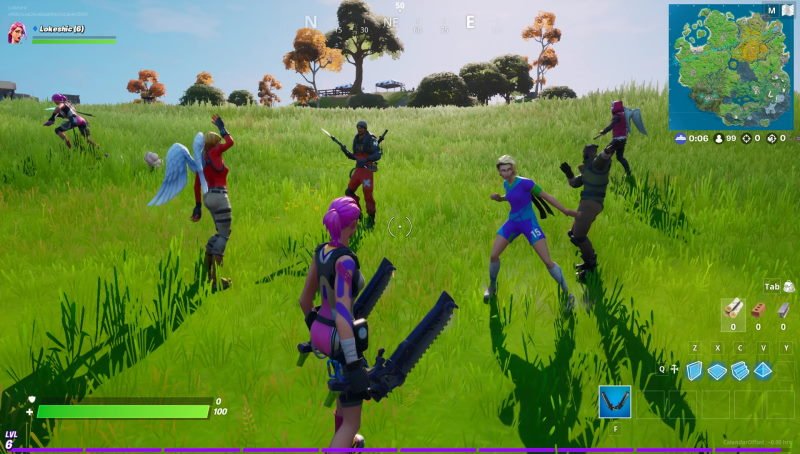 Fortnite has taken this decision so that new players have an even ground to upskill themselves before playing with the professionals or semi-professionals. Having said that, here are some tips to defeat bots in Fortnite chapter 2.
Bots will evolve with skill, so one technique will not work upon all. You can kill bots using grenades and traditional guns, which are available at your disposal.
Bots tend to shoot/kill other bots before targeting any real player. So you can wait until both the bot's health is low and then kill them with a single bullet/grenade.
Shotguns are the best to kill bots from a short range with high accuracy. With a nice spread from Shotgun, bots will have no chance against you.
If the bots are near you and other real players, you should first take care of real players before going to the bot. Bots will only shoot in the direction of real players who are actively engaging in fights.
Use silent weapons such as "The Mechanical Shockwave Bow" to avoid making any sounds while killing bots. In this way, you can kill more bots and save yourself from real players.
Conclusion
You need to find out the Enemy Bot Grenade or Friendly Bot Grenade to spawns and fight against them. That's all we have for you on how to play against bots in Fortnite chapter 2. We hope this guide helped you. Furthermore, if you want more such kind of gaming guides or news, visit our website regularly.