The Flag War – which was introduced with the Arena War update and is featured regularly in the daily objectives of the game – is luckily not that hard to find.
This fun feature allows you to participate in what is essentially a 'Capture the Flag' match with roaring cars and crazy mayhem involved. We have come up with a new guide to help you understand all about Flag War in GTA Online.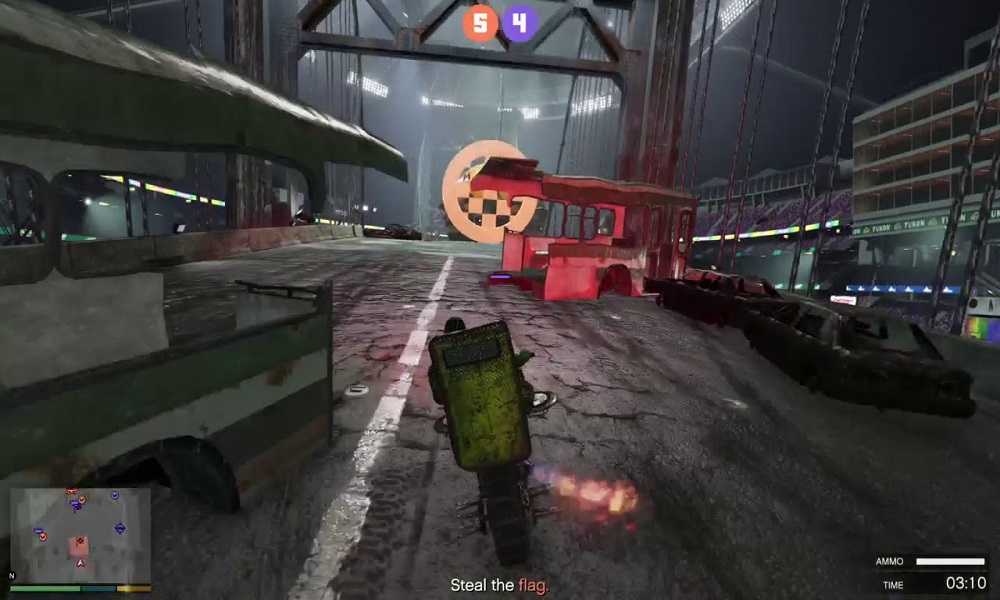 How to Participate in a Flag War in GTA Online
You simply need to follow these steps in order to participate in a Flag War in GTA Online:
Pause your game, and select "Jobs" in the menu.
Now search for Arena War in there, and then choose "Flag War."
Wait patiently until the game begins, and you are all set to start rocking and rolling in the match.
You will now be able to select one of three maps to play the match in. It is very important to choose your vehicle wisely because you need to drive blindingly fast and go after opponents in the match. Thus, we recommend going for a smaller car with respectable speed. Although you can choose one of the heavier vehicles that can knock opponents' cars off-course, they themselves are difficult to control properly.
Strategy to Perform well in Flag Wars in GTA Online
Before the match begins, you have the option of changing teams if you wish. Remember that the "Join Team" option will be unavailable if Team Balancing is operational in the game. You will also be able to choose the number of rounds in the match – between one and four. You will have to capture your opponents' flag and successfully take it all over to the other end of the arena.
Needless to say, your opponents will not want to make that an easy task for you. Make good use of shortcuts and keep your eyes on the orange/purple smoke to take the flag towards its destination. Even if your enemies kill you while bearing the flag, a teammate can retrieve and deliver the flag if they get there on time. You will earn a score for successfully delivering the flag. In time ticks out, then the team with the highest score will win.
Admittedly, Flag Wars in GTA Online is not easy and will require a certain amount of skill and a good deal of practice to win. That said, you will be handsomely rewarded with money and an enhanced reputation if you emerge victoriously. Therefore, it is certainly worth the effort.
We hope this guide helps you to win the Flag War in GTA Online. If you like this, check out our best Windows tutorials, Gaming, Social Media, iPhone Guides, and Android Guides for more great guides. Subscribe to our YouTube Channel to participate in the $150 giveaway contest. If you have any queries or feedback, comment down below with your name along with e-mail ID, and we will reply shortly. Thank you. All the best, gamers!