Last year Apple has released its revolutionary macOS Big Sur that includes whole new changes, improved features, UI changes, and more. However, nothing seems smooth when it comes to user experience even on macOS Big Sur because some of the users are reporting that the Printer Not Working on macOS Big Sur for some unexpected reasons. If you're one of the victims, make sure to follow this troubleshooting guide.
Some of the common issues that users are facing with their printer on macOS Big Sur are the 'communication problem', 'printer offline', etc. Most importantly, this particular problem is happening with both the wired and wireless printers which is another major drawback. Now, if your printer has stopped working or can't connect to your Mac after upgrading to macOS Big Sur, don't worry. Here we got you covered.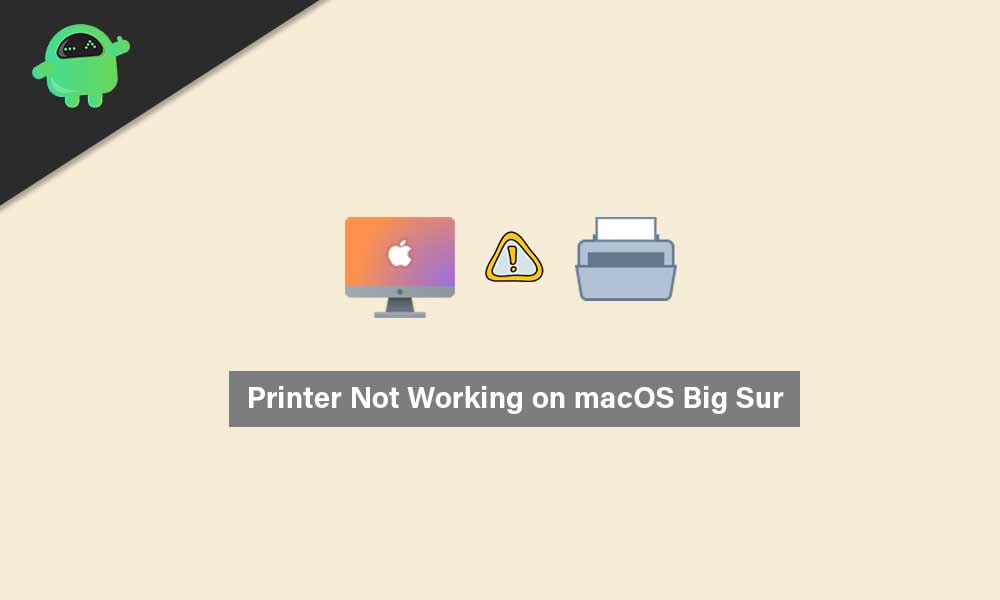 Fix: Printer Not Working on macOS Big Sur
The first possible reason behind such an issue can be considered as the compatibility issue between the printer drivers and your newly updated macOS Big Sur. Additionally, not using any compatible printing software or tool on your Mac may also trigger several app compatibility issues whatsoever.
Another possible reason that can be found in some cases is that maybe your hard drive is having corrupted or missing system files or drivers that are conflicting with the printer drivers and you're not aware of it. In that scenario, you should try using a free version of the CleanMyMac X tool to automatically search for possible errors or any unwanted items on your drive easily. If there is something troubling you, make sure to clear or remove that.
Find the DMG file from the downloaded folder and open it > Drag and drop the CleanMyMac X file to Applications > Start using it.
1. Check if your printer is properly connected
In most cases, users either forget to properly connect the cable of the printer or using Wi-Fi. This may lead to connectivity issues and frequent disconnections obviously. So, make sure to check whether your printer is properly connected to the Mac or not for both wired or wireless devices.
Even if it seems connected, try disconnecting the printer, and connect it again to check for the issue. Sometimes it may also possible that the Wi-Fi connection doesn't have internet access. So, if you're using a wireless printer, then check whether your Wi-Fi is working properly or not.
2. Use the latest Printer Drivers
If you're using an HP printer and facing the same issue then make sure to download the HP Uninstaller.zip file on your Mac.
Now, extract the zip file into a folder > Run the HP Uninstaller.zip file.
If prompted, click on Open > Follow the on-screen instructions to Remove HP Software and driver.
Once the existing HP printer driver has been uninstalled, make sure to reboot your Mac to apply changes.
Next, head over to the official HP Software and Driver Downloads page > Input your particular HP printer model number > Click on Submit.
Please Note: Make sure to find the driver for your macOS 11 and get it. Otherwise, try using Catalina 10.15 version.
So, reinstall the printer driver, and the problem should be fixed in most cases.
3. Select printer in System Preferences
Click on the Apple menu > Select System Preferences.
Select Printers & Scanners > Make sure the printer is displayed in the sidebar and selected.
If not, click on the + icon to add it.
Once added, reboot your Mac, and check for the issue again.
4. Use Apple AirPrint
If the above method doesn't work for you, that means your HP driver isn't fully compatible with macOS 11. Therefore, you should try using the Apple AirPrint to run your connected printer properly.
AirPrint is an Apple technology that allows macOS users to create full-quality printed output without installing any printer drivers on Mac. But not every printer model is currently supported by Apple AirPrint. So, you should check out the list of printer models supported by Apple AirPrint officially on the Apple AirPrint webpage.
That's it, guys. We assume this guide was helpful to you. For further queries, let us know in the comment below.