Latest News:
New Update on May 1, 2020: The much-awaited Realme 3/3i Android 10 stable update recruitment process has been started from yesterday April 30, 2020. The interested Realme 3/3i users have to apply for the Realme UI stable release. The Realme Community announced that there are very limited seats, and the first-come-first-serve method will be applied.
While the Realme 3/3i device users should charge their phone more than 60%. Make sure to take a backup of the device data and update it to the latest version as well which will be A.28 version. Also, note that the stable release version will be available for early adopters and open beta users.
Once done, go to Settings > Software Update > Click the upper right button > Enter Trial Version Upgrade and select Stable Release for Realme 3/Realme 3i. If you face any issue or bug then report here.
New Update on April 27, 2020: Within a couple of days, Realme has released another new firmware update for its Realme 3/3i devices that are based on Android 10. But this time, the new software update includes a couple of improvements to the camera quality, battery backup, and system stability as well. This new firmware update bumps with a software version RMX1825EX_11_C.07 and RMX1827EX_11_C.07 respectively.
The firmware OTA update size is around 568MB those who've already received its previous update C.06 version. So, all the interested Realme 3/3i users can manually check for the latest firmware update from the device Settings menu. We've provided the full changelog below:
Update Log:
Camera
Battery

Optimize power consumption in some scenarios

Known issue fixed

Fixed some known issues and improved system stability
New Update on April 23, 2020: Realme seems in a hurry as of now for the Realme 3/3i users as the company has started pushing the official Realme 3/3i Android 10 update over Realme UI stable version. As promised, the Realme is rolling out the much-awaited Android 10 update that bumps up a new software version RMX1825EX_11_C.06 and RMX1827EX_11_C.06 respectively.
Multiple Realme users have confirmed about update arrival on their Realme 3/3i models. However, the reports are coming out that this update is available especially for the ColorOS 6 stable users and not for the Realme UI beta testers. Although there is no official announcement mentioned yet. Therefore, we will also recommend all the Realme 3/3i beta testers to check for the software update periodically.
Needless to say that the improved Realme UI (Android 10) brings plenty of system improvements, additional features, and more. Let's take a brief look below.
Realme 3/3i Android 10 Update: Changelog
Visuals
• Updated UI to realme UI
• Brand new Real Design makes visuals more attractive and operation more efficient.
Smart Sidebar
• Optimized user interface and improved one-handed operation.
• Optimized Smart Sidebar: Replaced File Console with File Manager; removed OSIE Visual Effect and No Notification Alerts.
• Drag an app out of Smart Sidebar to open it in Split-screen Mode.
• Added two new features: "Assistive Ball Opacity" and "Hide Assistive Ball on Fullscreen App".
• Optimized the Floating Window feature for more apps.
• Added Bubbles: A bubble is displayed when you open an app in a floating window from the Smart Sidebar. Tap the bubble to collapse or open the app.
Screenshot
• Optimized 3-Finger Screenshot Gesture: Use 3 fingers to touch and hold the screen, and swipe to take a screenshot of the selected part of the screen (partial screen capture). Use 3 fingers to touch and hold the screen, and swipe your fingers outwards to capture a long screenshot.
• Added screenshot settings: You can adjust the position of the screenshot preview floating window and set the screenshot sound.
• Optimized screenshot preview floating window: After taking a screenshot, drag it up and release to share it, or drag it down and release to take a long screenshot.
Navigation Gestures 3.0
• Optimized gestures: All gestures are supported in landscape mode.
System
• Added Focus Mode: Minimizes outside distractions when you are learning or working.
• Added whole new charging animation.
• Optimized the Quick Settings user interface for easier one-handed operation.
• Added pause feature for screen recording.
• Added a floating window and settings for screen recording.
• New sounds added for file deletion, calculator key touches, and compass pointer.
• Optimized system built-in ringtones.
• Added TalkBack floating prompts for Accessibility.
• New management feature for recent tasks: You can view memory of recent tasks and locked apps.
Games
• Optimized visual interaction for Game Space.
• Optimized loading animation for Game Space.
Homescreen
• Added new live wallpapers.
• Added artistic wallpapers.
• Added option to open Global Search or the notification panel when swiping down on homescreen.
• Added option to customize the size, shape, and style of app icons on homescreen.
• Optimized the graphic design of password unlock to facilitate one-handed operation.
• Support for animated wallpapers on the lockscreen.
• Added a Simple Mode for homescreen, featuring larger fonts, icons and a clearer layout.
Security
• Random MAC address Generator: When your phone is connected to Wi-Fi network system generates a random MAC address to avoid targeted ads and protect your privacy.
Tools
• In Quick Settings or Smart Sidebar, you can open Calculator in a floating window.
• Added the trim feature in Recordings.
• Added the Weather (dynamic) ringtone, which automatically adapts to the current weather.
• Added weather-adaptive animations in Weather.
Camera
• Optimized the Camera UI for better user experience.
• Optimized the Timer UI and sound.
Photos
• Optimized the Album UI for a clearer structure and photo thumbnails.
• Added Album Recommendations that recognize more than 80 different scenes.
Communications
• realme Share now supports sharing files with OPPO, Vivo and Xiaomi devices.
• Optimized the Contacts UI for a more efficient experience.
Settings
• Search Settings now supports fuzzy match and contains a search history.
You can check out the software update from the Software update followed by the Settings menu on your handset.
New Update on April 17, 2020: Another new Realme UI beta update for the Realme 3/3i beta testers has been released officially. The new firmware update comes with a software version RMX1825EX_11_C.05 for the Realme 3 and RMX1827EX_11_C.05 for the Realme 3i model. Talking about the features or changes, this new C.05 version brings the Super Nightscape mode and optimized image effects for both the models. Check out the changelog below.
Update Log:
Camera

Brought back super nightscape function
Optimized the image effect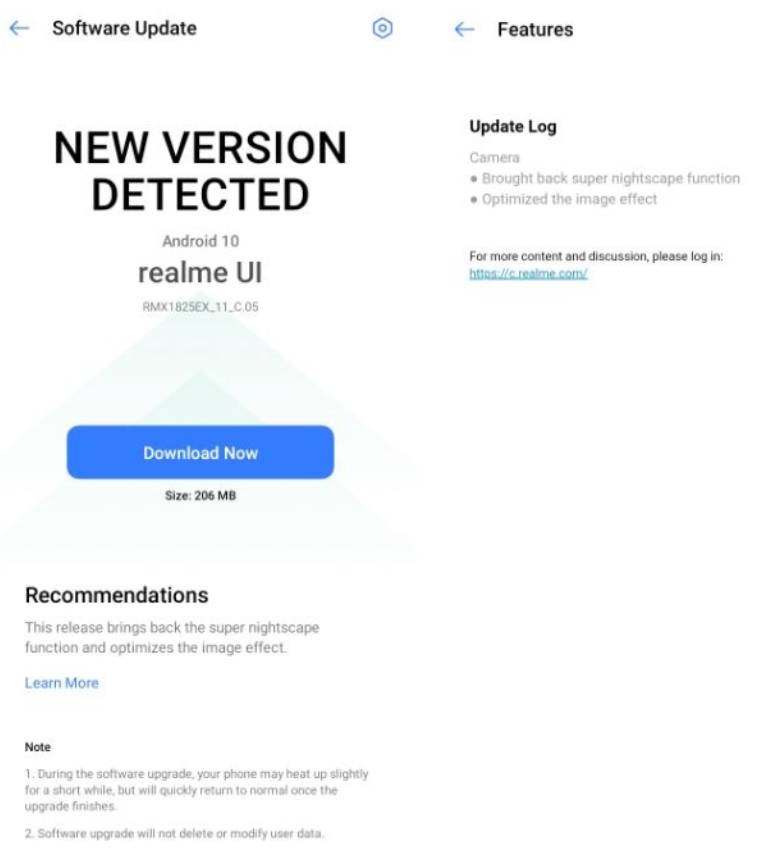 The firmware OTA update comes in a size of 206MB based on the Android 10 Realme UI beta version. Due to the incremental OTA update, the Realme 3/3i beta users may receive the update notification within a couple of days. So, keep checking the OTA update manually from the device settings menu.
New Update on April 11, 2020: In Realme Community many are reported to be receiving the Android 10 beta /RealmeUI 1.0 update for Realme 3 and 3i with build number RMX1825EX_11_C.03 and RMX1827EX_11_C.03.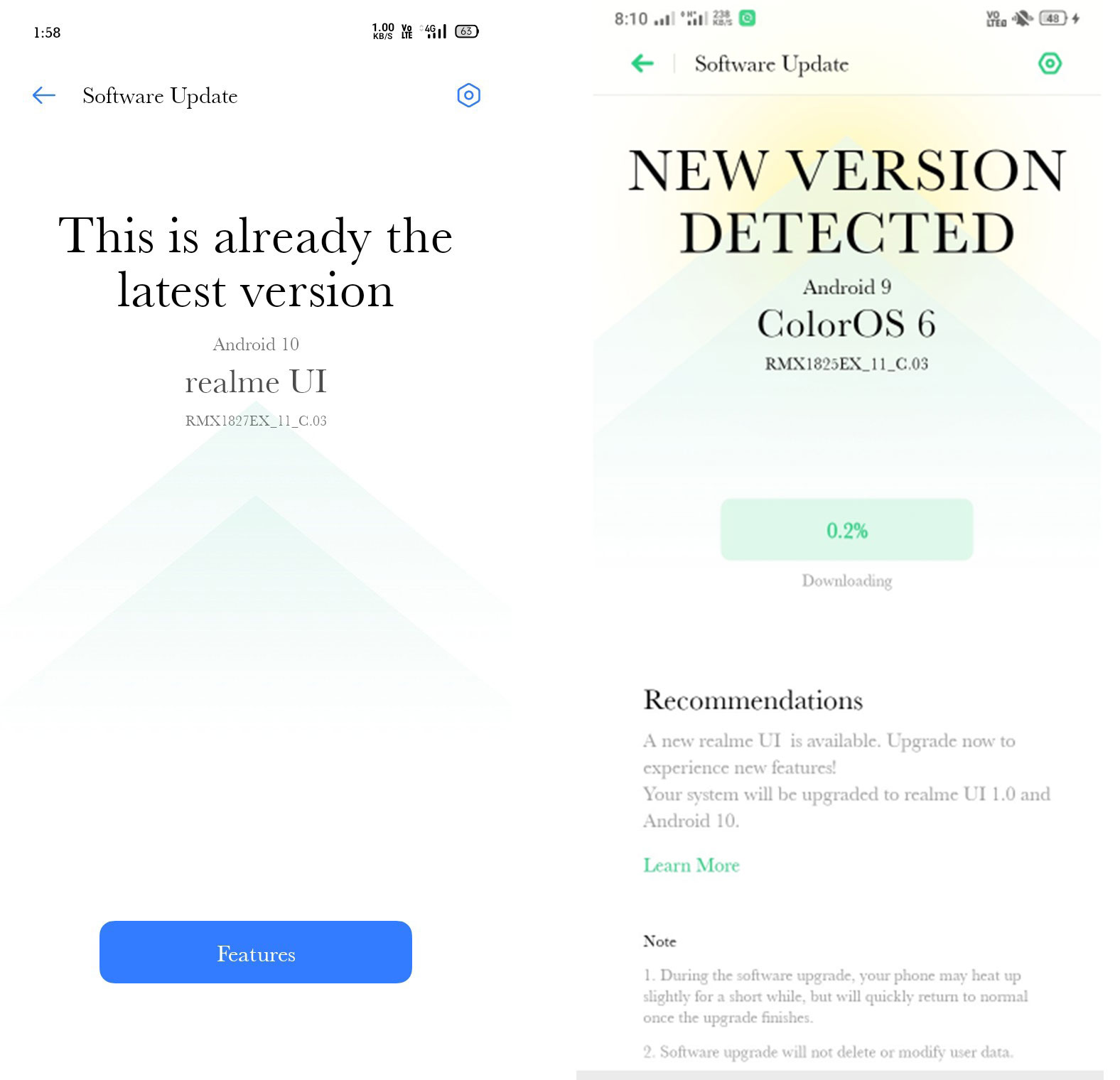 Updated on April 09, 2020: All the eligible Realme 3/3i Realme UI beta testers should start rejoicing as the company has released the Realme UI beta update officially. As mentioned previously, the Realme UI beta testing recruitment process will close on April 4. Currently, all the selected Realme 3/3i beta testers are receiving the Realme UI 1.0 beta update with a software version A.27 as promised.
To be very specific, the update bumps up a new software version RMX1821EX_11.A.27 based on Android 9.0 Pie yet. That means the company is working hard to develop the Realme UI over the Android 10 update and it will arrive very soon expectedly. Despite the COVID-19 pandemic outbreak, it's appreciable that the Realme is providing what they've promised to the users as of now.
Updated on April 3, 2020: Good news for all the interested Realme 3/3i users as the early beta application is now open to apply for the Realme UI based on Android 10. So, all the eagerly waited Realme 3/3i users can submit the Realme UI early beta application to receive the Android 10 beta update. This will ensure the stability and lesser bugs to the official stable release for better user experience. But keep in mind that you've only a few hours left as the application will close on April 4.
Before jumping into the application link or applying for the early beta update, keep in mind that the beta update may contain bugs or stability issues. Additionally, you can't go to the previous software version once you update to the latest Realme UI (Android 10) beta version. So, think carefully before updating your device. You should take a full backup of the important data at first to prevent any data loss. Meanwhile, the internal storage of your phone should be more than 5GB to skip the update failure.
Realme has also mentioned that they can't guarantee that all the Realme fans will receive the update 100%. So, if in case, the update isn't received, the users need to wait for the official release. Make sure to keep the battery level 60% or above. Next, head over to the application form link or here and provide all the necessary details. If your information is correct and if you will get selected for the beta program, then you will receive an A.27 update very soon.
Please Note: If in case the form link doesn't work for you, you can browse the Realme Community via a web browser. Realme is working to fix the link redirection issue.
Steps to Apply for the early beta: Open Settings menu on your phone > Software Update > Tap on the settings icon on the top right corner > Trial version > Submit details and Apply now.
Steps to submit bugs/suggestion: As the beta update mostly come with plenty of bugs or errors, the beta users can submit or report the bugs from this link or here.
Updated on March 13, 2020: There is important news available for all the Realme 3 users who are waiting for the Android 10 update for a couple of months. Previously, the company has released its update roadmap for the Realme UI (Android 10) which indicated that the Realme 3 will receive the Android 10 update in Q2 2020. While other eligible Realme devices are receiving the Realme UI beta update and then the stable update will release, that's not the same case for Realme 3 units.
Because recently, the Realme India support team has officially mentioned in Twitter that the beta version of the Realme UI won't be available for the Realme 3 model. The company is expected to provide the official stable Realme UI update based on Android 10 for the Realme 3 in April 2020. Now, that's a real quick update which is appreciable. Now, we hope that the stable update would be actually stable without any major bugs. As there will be no beta testing available for the device, it's quite possible that users may not receive a stable user experience. Now, we have to wait for more official announcements.
Hey, the beta version of realme UI will not be available for realme 3. However, we will roll out the stable update for the smartphone in April. Stay tuned!

— realme India Support (@realmecareIN) March 13, 2020
The Original Story as follows…
If you are looking for answers on when will Realme 3 get an Android 10 update, here's the answer. Apparently, Realme 3 Pro is the first device that has already received Android Q-based ColorOS 7. There are a plethora of other devices within Realme that will be getting their massive upgrade in the coming weeks and Realme 3 is one of them.
Google announced Android 10 after it changed its official name from Android Q to Android 10. It has already arrived on all Pixel and Essential PH devices and has made its way to a few non-Pixel Android smartphones from OnePlus and Xiaomi as well. Realme released an Android 10 roadmap which made it official that a few smartphones from its lineup will get their much-required upgrade which others will have to simply stick to Android Pie or older or upgrade to a newer Realme device such as Realme 1, Realme 2, Realme C1, Realme C2, and Realme U1 as well.
Android 10 Features
Search engine giant Google has literally jacked up the potential of Android 10 by packing it up with plenty of features and services. With a competitive UI when compared to iOS 13, Android 10 has a lot of offer ranging from privacy and location controls, live captions, and smart replies, support to 5G and foldable devices, and more. Read more about it here!
Realme 3 Android 10 Update
After Realme 3 Pro, the Oppo's sub-brand is gearing up for yet another smartphone to get its massive upgrade and has posted a timeline that must allow users to gauge when they will get their upgrades. Based on that, Realme 3 will be getting its Android 10 upgrade in Q2 2020 which is between April to June next year.
This will be a bit quicker than Android 11 hitting the store although the changes of these smartphones to get Android 11 appears slim as of now. Apart from Realme 3, Realme 3i and Realme 5 are slated to get their upgrade (Android 10-based ColorOS 7) during the same time frame as well.
Realme 3 Specifications
Announced in March this year, Realme 3 brings a 6.22-inch IPS LCD display onboard with a 720×1520 pixels resolution and has a Corning Gorilla Glass 3 protection. The device is currently running on ColorOS 6 which is based on Android 9.0 Pie and it is slated to get its upgrade to Android 10 as well. It runs on Mediatek Helio P70 12nm octa-core SoC with 3+32GB, 3+64GB, 4+64GB of storage variants.
With a dual 13+2MP sensor, the device can shoot 1080p videos at 30fps and has a 13MP selfie camera too. The budget smartphone is available with a massive 4,230 mAh battery with Diamond Red, Radiant Blue, Black, and Dynamic Black color variants.