Error Codes are a common phenomenon after the release of cumulative updates for Windows 10. But not so common are run-time error codes. Suppose you open your favorite application and BOOM! You're welcomed with a Run-Time error. Isn't that frustrating?  But what you do is Google for the same and try to get your solution. But to your coincidence, you did not found the proper resolution, so this made you land on this page. Well, luckily, we have the solution and the fixes ready for you. So before getting started with the repairs, it's worth knowing about this Runtime Error 203 code, which is popping up during the opening of any application. So, let's get started.
What is Runtime Error 203 in Windows 10?
Actually, if we try to understand the Runtime Error 203, in broad-spectrum, it is a simple bug and not a kind of critical error that can harm your system or your files. So you can deal with it quite quickly if you follow our guide to fixing this Run-time error 203. The run-time can be defined as the time between the starting point and ending point of an application. So the run-time is the actual running time through which the application is running your computer system. Lots of processes are involved in running an application like loading of the program, bootstrap fix, and running the code through the RAM. So we think you don't need to know that much of operating system internals until and unless you're a computer geek.
This run time Error is caused when the user tries to open an application, and the application is unable to execute correctly. So in the meantime, it crashes, giving the error code 203. It means that the application was unable to gather all the resources that were required during the startup procedure. This kind of run-time error is frustrating to the users. So let's go to our simple and easy guide and fix this error as soon as possible.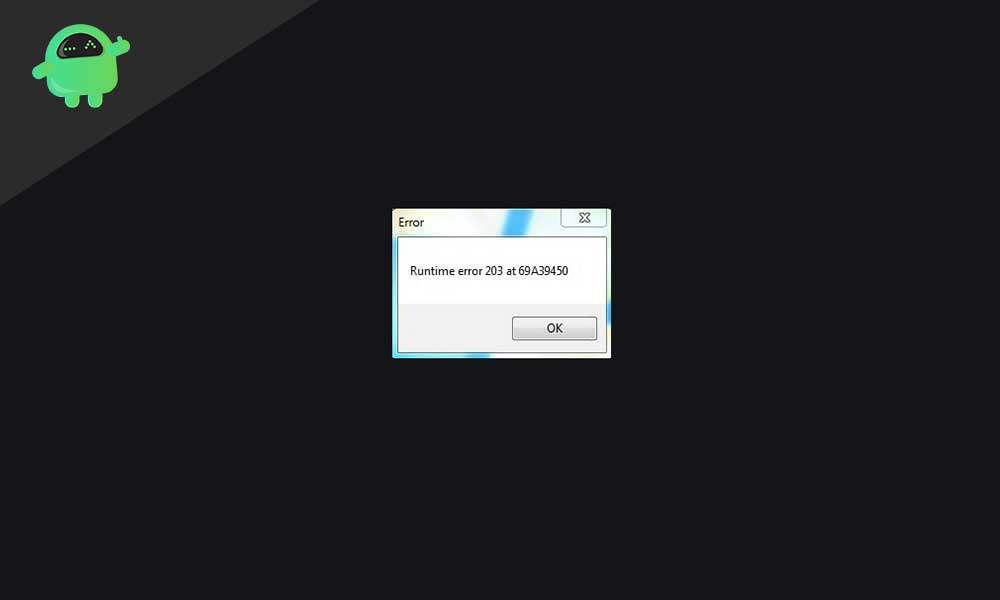 What Causes this Runtime Error 203?
With our research, we have found out that there are many causes for this Runtime Error 203. So below, we will list the possible reasons associated. And fix those in the next section. So the possible reasons are as follows.
The RAM (Random Access Memory) on your system is not in excellent condition. In some cases, it might require a replacement.
The previous uninstallation was not proper, which resulted in a corrupt installation cache still remaining in the system.
There has been some interference in the Registry editor by mistake.
Some malware function can also cause this Run-time error.
Improper software installation with custom or advanced settings which were unknown to the user.
So, as you now know, the very probable reasons that might cause the Run-time 203 error in your system. So let's move on to fixes.
How to Resolve Runtime Error 203 in Windows 10?
As you now know, the possible reason with the cause of Runtime Error, so now you're ready to fix this. We have all the fixes, and it's your choice to get going with any of the repairs. But we recommend going through the complete guide so that you can get a clear understanding of your problem and solve it accordingly. So let's get going
Solution 1: Close all the running Programs
So the first solution we have with us that you should try closing all the programs and then try to open your application with which you're facing this run-time error. This solution will, however, be more useful to those who have limited RAM or might not have great RAM, which is not optimized correctly with your operating system. To do this, follow the steps below.
Press the Ctrl+Shift+Esc keys together. This will open the task manager.
In the task manager, you will see the list of the application running.
Select the apps one by one and click End Task at the bottom corner.
Now try to open your desired application. This might fix your problem. If not, needless to say, we have more for you below.
Solution 2: Check for Windows Updates

Sometimes, Windows Updates do also help. Traditionally Windows updates are known to cause many error codes. But that's not the case this time. Windows Update can surely help you end this run-time error code. This is because they are known to optimize application according to the system. To check an update, follow the steps below.
Click on the Start button and type Update in the search box.
Press enter, and Windows will start checking for updates.
If there is any cumulative update, download it and let it install.
Restart your system
Once complete, you might not again experience this issue again. But unluckily, if you face, move on to the next solution.
Solution 3: Remove Interfering Softwares

With Interfering Softwares, we refer to antivirus software that is blocking your applications to gather the resources that will be used by the application. You can also try to run your program or applications by providing administrator privileges. Now can also disable the antivirus programs or firewalls to check that if the program works correctly. After that, you can also open the respective file location of the application and view the properties. In properties, you can check that if the program you want to use is compatible with earlier versions of Windows or not.
After trying all this, you will probably not have the Run-Time error again. If you are still not satisfied, you can uninstall and reinstall the application and check if everything was done correctly. And if you find out any problem during installation, it is sure that the setup file is corrupt you need to re-download it. Moving ahead, we have a universal bonus solution to check with your problem. So continue reading.
Solution 4: Update Windows Drivers
Device Drivers are the Softwares that form the interaction medium between the device hardware and the Software. So any fault in the device drivers can cause severe issues in the system. And sometimes can also cause run-time errors because of improper interaction with the resources.
To update the device drivers, you need to go to the official website of the laptop or motherboard manufacturer in case you are using a PC. And enter the serial number printed at the back and download all the crucial drivers available. This will surely solve all the issues related to run-time errors.
Conclusion
This was a Run-Time error 203 repair guide for Windows 10. If you're running older versions, it may be a problem due to device drivers are not available for older versions like Windows 7. But other than that, you are in a position to fix this issue up too much extent. We hope you liked our Guide for Run-Time error, and if you have any queries or feedback, please feel free to comment down below with your Name and E-mail address. Before rounding off, do check out our detailed iPhone Tips and Tricks, PC tips and tricks, Games Tips and Tricks, and Android Tips and Tricks as well.