Scavenger in Risk of Rain 2 is a powerful boss monster that you'll encounter unexpectedly during the gameplay. Because of the fact that it drops a hefty amount of loot when killed, the players are all rushing over to find its spawn location. With the Scavenger spawning in the game, all the fans need to know is where exactly they spawn and what loot do they drop.
Scavengers fall into the class of the rarest monster in Risk of Rain 2. For this reason, trying to find them intentionally is a pretty hard job. However, there are still a few things that every player must acknowledge if you looking for its spawn location and loot. So today, we'll get you through all the info on Scavenger spawn locations and loot in Risk of Rain 2.
Risk of Rain 2: Scavenger Spawn Locations and Loot
Basic Scavenger Spawn Locations and Loot
In Risk of Rain 2, we have 2 kinds of Scavengers. One is the basic Scavenger and the other is the Twisted Scavenger. The basic Scavenger appears only outside of the teleporter events. The basic Scavenger has spawn locations that are randomized but they have a really high probability of spawning in any environment after your second loop, which is after stage 10. To further filter out the locations, they often appear in scorched areas and they're highly unlikely to spawn after your first loop.
Basic Scavenger comes with loads of loot as well as a hefty amount of health. Dealing with them will really pour out a lot of your efforts and things will only get even harder as they are one of the only few creatures that have the ability to pick up and equip items. Killing them will drop a Scavenger's Sack, which contains up to 10 items of different rarity. Although they're likely to be of the common variety, you'll still pull off something rare if you're lucky.
Twisted Scavenger Spawn Locations and Loot
The Twisted Scavenger is another variant of the base Scavenger, which comes with pretty stronger stats. Twisted Scavengers are special boss monsters and you'll only find them in A Moment, Whole. In order to face off with Twisted Scavenger, you need to get into one of the hidden endings of the game.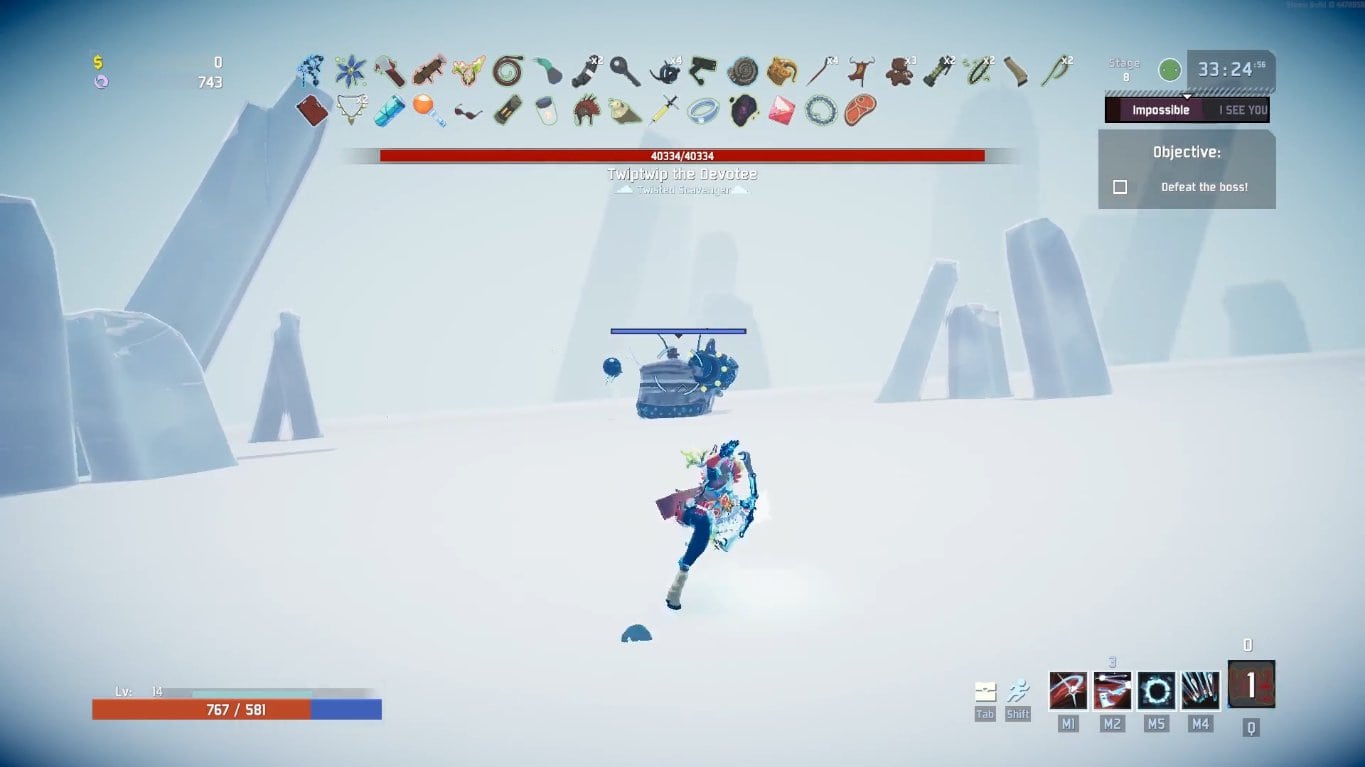 In order to unlock this hidden ending, you need to complete the third stage after your first loop (stage 8, 13, etc) with the Beads of Fealty in your inventory and then enter a Celestial Portal. As you're on the edge of the A Moment, Fractured area, you'll get to the Obelisk. When you choose to obliterate from existence at this point, you'll normally finish your run. But with the Beads of Fealty in your possession, you'll enter A Moment, Whole rather than ending your run. Through this, you'll fall into the secret ending and you'll see one of the 4 Twisted Scavengers waiting for you in the distance. The Scavengers will be one among the following – Kipkip the Gentle, TwipTwip the Devotee, Guragura the Lucky, or Wipwip the Wild. Killing it will drop the Sack containing up to 20 different items, which includes 10 Lunar Coins.
Killing Scavengers in Risk of Rain 2 is one of the easiest ways to collect loot. You may not even have to run into treasure chests if you find and kill Scavengers in later runs in the game as they'll drop more than enough items, even Lunar Coins, for you. That said, we hope reading the article above has equipped you with some bit of information. Please let us know by commenting down below if you have any further queries regarding the same.
Also, check out our iPhone Tips and Tricks, PC tips and tricks, and Android Tips and Tricks if you've got queries for it or want help. Thank you!