Finally, Samsung might be near-by to launch their first 1TB storage device, but this feature is not going to be available for the Galaxy S10, even though, they presented the Galaxy Note 9 as the world's first terabyte device, however, the S Pen-wielding powerhouse still required (which is quite costly) a micro SD card so you could break through the 512GB internal storage wall.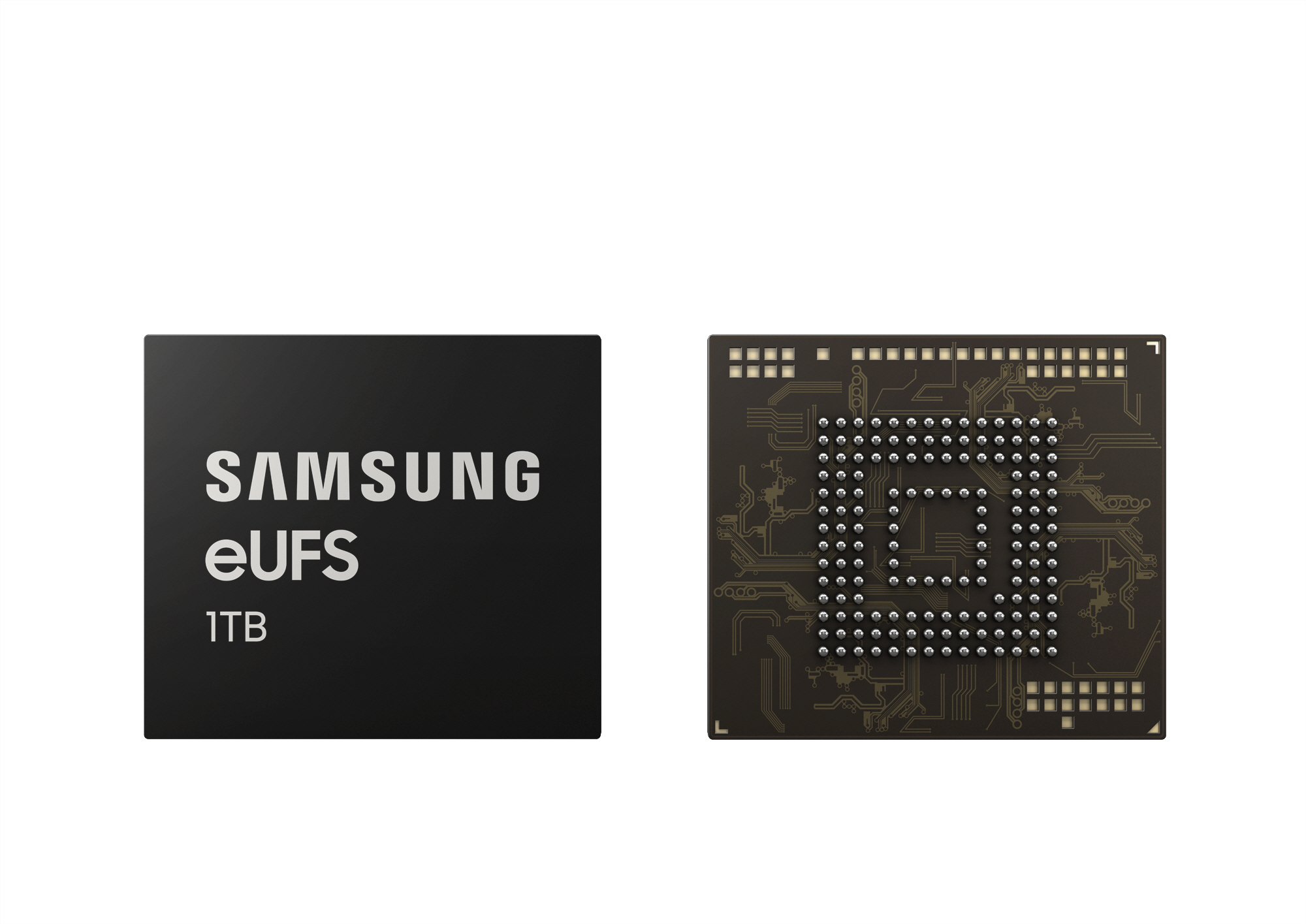 This was not convenient in terms of either speed standpoint even for the most demanding digital users. But, unfortunately, till today, the smartphone manufacturers had no option but, combine the external and internal memory to break the terabyte barrier.
Not surprising in any way, as all know that Samsung is the world's largest chipmaker and the number one smartphone vendor as well. Now, that you know who they are, back to what's the news, well, Samsung is ready to announce the mass production startup of the smartphone industries first one-terabyte embedded Universal Flash Storage (eUFS) 2.1 solution.
Yes, just four years back, they had introduced their first UFS chip, which had the ability to accommodate only 128 gigs of data and as always the intention is to use the new innovation to use in the next generation applications for mobiles.
Yes, most of the smartphone users find it adequate to store their data in 64 or even 35 gigs storage, but Samsung wants to give the users the ability to store a 260 10-minute video of 4K UHD (3840×2160) format that will be quite interesting for many users.
Of course, the fact is high, sometimes these developments are not really a solution or a needed innovation. No doubt, Samsung is definitely looking over the clouds and into the future and be able to launch the world's first 1TB smartphone storage chip, giving the mobile users a much higher consumption concern.
If this is the future of the smartphone world, then its advised to prepare yourself for advancements in the fields and not just augmented reality, but virtual reality also as this will definitely be requiring more storage capacity than what the users nowadays, feel is sufficient.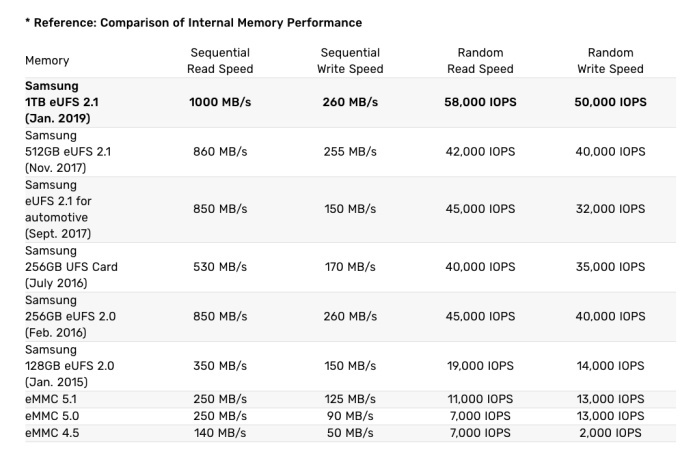 Ever since Samsung has launched the aforementioned first UFS solution, they have been improving their speed aspect over the years. Though the 1TB eUFS package is not physically larger than its 512GB predecessor, still, it does manage a better slightly faster speed. It supports sequential read and write speeds of 260 MB/s plus 1000 MB/s respectively.
That's a good up from the 150 MB/s and 350 MB/s that was available a few years ago, meaning once 1TB comes to action, transferring large files will be a piece of cake.
Now, with the mind-boggling rumors surrounding the Galaxy S10 configuration coming with a huge amount of storage and memory have been in the air for some time, its time to temper your excitement.
Sad, but true, the bubble has to burst, as Samsung is ready to launch the S10 series by March or April hence, a component that's still in mass production mode is likely to come in hand soon. Yes, the possibility is in hand, for the upcoming 5G enabled Galaxy S10 variant to be the first official 1TB internal storage foldable device from Samsung, in limited numbers of course, but we won't say to hold your breath.
As of now, it's just a guess, although history does like to repeat itself in such facts. If you remember, the aforementioned Galaxy Note 9 which is terabyte ready, was launched a complete nine months after Samsung announced their 512GB UFS production. So, you can keep your excitement intact for now.
Now, the last query and perhaps the most vital one- the cost. Well, the Galaxy Note 9 begins at a fair yet extravagant price of $999 that also with a very modest 128 gigs local digital storage and the 512GB variant costing a whopping $1,250.
So, let's assume the same price tag will be applied hence, the Galaxy Note 10 could be priced at a very high price of $1,500 or even more. Of course, the Galaxy Note 9 is a bit more expensive than the Note 9 hence, Note 10 is liable to cost more.
Now, do remember there is a large gap between 1TB and 512GB is way too much than the latter with a difference between 128 gigs to 512 gigs. Therefore, a price tag higher than $1,500 is liable than ever.
Anyhow, there is a brighter side as well, over the past few years, storage parts costs have dropped, so for now just a theory, the price could be stable at $1,500 for the 1TB device, which we have to say is sensible.