Samsung Galaxy S20 series smartphones are the new beasts in the Android smartphone market. These devices also happen to be the Korean OEM, Samsung's first flagships of the year 2020. The entire S20 lineup has three devices namely, Galaxy S20, Galaxy S20 Plus, and the giant Galaxy S20 Ultra, which is a pure-beast on paper. After ditching the TouchWiz UI, Samsung went ahead with the One UI 2.0 with Android 9 Pie, and since then the company has been well appreciated for its efforts in making the custom UI actually convenient for the users.
If there is a personal favorite custom UI among any smartphone OEM available in the market apart from the OnePlus's OxygenOS is definitely is the One UI. However, there are users who just even by a margin, as the stock Android UI and happen to use certain launchers like the Nova Launcher, Lawnchair, etc to give their phones that vanilla look. And if you are one of those users who wish to turn their Galaxy S20 devices into Google Pixel 4 then, you are at the right place as in this post, we will guide you on how to turn your Samsung Galaxy S20 into Google Pixel 4.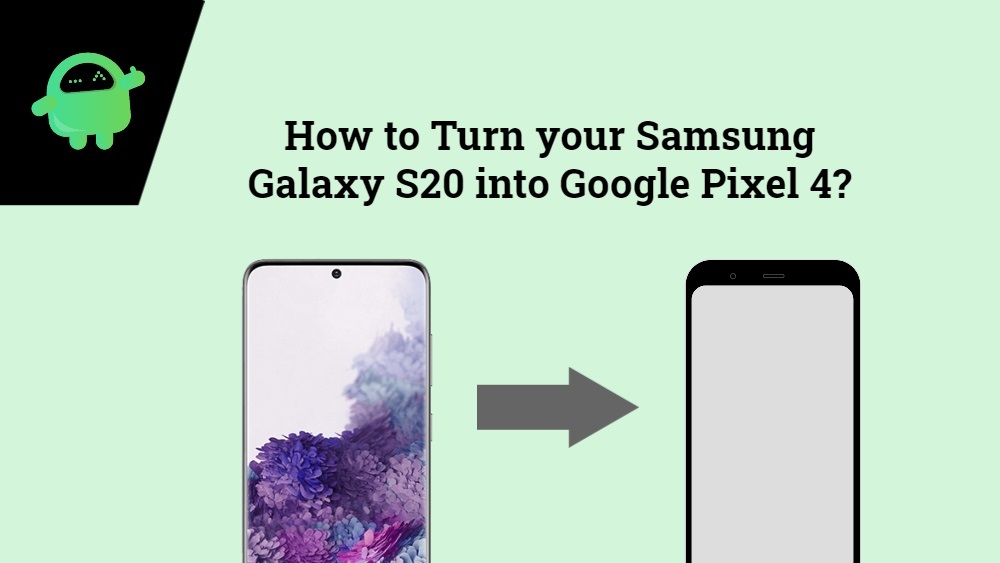 How to Turn your Samsung Galaxy S20 into Google Pixel 4?
Let us take a look at the steps that can turn your Samsung Galaxy S20 into Google Pixel 4:
Step 1: Apply a theme
As already mentioned, to get the stock Android UI experience on your Galaxy S20, you can install third-party launchers. Moreover, if you do not want any third party launchers then, you can also make use of Samsung's very own Galaxy Theme Store which happens to contain tons of themes compatible with the device. The themes would change all the design elements of the UI including Quick Settings, Settings, apps, and more. And for the Pixel-ish theme, open the Galaxy Theme Store app and under the Theme tab, search for Pixelize. Notably, there are two versions of the theme, i.e. the Pixelize and PixelizeD, the latter is a dark version of the theme. Download the appropriate version that you find convenient and install it on your phone. Once the download is complete, apply it and voila! your Galaxy S20 is changed to Pixel 4 (not literally!).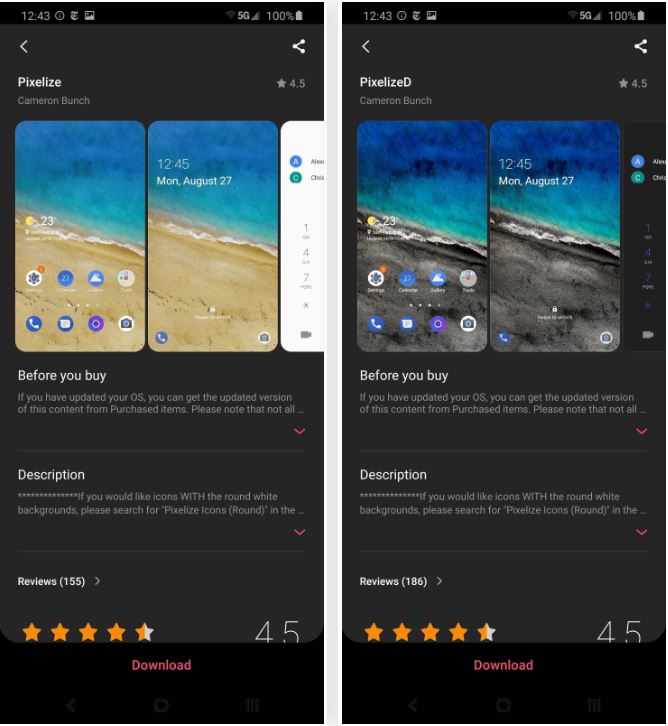 Step 2: Change the Home Screen
Third-party launchers are one of the best ways to convert your phones into Pixel phones. You can download the recommended CPL Launcher or Customized Pixel Launcher from the Google Play Store by clicking the button below.
[googleplay url="https://play.google.com/store/apps/details?id=ru.whatau.cpl"]
This is a good option for the rootless users as it supports Google Discover and At a Glance widget which are two of the most important features that are required if you want to convert your phone into a Pixel phone. However, you need to download both via a plugin app called, CPL Feed and Weather Plugin. The app is completely free, and also free from ads and is updated frequently.
Step 3: Enable Android 10 Gestures
Now once the theme is taken care of, you need to turn ON the Android 10 gestures on your phone. There is a limitation though, that Samsung is yet to push out Android 10 gesture support for the third-party launchers on the Galaxy S20 series. However, your only option as of now is enabling it via the ADB options. There are certain bugs where certain apps disable this gesture navigation and once your reboot, your phone will again go back to using the Galaxy navigation gestures. For those who know what they are dealing with, simply trigger the below command on the ADB prompt to enable Android 10 gestures:
adb shell cmd overlay disable com.android.internal.systemui.navbar.gestural
Step 4: Get Android's Quick Settings Panel
Although you have changed the theme and also have enabled the Android 10 gestures on your Galaxy S20, but there is one thing that quickly differentiates that your device is running One UI is the Quick Settings panel. There happens to be an app that goes by the name, Power Shade. The app is free to download from the Google Play Store and lets you tweak tons of other elements of the Quick Settings panel within the app.
[googleplay url="https://play.google.com/store/apps/details?id=com.treydev.pns&hl=en_IN"]
Step 5: Change the Power Menu Function
One of the best things that Samsung has done, is that they have removed the dedicated Bixby button from their devices. However, one downside is that now it is activated by the Power button. So, to fix this on your Galaxy S20, head over to Settings>>Advanced Features>>Side Key. Under the Press and hold section tap on Power off-menu to make it behave like the one found on Google Pixel devices.
Step 6: Remove the bloatware
For an in-depth guide on how to remove the bloatware from your Galaxy S20 series of devices, you can head over to the link below to follow the guide.
How to Remove Bloatware on your Galaxy S20, S20+ and S20 Ultra[Without Root]
Or else, simply uninstall or disable the unwanted apps and stick with the Google apps on your device to clean your device from bloatware.
Step 7: Use Shazam for Now Playing feature
Google introduced this feature where once you use your microphone to detect the song, Google quickly gives you the song info and also directs you to the music streaming app of your choice to listen to the song. You can get this feature on your Galaxy S20 by downloading the Shazam app. However, note that in order for this feature to work via Shazam, you need to have an active internet connection.
Step 8: Download Pixel Specific apps
Here is the list of all the Pixel specific apps that can really turn your device into a pixel phone.
So, there you have it. Your Galaxy S20 device has now been turned into a Google Pixel device. Let us know in the comments below if you liked this post and were able to get the look of the Google Pixel phone on your Samsung Galaxy S20. Until the next post…Cheers!