The Samsung Galaxy S20 Series isn't off to a great start when it comes to software. About a week ago, users reported about a green tint issue on the Galaxy S20 Ultra. Although, Samsung was fairly quick to release an OTA update that addresses the problem for S20 Ultra users. Unfortunately, things are back to square one since several users are now reporting that their phone is freezing while using Google Chrome. Galaxy S20 users have taken to Samsung and Google community forms to report the same issue. Therefore, this leads us to believe that the problem might be widespread.
According to some affected users, the bug causes their phone to freeze while using Google Chrome. Furthermore, reports from some users suggest that the issue occurs even when using Samsung's Internet Browser. Interestingly, users also claim that the phone works fine when using the Microsoft Edge browser. Thus, we too are left clueless as to what might be the possible cause for the freezing issue.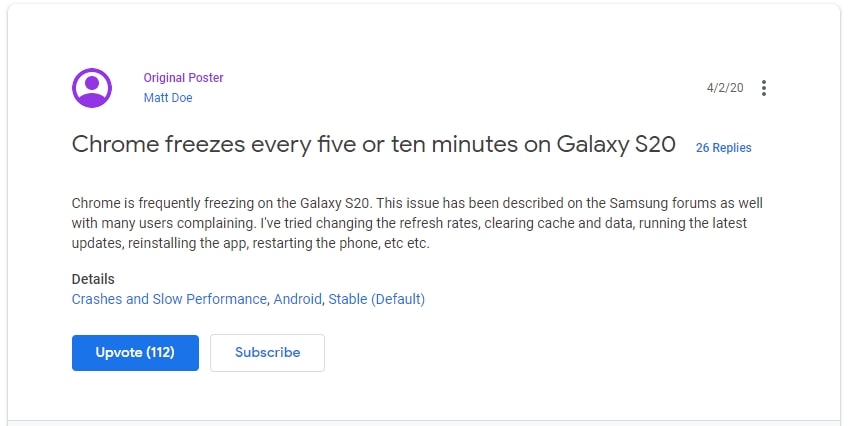 The Galaxy S20 Browser Bug seems to be affecting the Snapdragon and Exynos variants alike. What's even more interesting that another user reported that the recent update fixed the issue for them. Sadly, the latest update hasn't seemed to fix the problem for others. This claim makes the entire situation a lot more complicated than it already is.
Possible solutions to fix the Galaxy S20 Browser Bug
Until Samsung manges to pin down the cause for the freezing, users will have to try out other possible solutions to fix the problem. We've got a few workarounds that you could try out to help fix the Galaxy S20 'Browser Bug'. The first one is to simply reboot your smartphone. Chances are that you might still face the freezing bug. In case you do, try and switch the screen refresh rate back to 60Hz.
Still no luck? Well, make sure you are running the latest version of Google Chrome or your preferred browser. Another user suggestion is to turn off the 'Use screen context' option within the Google App. Furthermore, we'd suggest double-checking to see if you're running the latest software update. Lastly, if you cannot stand the freezing issue and aren't willing to wait for a fix from Samsung, you can reset your device. However, it's worth noting that resetting your device may or may not fix the issue. Therefore, we do not recommend this step.
Conclusion
It seems the South Korean giant has its work cut out. Users might just have to wait once again for Samsung to release a fix for the issue. Judging by Samsung's response to the green tint issue, users might not have to wait too long for a fix for the Samsung Galaxy S20 Browser Bug fix. Although, our guess is just as good as yours on how long the fix might take to arrive, if at all. In the meanwhile, you can check out Microsoft Edge vs Google Chrome: Which Browser is Best?, How to Turn your Samsung Galaxy S20 into Google Pixel 4, and How to Root Samsung Galaxy S20 Ultra Exynos Variants.