The Galaxy S9 and S9 Plus where considered to be the most expected smartphone to be launched in the year of 2018. After a lot of leaks and rumors, Samsung finally launched both the devices and they already started shipping globally. Now for Samsung lovers and the tech world its time to talk more about the Note 9. There have been a few leaks and rumors surrounding this device for a long time. The one main rumor was surrounding the naming of the new device. Giving a stop to all the rumors regarding the naming Samsung registered Galaxy Note 9 trademark in Colombia.
A lot of rumors suggested that Samsung might go for a different name for the phablet to be launched this year. And a new leak has stopped this rumors and confirmed that Samsung will launch the new device with the name Galaxy Note 9 following the naming trend. Samsung has registered the name officially at the Columbian patent office. A documentation giving a proof to this has also leaked recently.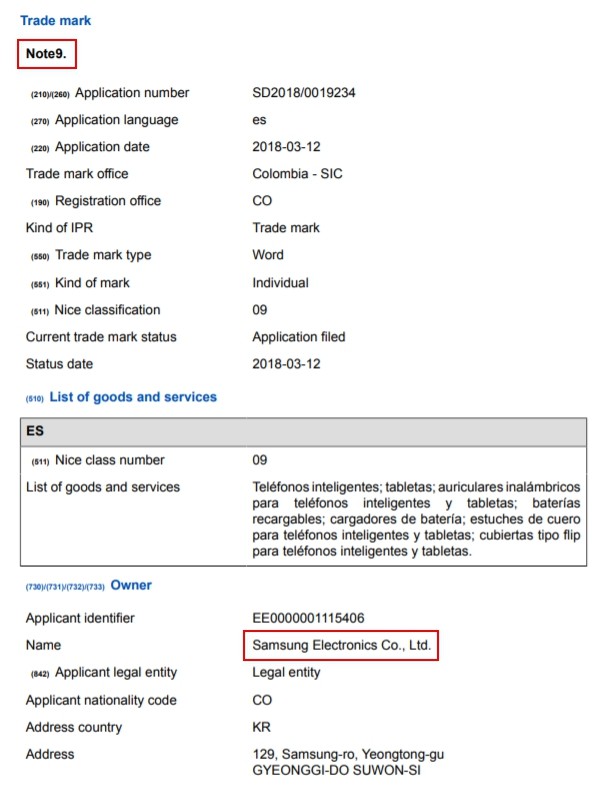 Apart from the name registered there is no much information added to the document. So we are yet to know about more specifications of the device, and all we know is the name of the device. But a lot of leaks and rumors surrounding the design and specifications of the device have already come out. One noticeable rumor in this is that the Galaxy Note 9 will come without a fingerprint scanner. Another known information is that the device will come with Android 8.0 Oreo out of the box, and it will be surprising if this doesn't happen. A display with an aspect ratio of 18.5:9 is expected to be added to the device. The new version of Samsungs virtual assistant Bixby 2.0 will make its way to the new Galaxy Note 9. This is officially confirmed by Samsung at the MWC 2018.