Whether you are creating your own app or your online websites for your small business or startup, it's important to prototype and experiment with ideas. A lot of people miss the prototyping phase for their ideas and business because it's too expensive to execute as we need to hire top-of-the-class professionals. However, Wondershare Mockitt is an easy tool that you can use to create several mockups and prototypes and build your ideas and shape them into reality.
It often comes to a jurisdiction that product mockups, designs, animated workflows are expensive and time-consuming. But now you can create these on your own as long as you have access to a computer and Wondershare Mockitt installed on it. You can create app mockups, website mockups and even work as a freelancer mockup designer to fuel your design hobbies.
Scale Your Design Thinking With Mockitt
Wondershare Mockitt is one step solution to all your designing needs, whether it be website design, app design, workflow making, or live mockups – Mockitt can do it.
Wondershare Mockitt Features
There are several reasons why Mockitt is popular among UI/UX developers across the market. The number one attractive feature about Mockitt is its ability to collaborate on the project in real-time. Plus, it's an all in one solution for prototyping, designing, making flowcharts, and creating mind maps to easily execute your ideas and projects.
Prototyping tool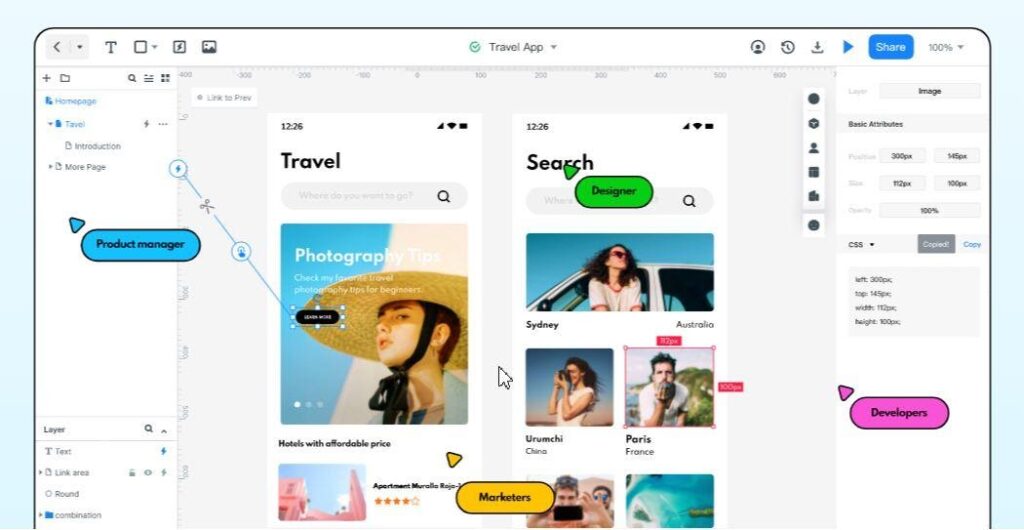 This tool can help you to streamline the process to create working prototypes for your ideas. Whether it be app prototype, website, or even your house floor plan. It helps you to highlights your concepts to make a better impression on your clients.
Mockitt prototype tool comes with a drag and drop working frame which has zero learning curve, and you can use it right out of the box. There is an extensive library of widgets and templates for you to choose from to fuel your creative ideas.
It comes with intelligent charts and dynamic widgets feature where you can fill the data and it will behave like a live app to give a more realistic feel to your design prototypes.
Design tool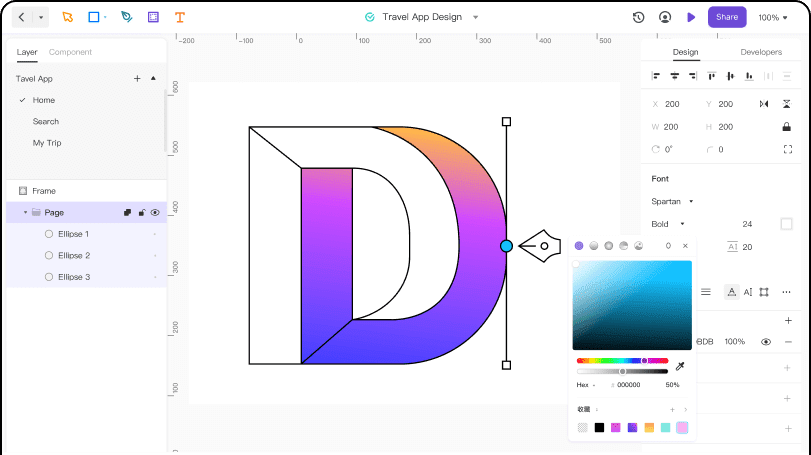 Mockitt comes with an inbuilt design tool that takes care of all your artistic works from designing to vector graphics. With its easy learning curve, you can focus on creating meaningful and impressive designs with the ability to collaborate in real-time with your design team.
Mockitt design tool supports important various graphics for the sketch and even supports Vector, Bezier Curve, and Boolean design. It supports Fast and smart page layout adaptation for your designs and makes it easier for designers to line up designs with individual widgets and components.
After designing your masterpiece, you can easily hand it off to your team with its live collaboration and one click sharing features. Your team will be able to preview it on any device anywhere and can easily inspect the design and generate code automatically. It bridges the communication gap and fastens the designing phase for any development cycle.
Flowchart tool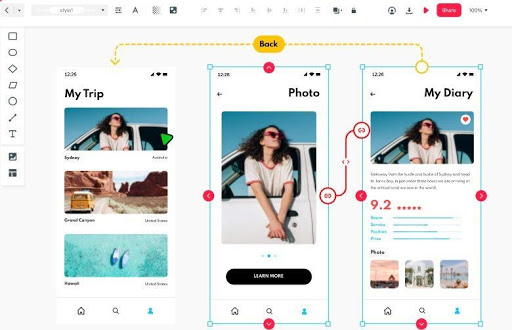 Flowcharts are an important part of any client conversation where you need to express the working of a prototype with various flows of data and processes. Mockitt flowchart tool is an easy and robust way to showcase the flow and progress of your design with screens, making your communication much clearer and efficient.
It comes with an easy flowchart maker, and you can import your existing prototypes as flowcharts and work accordingly to bring ideas and features to testable insights. After creating multiple design flowcharts, you can share them with the team with one click sharing options.
Wondershare Mockitt is the one-stop solution for all your UI/UX needs. You can create screens, interactions, create wireframes, and high-fidelity prototypes. Driving collaboration between teams is also easy with its real-time collaboration feature. With a flowchart maker, you can create a different flowchart to describe complex processes in an easy and interactive way. With the Mockitt design tool, you can design any icons, logo, and UI elements for your prototypes. Mockitt designed for:
Product Managers: With the ability to turn ideas or needs of the project into quick mockups and prototypes, it is the best tool for product managers to keep the creativity in the product for testing new ideas with prototypes and design flowcharts.
Designers: Create amazing and high fidelity prototypes in Mockitt for your projects according to the manager's needs and deliver them to developers. With its easy Rapid positioning feature, you can go back to a precise point with just one click and make the necessary changes your team asks.
Application Testers: Check the functions of early mockups easily and directly refer to the Mockitt built-in PRD mode.
User Experience Specialist: Make app prototype flowcharts to test out new ideas in the product development to make the user interface more friendly and robust in nature.
Web Developers: Designing websites is an art and with the right amount of design skills, one can create a masterpiece. Mockitt designing tool can help web developers to make websites mockups and use the inspector data and design resources to start the programming in an easy manner.
Marketing Specialist: As a marketing specialist, it is a challenge to create prototypes and advertisement demo for your clients, with Wondershare Mockitt, you can easily create such demo campaigns with rich flowcharts and demonstrate them to clients more precisely.
Designers love Mockitt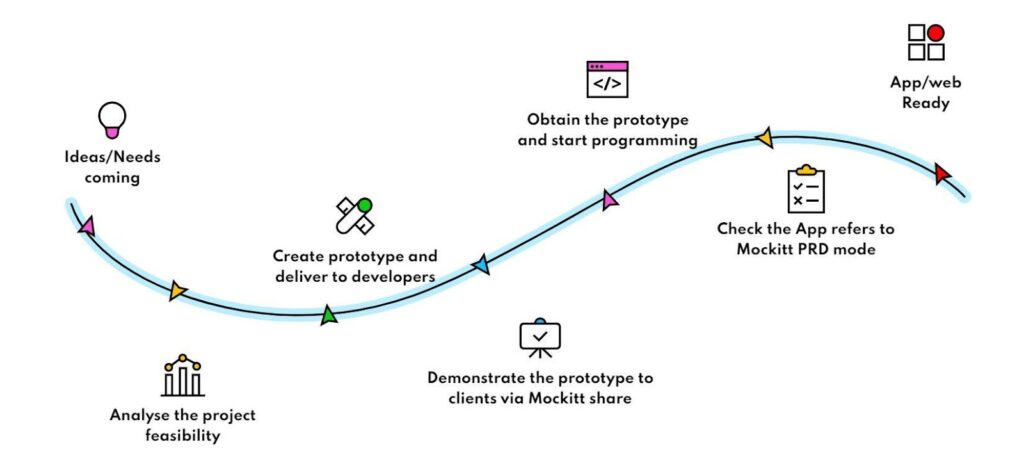 From ideas brainstorming to finalized app mockups, designers use Mockitt to create, share and finalize product mockups easily with their teams. The all in one tool has functions to support the work of product managers, designers, and developers in product design and team collaboration purposes.
When it comes to the development of any project, transferring data from prototypes to real projects is easy. Mockitt helps to close the communication gap between designers and developers. It allows developers to engage in the design process and easily inspect the prototype with ready to deploy data and insights.
Wondershare Mockitt is easy to use and ready for professional use with rich templates and widgets, PRD mode, fine-grained authority management, and other features. Mockitt has been established for six years now with 1.9 million happy customers all over the world and the family is growing ever since.
Conclusion
Overall Wondershare Mockitt is an amazing tool for both professionals and beginners with its robust capabilities in the field of designing, prototyping, and creating flowcharts. The one feature I absolutely love and adore is the flowchart tool where I can use my existing mockups to create meaningful flowcharts to create the whole development process smooth and refined.