In Sea of Thieves, each type of skeleton has its own Captain, the Captain Skeleton is the Boss Skeleton and can spawn by itself or after many waves of soldier skeletons during raid quests on an island. During the Skeleton Fortress raids, players will encounter Captain Skeletons as the bosses defining these fortresses or even as mini-bosses during specific Tall tales.
Unlike the regular skeletons, the Captain Skeleton can be identified easily. They usually have distinct fancy clothing along with red nametags. Skeleton Captains can spawn as any of the following in Sea of Thieves:
Normal
Shadow Skeleton
Plant Skeleton
Gold Skeleton
They can spawn with or without weapons like the Cutlass, Flintlock Pistol, or Blunderbuss shotgun. However, in no circumstance will they spawn with Gunpowder barrels or with Eye of Reach. Let us find out how players can defeat this Skelton captain in Sea of Thieves.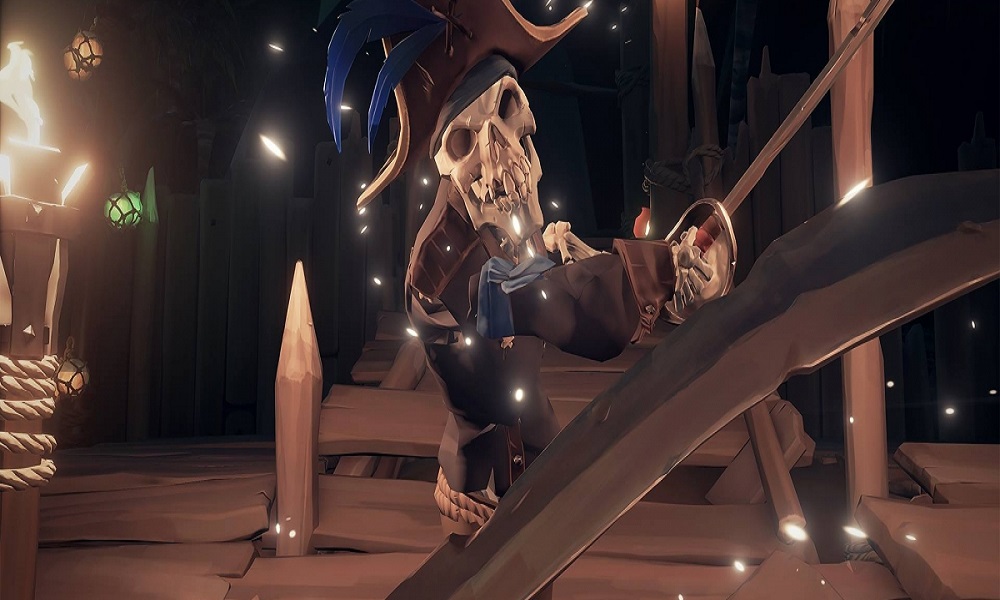 How to defeat Skeleton Captains in Sea of Thieves
The Captains share similar attributes with the regular skeleton counterparts, but each of them has their own exclusive attacks. They are also much larger in size and usually have a fancy hat.
Some of the common Skeleton Captains in Sea of Thieves are the Bone Skeleton, Plant Skeleton, Shadow Skeleton, and Gold Skeleton Captain. Defeating a Captain varies based on the minion skeleton counterpart. The Skeleton Captains have much more health than normal and are also known to consume bananas for restoring health frequently.
For instance, the Gold Skeleton Captain will be susceptible to water, whereas the Shadow Skeleton Captain can be made vulnerable by shining a light on it. To kill a Regular Skeleton Captain or Plant Skelton Captain, players will need 17 Cutlass shots or at least 7 combos.
Upon defeating a Skeleton Captain, players will get to collect a drop item as a reward.
At times, Emergent Skelton Captains can appear in the wild along the shorelines of islands.
Successfully killing a Skeleton Captain will earn crews that are on the Order of Souls Emissaries, an Emissary Grade Reputation.
It is important for players to know that these captains will spawn after the last skeleton minion from the wave is destroyed. This means players can use this effectively by keeping the previous skeleton minion alive. Until they have rejuvenated sufficient health to take on the Skeleton Captain.
So that covers all the basics on what players need to know on how to defeat Skeleton Captains in Sea of Thieves. We hope this guide helped you. Check out our Windows Guides, Games, Social Media, iPhone Tips and Tricks, and Android Tips and Tricks for more. Subscribe to our YouTube Channel to participate in our $150 giveaway. However, if you find any queries or feedback, do comment down below with your name and e-mail ID, and we will respond shortly. Thank you.