Fishing is a great way to enhance your reputation with the fraternity of fishermen located across the island, the Hunter's Call. Here we have come up with a new guide that will help you with the basics of fishing that will help you to catch and sell the fishes in the Sea of Thieves.
Fishing was introduced in Xbox Game Studios' swashbuckling action-adventure game Sea of Thieves with the Anniversary Update in April 2019. This allows cutlass-wielding sea pirates to do something different from the usual looting and pillaging.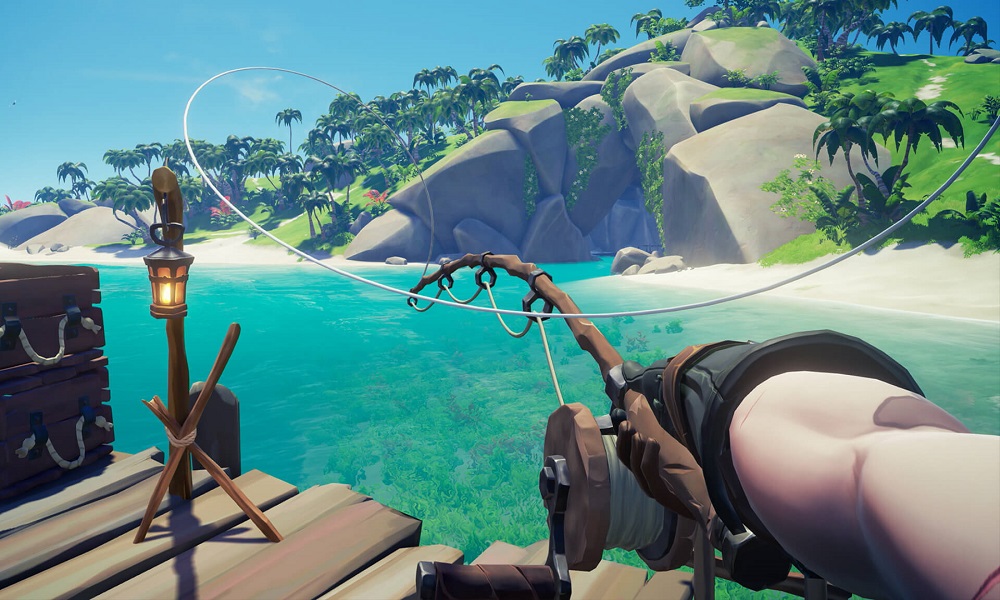 Basics of fishing in Sea of Thieves
In order to start fishing in Sea of Thieves, you will require a fishing rod and a stretch of open water. Although fishing bait is not mandatory, it is essential in order to get some species of fish. You will be able to obtain and prepare your fishing pole at 6:00 in the second inventory wheel. You just need to open the wheel by pressing down Q and then hitting F to switch to the second wheel.
The basic fishing rod you need will be available for free in your inventory. In case you want rods that look a bit different, you can buy them at outposts. However, they have no effect on the fish you encounter. After this, you can prepare bait for your hook. You can choose between three types of bait in the game – earthworms, grubs, and leeches. Each of these lures in different species of fish.
You can find the bait in barrels scattered about the game's world. Apart from this, these animals can be dug up from the ground using a shovel. You can dig up dirt for earthworms and sand for grubs, and catch leeches in shallow waters, such as at the coast.
You can equip bait by loading up the inventory wheel and pressing R to attach it to your hook. After this, choose the bait you would prefer to use. Make sure not to eat it, though. As you can imagine, these things are more for piscine consumption than for humans.
Now that your fishing line is all set take up your position and hurl it out into any nearby water body. Just make sure there are no rocks or rigging in the vicinity, or your line will snap upon hitting them. Cast it out by left-clicking your mouse, and be patient until you finally get a tug on the line. If you turn away from the front, the game will automatically pull your view back when a fish bites it. Continue reading our fishing guide.
Catching Fish in Sea of Thieves
After the fish bites into your bait or hook, keep pulling in the right line opposite to the direction of movement of the fish by pressing WASD. Usually, it only pulls either left, right, or right ahead. When you are fishing in turbulent waters, though, its direction can be hard to determine. Your controller/screen will start to shake if your line is about to snap, so utilize this warning to correct your direction of pulling.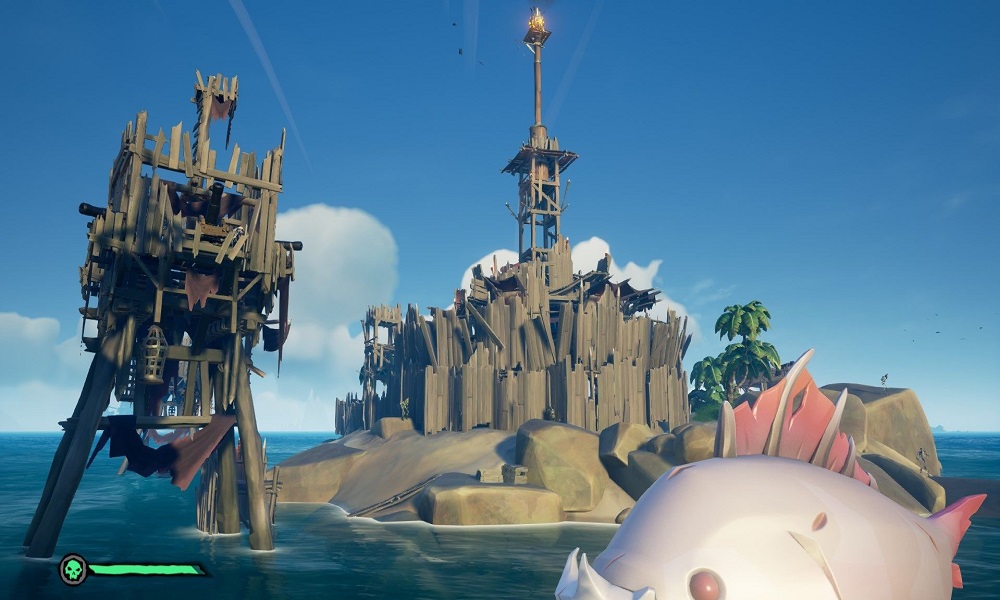 After the fish is finally exhausted and stops pulling, reel it in as soon as possible. It will tend to put up a fight, so repeat this procedure a few times before you finally lay your hands on it. Stop reeling if it starts thrashing about again because it could cause the line to snap.
You can proudly admire your catch swinging from your line, but make sure you have space for it in your inventory. And don't make the mistake of casting your line again without removing the fish first, or it will be lost forever.
All about Selling Fish in Sea of Thieves
In Sea of Thieves, you will not be able to sell cooked fish at any of the outposts. You must turn in your fish at seaposts and little piers on rocks that you will find labeled all across your map. Here are the eight different seaposts in the game:
Brian's Bazaar – Y12
Roaring Traders – U20
Stephen's Spoils – L15/16
The Finest Trading Post – F17
The North Star Seapost – H10
The Spoils of Plenty Store – B7
The Wild Treasures Store – O4
Three Paces East Seapost – S9
Near the edge of the pier, you will meet a man representing The Hunter's Call at each of the above seaports. The price you get for the fish depends on their rarity and the condition of the specimen you are about to sell. Remember that half-eaten fish cannot be sold. Cooked fish is in high demand, so you could cook your fish beforehand in your ship's pan before turning them into The Hunter's Call.
Be careful not to burn your fish while cooking, because burnt fish are worth even less than raw fish in the market. For this, observe the fish's eyes while cooking. When the eyes become white, it indicates that the fish has been properly cooked and needs to be taken off the pan. If you fail to do this, it will be burned. And if you remove it too early, it will be undercooked. So make sure you practice this correctly for the best results.
That is all for now. We hope this guide comes in handy during fishing in Sea of Thieves. You can check out our Windows PC Guides, Games, Social Media, iPhone Tips and Tricks, and Android Tips and Tricks for more. Subscribe to our YouTube Channel to participate in our $150 giveaway. However, if you find any queries or feedback, do comment down below with your name and e-mail ID, and we will respond shortly. Thank you. Happy fishing.