Camera technology has greatly evolved with the evolution of Android over the last decade. To use features like 1080P, 4K recording or slow motion you don't need to buy some high-end camera. In case you are on a tight budget, any mid-range smartphone will do the job for you. These days smartphones come with efficient camera apps. When we talk about the camera app for Android, Google Camera is hands down the best you can get. Innovative and unique features are what makes the Google camera stand out from other apps out there. It has so many features like nightsight, panorama, slow-motion, HDR+, photosphere, etc. In this post, we will tell you how to Shoot Slow Motion Videos on Google Camera.
How to Shoot Slow Motion Videos on Google Camera
You have to keep in mind that if you are using a ported GCam, then the slow motion feature may not work on a few devices. This is due to hardware and software limitations. Remember that Google Camera is originally for a premium phone. So, trying its mod on a low-end device may not give you all the features.
Accessing Slow Motion Video Option
Step-1 Make sure you have installed any Google camera port on your device.
Step-2 Now go to app drawer > go to Google Camera App >tap to open it
Step-3 Now among various options, you will see an option More. Tap on it.
Step-4 Now you will get the slow-motion option. Tap on it.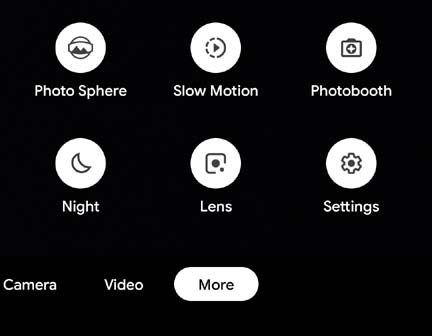 Step-5 All you need to do is press the record button to shoot slow motion video.
Note: Usually, the shooting frame rate is set to 1/4x. If you want further slower video, then you can set it to 1/8x.
You May Also Like,
So, that's it, guys. Now that you know how to shoot slow motion videos on Google Camera, go try out some cool slow-mo videos If you have any queries, do let us know in the comments.