Sea of Thieves is full of action and adventurous game that is developed and published by Microsoft Studios as well as exclusive to Xbox One and Microsoft Windows only. Talking about the gameplay, the player takes the role of a pirate and starts his voyage with Trading companies in order to become the Ultra Pirate Legend. Sea of Thieves is a first-person multiplayer game that you can play along with your friends to cooperate in the missions. Moreover, the gameplay is addictive, and Microsoft Studios release frequent updates to keep this game free from glitches.
Now the players during their voyage are seeing a cloud that is looking like a skull, and they are a bit confused and skeptical about what does that means. They are frightened to go towards that as that may lead to more furious enemies or something terrible. But in reality, it is nothing that bad but complicated. We decided to bring up a complete guide to discuss what the Skull Cloud means and what you need to do. So to know this, continue reading, and eventually, you will get to know.
What is Skull Clouds in Sea of Thieves?
When you are going on an adventurous voyage, you will see some Skull Clouds. You might think of it as some kind of captured animals or anything. But they are actually something that you must take care of.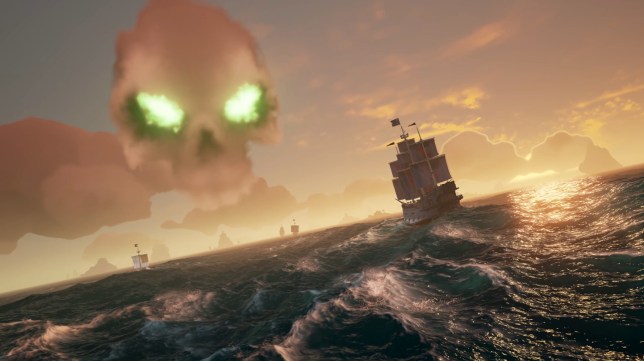 The Skull Clouds signify the Cursed Islands on your voyage route. And they are among the two world events that are going on in Sea of Thieves. When you get on those islands, you will need to fight with hordes of skeletons and then collect their loots when you kill them.
Moreover, the skeletons you kill will be of varieties. Some are standard white, blue is stronger, and the most dangerous the golden ones. Gold skeletons are the most difficult to fight, but they give the best loot. Moreover, the gold skeletons, when killed, split into two waves making your fight more fearsome.
Wrap-Up
This guide was to help the players of Sea of Thieves who were not understanding the significance as well as the meaning of the skull cloud. We hope that now they have understood and are ready to fight with them. We hope our guide helped you.  If you have any queries or feedback, feel free to comment down below with your Name and E-mail ID. Likewise, check out our iPhone Tips and Tricks, PC tips and tricks, and Android Tips and Tricks for more such tips and tricks. We urge you to participate in the $100 giveaway by subscribing to our YouTube Channel. Thank You.