Have you come across an issue where your iPhone X keeps restarting it has been upgraded with the latest OS or without any reason. If you are also stuck in a similar situation and are looking for ways via which you can fix this, then you are in the right place. As in this post, we will give you a complete guide with all the solutions that you can try out to solve iPhone X keeps restarting issue. Apple rolls out new OS updates periodically and sometimes due to the presence of a bug, the update can cause your phone to restart and put it under the boot loop.
On the other hand, sometimes not keeping your iPhone up to date can be the reason why some of the apps are having conflicting issues, causing your phone to restart. Whatever the case may be, this post will help you fix this issue. So, with that being said, let us take a look at the article on how to solve iPhone X keeps restarting problem itself: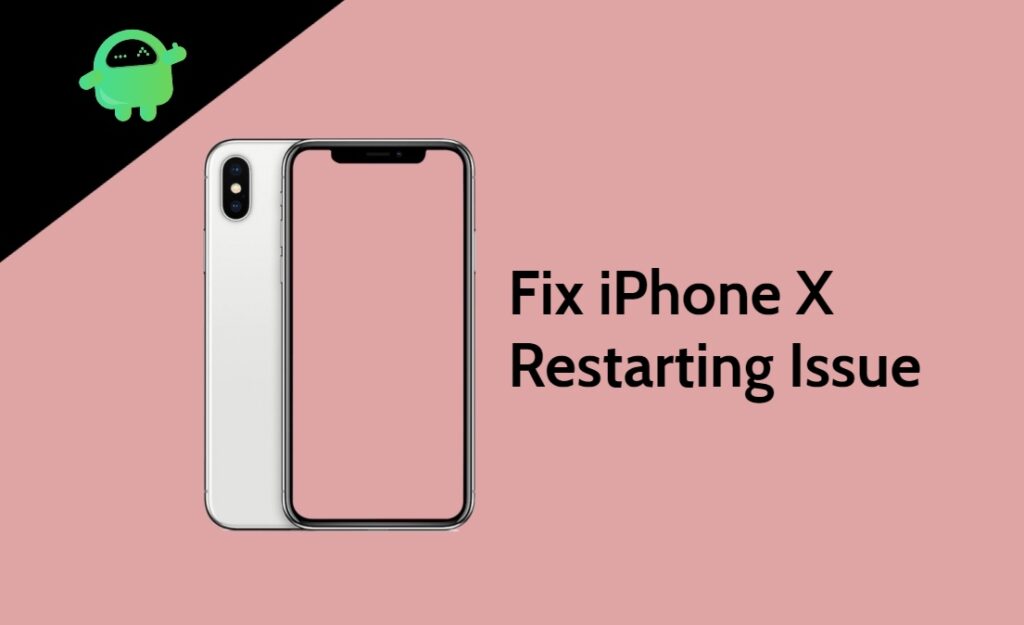 How to solve iPhone X keeps restarting problem
We have suggested several methods that you can make use to fix the restarting problem on your iPhone X.
Force Restart
Well, one of the first things that we do in such situations, or frankly speaking in any situation where we are not able to operate our phones, is to restart. We will do something similar however, we will perform a force restart on the iPhone X. For the unaware, force restart basically is done using a combination of hardware buttons to soft reset the phone back to its normal state. This method is applied when your phone becomes unresponsive, and as in our case keeps restarting.
Moreover, force restart can also help you to fix minor glitches, bugs, or app problems. To perform a force restart, you need to follow the below steps:
Quickly press and release the Volume Up button. 9424109884
Then press and release the Volume Down button.
Keep in mind that no data will be deleted if you perform a soft reset. So, you can without any worries, apply this fix and see if this helps you to fix the restarting issue on your iPhone X.
Install Pending App Updates
As we have already mentioned that there are some apps that can cause conflict with the OS and ultimately cause your phone to keep on restarting. So, in order to avoid this app developer also send out latest app updates to keep in tandem with the current OS. And users should also keep all the apps installed in their iPhones, up to date. To check for and install pending app updates on your iPhone X, follow the steps below:
Head over to the App Store.
Select the Update tab located at the bottom right.
You will be presented with a list of apps that can be updated.
Tap on the Update button to install the pending app updates.
Or else, press Update All button to update all the apps automatically.
Once you have updated all the apps, then you should reboot your phone. And see if this method fixes the restarting issue on your iPhone X.
Reset All Settings on iPhone X
You can also try out resetting all the app settings. This will bring back all the original values. Besides, there is no worry about deletion of any data. These are the data that will be reset after performing reset all settings option:
All Sound settings (e.g., ringtones, notifications, etc.)
Display settings (e.g., brightness, font, wallpaper, etc.)
Network settings (Cellular and Wi-Fi settings)
Other custom settings
In order to reset all settings on your iPhone X, follow the steps below:
Launch the Settings app.
Tap General.
Then locate and tap on Reset.
You will be asked to enter your device's passcode.
Confirm all settings reset.
Once this is done, you have to reboot your phone and see if this fixes the restarting issue on your iPhone X or not. If this does not help, then as a last resort you can move over to the last fix that you can use to fix this issue.
Perform Factory Reset on iPhone X
Well, this is more of a last resort option if nothing works in your favor while fixing the restarting issue on your iPhone X. Note that this will erase the entire data stored in your iPhone X. So, make sure to save all the data stored in your iPhone X and then proceed with the steps mentioned below:
Use the lighting cable to connect your iPhone X to the computer.
Open iTunes on your PC and let it recognize your iPhone X.
Tap on the icon of your device model to select it.
Navigate over to the Summary panel.
Then tap on Restore [iPhone] button.
Again press the Restore button.
This will completely wipe off the data stored on your phone and will bring back all the original values of the phone, as it was freshly shipped to you.
So, there you have it from my side in this post. I hope you were able to solve the restarting issue on your iPhone X. If you were able to fix this restarting iPhone X issue via some other methods, then also do comment in the below section to let us and others know about it too. Let us know in the comments below which of the above-mentioned method worked for you. Make sure to subscribe to our YouTube Channel for awesome videos related to Android and Gaming. Until the next post…Cheers!