Wi-Fi today is the new name of internet connectivity. A time when cellular data bundles are sold heavily is now over. Now even the cellular service providers are selling pocket Wi-Fi modems widely. The winning mantra behind this is the ability to connect multiple devices and of course, the data rate provided. Now all the smartphones releasing in the market is coming out with the Wi-Fi feature added to it. This has become one of the basic things needed today. There have been issues with the Wi-Fi being weak in the new iPhone 8 plus. Here is an article which will take you through the steps to solve the weak Wi-Fi issue on iPhone 8 plus.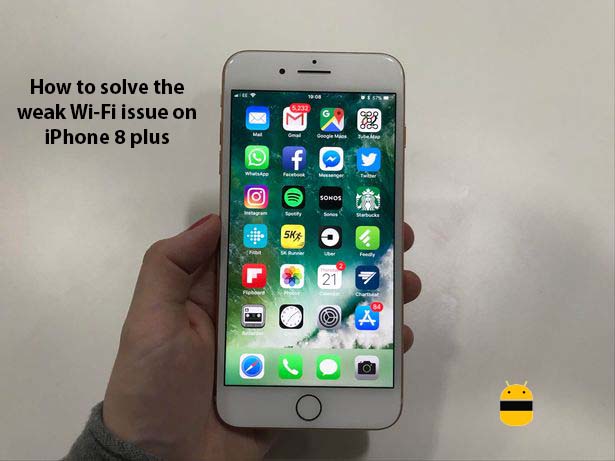 Steps to solve the weak Wi-Fi issue on iPhone 8 plus
There can be multiple reasons which are leading to your Wi-Fi working weakly and the steps to solve it also do vary. It can be as simple as a network issue on the service provider end to some network settings issue on your device.
Restart your Wi-Fi modem
The basic thing you can do is restarting your modem. You can do it by pressing the power off your modem twice. This will act as refreshing your whole modem solving any issue with it.
Contact your service provider
In most of the cases, it was seen that a temporary issue at the service provider's end is what caused the issue. You can physically do nothing about such an issue. So wait for sometimes for the issue to be cleared. You can also contact your provider and register a complaint. Anyway before going forward with steps on your device make sure it is not an issue from the service provider's part.
Reconnect to network
Reconnecting to the Wi-Fi network is the basic solution you can try on your device. Rather than simply disconnecting and reconnecting it is recommended that you forget network and then reconnect. The steps to do this are:
Open settings
Select Wi-Fi option
Click on the connected Wi-Fi network
Click on the forget network option
Connect again by clicking and entering the password
Network Reset
Try this as the final step to solve this issue. If nothing above works this can surely clear all network related issue. The steps to do a network reset on iPhone 8 plus are:
Open settings
Tap on general
Swipe down and tap on reset
Tap on reset network settings
Confirm reset
I hope this guide was useful in understanding how to solve the weak Wi-Fi issue on iPhone 8 plus. If you have any queries or feedback, please leave a comment below.