Samsung completed 2019 with timely roll out of system updates and monthly patches for its devices. Talking of system upgrades, Samsung has been super busy last year testing out the all-new Android 10. In fact, by the end of 2019, a majority of its flagships received the stable version of Android 10 with One UI 2.0. In fact, the US-based carriers and unlocked variants of the Galaxy S and Note Series devices have received the Android 10 update.
Now, the tele-carriers are not behind when it comes to rolling out Android OS updates. Already, AT&T, Verizon, and T-Mobile have dropped the Android 10 update for Galaxy Note 10/Note 10+. Currently, Sprint is also pushing the Android 10 with One UI 2.0 update for Galaxy Note 10 and 10+. Users can recognize the software by its build number N975USQU2BSL7. The system update to Android 10 also brings the December 2019 security patch.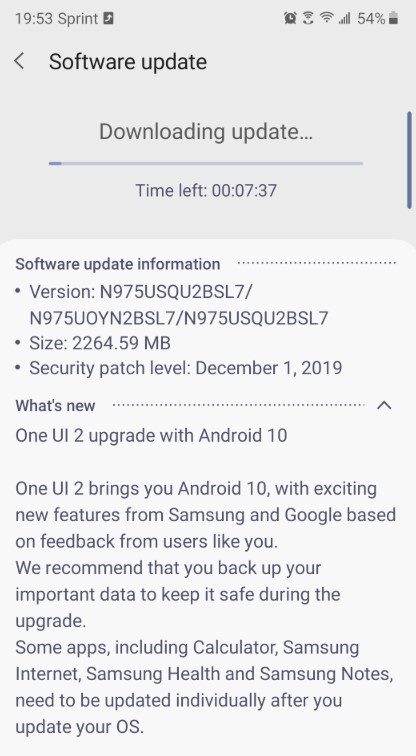 The OTA update may take some time to reach every device out there. So, if you do not have enough patience to wait for it, then check for it manually. To do that go the Settings > System. Under that go to Software Update. Tap on Check for new Update. If the new update is available you can download it by following the on-screen instructions. With Android 10, you can enjoy these awesome features on your Note 10/Note 10+.
The BSL7 system update weighs over 2 GB. So, make sure to download it using a stable Wi-Fi network. This way the download and installation process will be quicker. Also, make sure that your device doesn't run out of battery while you are busy updating it. So, it is a good practice to charge your device sufficiently(over 50% recommended) before installing the new system update.
So, if you have already received and installed the Android 10 with One UI 2.0 on your Sprint Galaxy Note 10/10+ then congrats. Otherwise, search manually for the BSL7 update as we have explained above. Install and enjoy Android 10 on your device.