Minecraft Dungeons was initially slated to be released in April, but given the current world health crisis, it has been scheduled for May 26, 2020. Minecraft Dungeons is purely a crawler game and does not involve any kind of building like in its previous games. The game will be available for all major gaming platforms and supports up to 4 local players as well as online multiplayer. Fans of the Minecraft series are already aware of emeralds as it is the only thing players can use to barter with and now they are curious to know about storage spaces that can help store rare items. This guide will shed light on storage space in Minecraft Dungeons, where the players can store their rare items.
The game features a crawler-loot system that will have players exploring various dungeons, fighting other enemies and bosses, completing quests, and mission objectives. While progressing through the game's different zones, players will be able to loot various items. Each item has it's own value and rarity, which may make collecting them highly valuable for a player. Also, by collecting better items, players can get stronger. With each new item collected, players can add it to their character's inventory. The obvious question arises, can players save these rare items? So get the answer to this question, let's get started with our guide.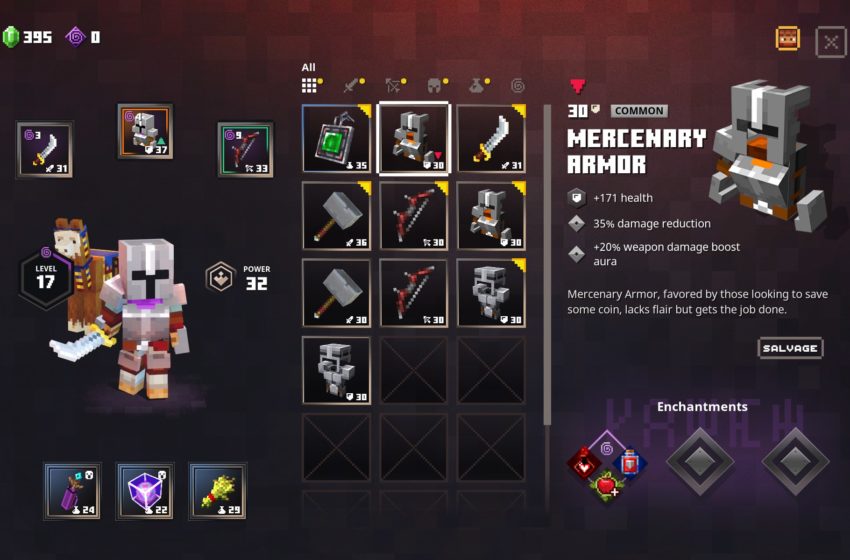 Do You Have Storage Space in Minecraft Dungeons?
The only form of storage space for the player's loot items, equipment, and other collectibles is the in-game inventory. Players cannot carry anything more than what they have collected in the inventory. Items, equipment, or any of the collectibles can not be tucked away safely somewhere for later, nor can they be stored anywhere in the camp. All items will get saved into the inventory by default.
If storing items and equipment into inventory does not seem to be viable, players can always scrap them in return for gems. Farming the loot items is always a useful alternative. In Minecraft Dungeons, players can scrap any item, weapon, armor, or artifacts. The items will break down, and players will receive gems based on their value. Players can then use these gems with the Blacksmith or Wandering Trader. Due to the frequent rate at which players are expected to salvage items and have them broken down, having storage space can seem purely optional.
However, if scrapping loot items and equipment does not seem interesting, players can always enchant them. In Minecraft Dungeons, players can enhance their weapons and armor using the game's enchantment system. The enchantment system works only on a single weapon set at a time. This means players need to be careful when enchanting weapons as they cant transfer them to the next set. In order to do that, players will have to scrap it and add the necessary enchantment points to it.
This guide was to help the players of Minecraft Dungeons who want to know about the storage space of rare items. After reading our guide, players will find it easy to store and use them later.
GetDroidTips works seamlessly for you people day and night to offer the best iPhone Tips and Tricks, PC tips and tricks, Games and Android Tips and Tricks. So it does become your task to subscribe to our YouTube Channel. Moreover, there, the benefit is yours. We are offering a $150 giveaway contest for all our subscribers who watches our videos there. Now signing off here, to prepare another best guide for you. You can also comment down below with your feedback and queries with your name and e-mail ID, and we will love to help. Thank You.