Though TCL Plex is a new player in the market, it stepped up to Android 10 in no time. Currently, the device is receiving a huge system update and a new software build v2.0.2B.A.G. The latest update improves the stability of the camera. It also includes updates for the skin color filters and high pixel mode performance.
The OS update also improves security and enables EE VoLTE as well as VoWiFi for UK markets. The usual Android 10 features like gesture controls and dark mode. Music player apps can run smoothly on the lock screen. To know of the other updates that come along with the Android 10 for TCL Plex, you can refer to the screengrab below.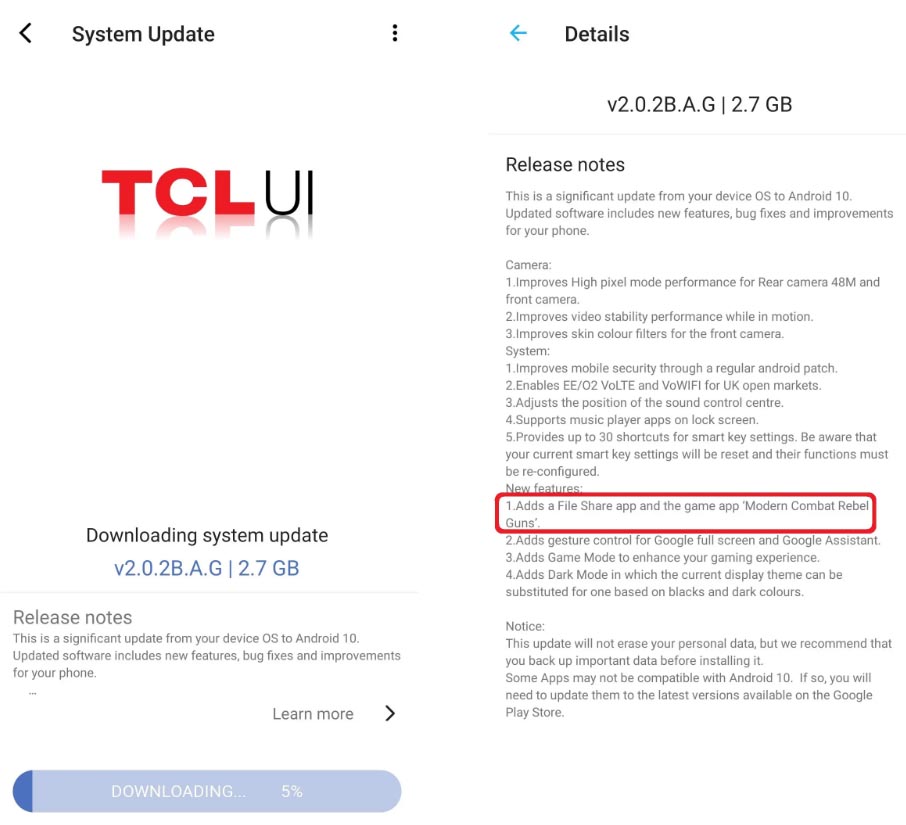 However, the TCL Plex Android 10 update also brings about some bloatware. The new software brings a file share app and a game app as well. This game is Modern Combat Rebel Guns. The good thing is users can remove this bloatware after installing the new system update. Although if you perform a factory reset, these applications will back to the device.
The OEM should have been careful with these things. In modern-day when users are aware of bloatware and prefer a cleaner interface. TCL Plex being a new device did a great job by pushing Android 10 right in the first month of 2020. However, to maintain mainstream popularity, the updates should be user-centric and efficient. Tagging along bloatware is not a good idea where the Android market is raging with devices offering cleaner near-stock Android interface.
The latest TCL Plex Android 10 update weighs a massive 2.7 GB. We recommend you to use Wi-Fi to install the update. That way you do not have to pay for using the data. Some of the apps may not support Android 10 post the system update installation. So, upgrade the standalone apps to their latest versions as well for smoother user experience.