Android smartphones have evolved a lot in case of their usability. And with the latest update of Android 8.0 Oreo and the addition of new features Android has become a better operating system for your smartphone. At the same time, the Smartphone manufacturers are upgrading hardware to cope up with these changes. But there are some settings which have been the same and stayed with Android for a very long time. Such a setting or feature a majority of smartphone users today are aware of is the text prediction. Read below the steps you should follow to change text prediction settings on the Essential PH1.
The text prediction can be a great helping hand for some users, at the same time there are users who hate this. Text prediction is a feature which will predict and autocorrect the text that you are typing on your device. This can be an issue at times when it predicts a blunder instead of the real word. Although it happens rarely with people who use English as a medium to text, users who use regional languages get issues with this often. And so Android has made an option to disable it or change it setting as a user want. If you want to know how to do this on your Essential PH1, find the steps to do it below.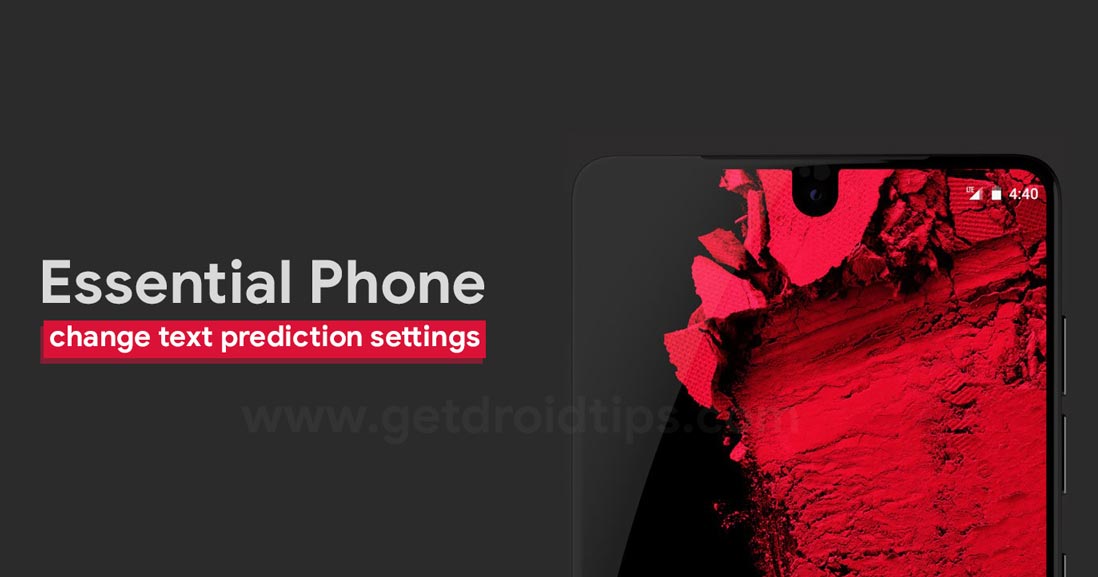 Steps to change text prediction settings on the Essential PH1
The Essential PH1 offers more than just enabling and disabling text prediction for its users. In addition to this, they have more advanced settings and also Text correction options. Everything about these options is explained below, please read through to find out.
Steps to turn text prediction off and on
Open settings
Tap on language & input option
Tap on keyboard
Scroll down to find predictive  text and tap on toggle button to turn it off and on
Advanced settings
You also can customize different things about the keyboard on your Essential PH1 using advanced settings. This includes the ability to set a customized time delay for long press on a key. This is an advanced text prediction feature which will bring in special character when you press on a key for a long time on your keyboard.
Text correction
Most people face issue with predictive text on some individual words. And at most times people will disable text prediction just because it doesn't work well for a couple of words. This is where the Text correction option can help you. You can add a menu to your personal dictionary. And Android will ignore changing the words that you normally use in your text.
I hope this guide was useful in understanding How to change text prediction settings on the Essential PH1. If any queries or feedback, please leave a comment below.