The Samsung Galaxy A series came out years back with a different interface design from the cliche Samsung Galaxy interface. The two top devices from the A series are the Samsung Galaxy A8 and A8 Plus (2018). When it comes t the developer group of Android what a high-end device makes them do is experimenting with it. There are many users who are not that tech-savvy but still to do experiments with their device. Samsung Galaxy A8 and A8 Plus have a good hardware configuration that is perfect for doing some experiments with. But the real nightmare of all of these people is the device going unbricked. If you have unbricked your Samsung Galaxy A8 or A8 plus and don't know what to do, I can help you with this article. Read along to find out how to Unbrick or Restore Galaxy A8 and A8 Plus (2018).
Experiments, like rooting the device or installing a custom ROM, are experiments which in some cases make your device bricked. This happens when you do these experiments in a wrong way. You should be very careful and should never make mistakes while doing such process. Many users see a bricked device as completely useless. But in reality, you can get back your bricked device by following some steps.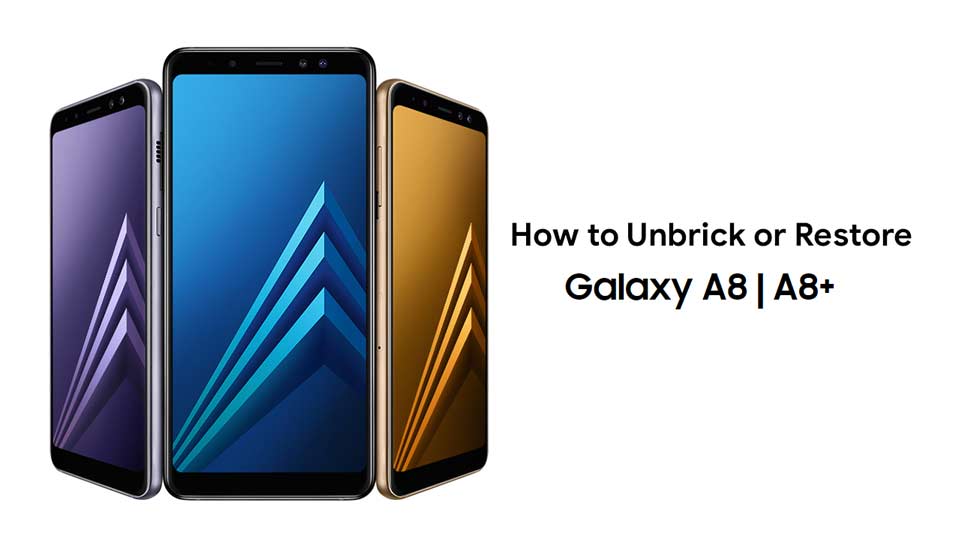 Identifying the kind of brick
There is two kind of brick your device can be on these are:
Both these bricks are different from each other. When hard brick happens to your Samsung Galaxy A8 or A8 plus your device won't even boot into recovery mode. The booting key combination won't work when your device got hard bricked. A hard brick is a result of some hardware failure caused while you are trying to root or install a custom ROM on your device. HArd brick happens rarely, and the only thing that can lead is the loss of power supply during the process. When a hard brick occurs it is recommended that you get Samsung approved technical assistance to fix the issue. Although there are ways like troubleshooting with a JTAG, this is not recommended unless you have core knowledge of electronics.
The soft brick is different from hard brick and will let you boot your device into recovery mode. Different conditions can occur when a device is on soft brick, like:
Frequent restarting of the device automatically
Unable to switch to the device
But in all cases, you can without any problem boot into recovery mode when your device is soft bricked. In this case, you can easily recover your device and unbrick it. The steps you should follow are given below.
Warning & Disclaimer

I would like to make it very clear that your Galaxy A8 and A8 Plus (2018) will no longer remain in its warranty period post following the guide mentioned in this post. We at Getdroidtips.com cannot be held responsible if anything goes wrong.
Perquisites
Charge your phone: Before you proceed with the below information, you are recommended to ensure that your Galaxy A8 and A8 Plus (2018) is at least 50% charged.
Take Device Backup: 1. Take Device Backup without Root | 2. Backup IMEI and NVRAM | 3. Create Nandroid Backup using TWRP Recovery (Skip if TWRP is not supported)
Install Latest Driver: Install the Latest Samsung USB Drivers and ODIN Tools on your PC.
Download: Download the below given required files on your PC.
Download Required Files:
The links for Odin zip file and Firmware file are given below. Simply download them and transfer another location on your PC and remember the same.
For Odin Zip file click below link
Download Latest ODIN Downloader
For Firmware Zip file click below link
Samsung Galaxy A8 and A8 Plus (2018) Stock Firmware Collections
In case you don't know how to use Odin and install a stock firmware. Check out the below video.
I would again like to remind you to remove the SD card to save the data stored on it in case you haven't. There might be a need for factory reset and thus doing this is recommended.
Steps to Unbrick or Restore Galaxy A8 and A8 Plus (2018) (2018):
Now simply extract the Odin Zip file on your PC.
Similarly, extract the Firmware Zip file on it.
Move the Firmware file at same location where you extracted Odin
Next is to make a double click on Odin which is an odin.exe file to open it.
After this, boot your device into download mode. For this, turn OFF the device and wait for 10 seconds. Press and hold Home, Power, and Volume Down buttons together until you see a warning message on the screen
You can now press Volume UP button to enter into the download mode.
After this, connect your device to PC. At the bottom left side, you will see an "Added" message on the Odin window.
In case "Added" message didn't appear, you can follow some basic tips and they are:

--------> Ensure the drivers have been installed properly

--------> Use a different USB cable/port

--------> Uninstall the driver and re-install them again

--------> Reboot your device and PC too and try once again.

Now simply load the firmware file into Odin. For this click on AP button that you will see on Odin. Select the file that ends with ".md5"
Next is to make sure that in "Option" section of the Odin, the box for re-partition is unchecked. Also, pay close attention to other boxes and uncheck all other boxes accept Auto Reboot.
Ensure all the above steps have been properly followed and especially the above two.
You can now click on the "start" button. This will start flashing stock firmware on your Galaxy A8 and A8 Plus (2018). Wait until "Pass" message appears in Odin's box at the top left.
Upon getting the same, you will see your device will automatically restart post which you can disconnect it from the PC.
That's all that you need to do to restore Galaxy A8 and A8 Plus (2018) you own.
In case "Fail" message appears instead of "Pass", or you stuck somewhere, disconnect your device from PC, close Odin and remove the battery of your Galaxy A8 and A8 Plus (2018). Put it back again and repeat the procedure. This will help you to keep up the pace simply.
Good Luck!