Android phones have always been the favorite devices for those people who wanted to do experiments with these devices. When manufacturers launched devices with higher hardware frameworks, the possibilities in experimentations with this devices also increased. But the high-end devices always cost a lot and common users cant reach out in owning them. Even if they own them the fear of damaging issue always stopped people from doing experiments with it. One affordable yet high in configuration devices from Samsung can be seen in the J lineup from the Korean manufacturer. The J series devices made a good move in the market with their affordable yet good performing devices. If you have anyhow bricked the Galaxy J7 Duo 2018 while experimenting things with it. Learn How to Unbrick or Restore Samsung Galaxy J7 Duo 2018 through this article.
Talking about the specifications, Samsung Galaxy J7 Duo features a 5.5 inches Super AMOLED display with a screen resolution of 720 x 1280 pixels. It is powered by 1.6 GHz Octa-core Exynos 7870 Octa clubbed by 4GB of RAM variant. The device is packed with 32GB of internal storage and also supports microSD, up to 256 GB. The camera on the Samsung Galaxy J7 Duo sports a dual 13MP rear camera and 8 MP front-facing camera for selfies. Under the hood, the device runs on Android 8.0 Oreo out of the box and backed by 3000 mAh battery. Other connectivity options are 4G VoLTE, 3G, WiFi, Bluetooth, GPS, Dual Sim, 3.5 mm headphone jack, and also USB Type C support.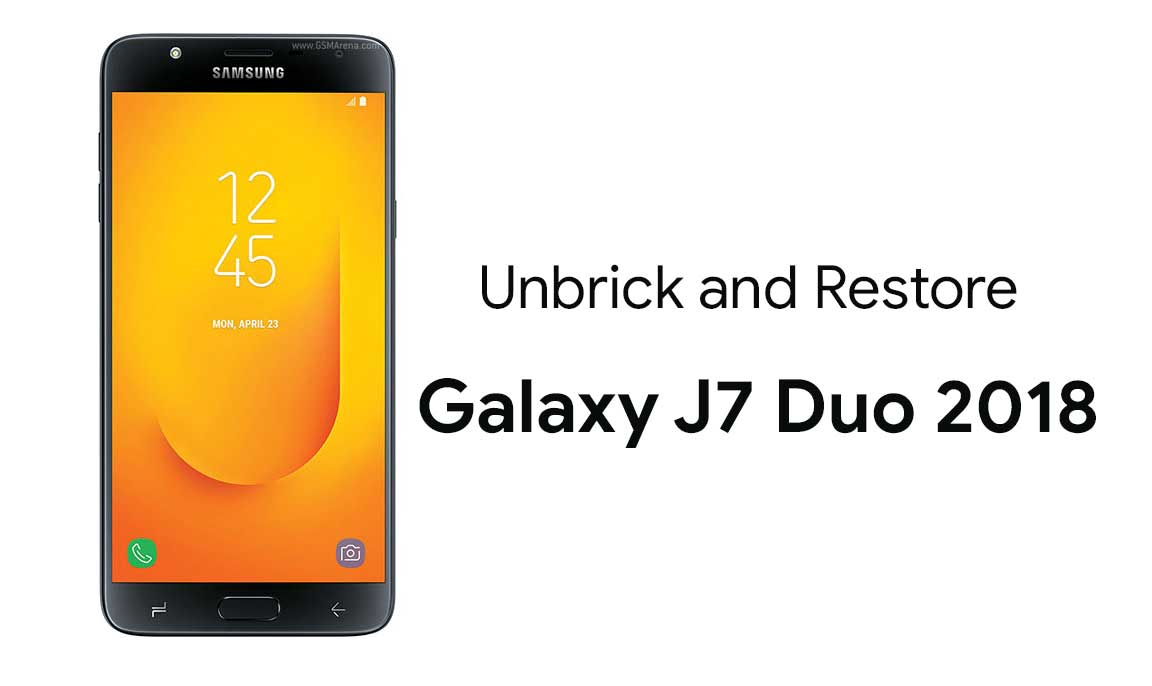 Devices that are bricked may be the nightmare for anyone who is performing experiments using their Android device. People have stopped from doing things like rooting or installing a custom ROM on their devices. However, these experiments have big potential in bringing the maximum out of a smartphone such as the Galaxy J7 Duo 2018. You should only fear that your device in case you did the steps in a way that is wrong, differently getting bricked, nothing is going to occur with your device. So the best option is to adhere to the procedure perfectly. If you've already done an error and bricked your apparatus, you have options. Read out how you can do this below.
Identify the type of brick
There can be two types of bricked device. Your device could either get hard bricked or soft bricked. The type of brick is based on the error occurred while you were rooting the device or installing a custom ROM on Galaxy J7 Duo 2018. The first step you should do is to identify the type of brick happened to your device.
Hard brick
Hard brick occurs when the power supply is gone out while performing a custom ROM installation, or while rooting the device. When this happens the hardware will be damaged and you can even access the boot menu of your device. In this case, you will have to get technical assistance from a certified Samsung professional around you.
Soft brick
Soft brick can be easily fixed by your self. You can access the boot menu easily when your device is soft bricked. So from the boot menu, you can easily get back to the device and unbrick it. you will encounter problems like unable to switch on the device, or frequent restarts.
In this case, you can easily recover your device and unbrick it. The steps you should follow are given below.
Warning & Disclaimer

I would like to make it very clear that your Galaxy J7 Duo 2018 will no longer remain in its warranty period post following the guide mentioned in this post. We at Getdroidtips.com cannot be held responsible if anything goes wrong.
Pre-requisites
Charge your phone: Before you proceed with the below information, you are recommended to ensure that your Galaxy J7 Duo 2018 is at least 50% charged.
Take Device Backup: 1. Take Device Backup without Root | 2. Backup IMEI and NVRAM | 3. Create Nandroid Backup using TWRP Recovery (Skip if TWRP is not supported)
Install Latest Driver: Install the Latest Samsung USB Drivers and ODIN Tools on your PC.
Download: Download the below given required files on your PC.
Download Required Files:
The links for Odin zip file and Firmware file are given below. Simply download them and transfer another location on your PC and remember the same.
For Odin Zip file click below link
Download Latest ODIN Downloader
For Firmware Zip file click below link
Samsung Galaxy J7 Duo 2018 Stock Firmware Collections
In case you don't know how to use Odin and install a stock firmware. Check out the below video.
I would again like to remind you to remove the SD card to save the data stored on it in case you haven't. There might be a need for factory reset and thus doing this is recommended.
Steps to Unbrick or Restore Samsung Galaxy J7 Duo 2018:
Now simply extract the Odin Zip file on your PC.
Similarly, extract the Firmware Zip file on it.
Move the Firmware file at the same location where you extracted Odin
Next is to make a double click on Odin which is an odin.exe file to open it.
After this, boot your device into download mode. For this, turn OFF the device and wait for 10 seconds. Press and hold Home, Power, and Volume Down buttons together until you see a warning message on the screen
You can now press Volume UP button to enter into the download mode.
After this, connect your device to PC. At the bottom left side, you will see an "Added" message on the Odin window.
In case "Added" message didn't appear, you can follow some basic tips and they are:

--------> Ensure the drivers have been installed properly

--------> Use a different USB cable/port

--------> Uninstall the driver and re-install them again

--------> Reboot your device and PC too and try once again.

Now simply load the firmware file into Odin. For this click on AP button that you will see on Odin. Select the file that ends with ".md5"
Next is to make sure that in "Option" section of the Odin, the box for re-partition is unchecked. Also, pay close attention to other boxes and uncheck all other boxes accept Auto Reboot.
Ensure all the above steps have been properly followed and especially the above two.
You can now click on the "start" button. This will start flashing stock firmware on your Galaxy J7 Duo 2018. Wait until "Pass" message appears in Odin's box at the top left.
Upon getting the same, you will see your device will automatically restart post which you can disconnect it from the PC.
That's all that you need to do to Restore Samsung Galaxy J7 Duo 2018 you own.
In case "Fail" message appears instead of "Pass", or you stuck somewhere, disconnect your device from PC, close Odin and remove the battery of your Galaxy J7 Duo 2018. Put it back again and repeat the procedure. This will help you to keep up the pace simply.
Good Luck!