Remakes and remastered versions of vintage games have been creating quite an impact in the market lately. One of these is the Resident Evil 3 remake, which has earned largely positive reviews from fans and critics for its dynamic, high-octane approach to the original vintage game that rocked gaming consoles as far back as 1999—meticulously crafted by Capcom. They have taken care to ensure its customers receive a truly engaging product worth their efforts, the Resident Evil 3 Remake is proving to be one of the most adrenaline-fueled roller coasters rides on PlayStation 4, Xbox One and Microsoft Windows.
In this era of a multitude of games appearing on shelves every week, the developers are required to provide something that keeps players hooked from the very start. And the Resident Evil remake just does that. With a thrilling campaign that starts with a bang to train the player into becoming a zombie-slaying tank by sharpening their skills. Although the game provides much more ammunition than its predecessor – Resident Evil 2 – you can't expect to take down every zombie without taking aid of bonus weapons and utilities. So this guide is all about unlocking bonus shop, earning points and specialised tools. Let's gets started.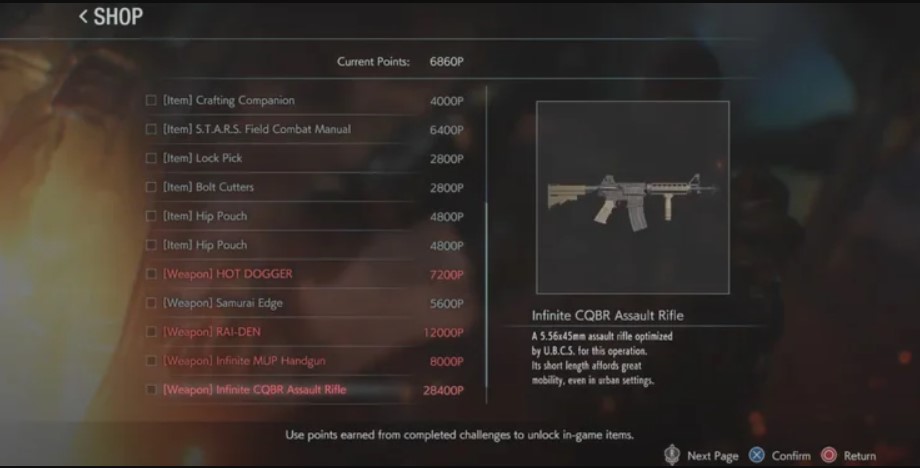 How to Unlock Bonus Shop Rewards?
One of the best things about this game is the plethora of goodies it allows you to earn even after the end credits have scrolled past. After finishing the initial campaign, you will be able to find the Bonus Shop unlocked in the Main Menu. This is where you can purchase all-new secret items and even cheat codes (now how cool is that, huh?) that can easily turn the tide of the game towards you. These items are essential if you wish to go through the campaign once again, and we're here with a brand new guide to help you with just that! Given below are tips to earn the bonuses as mentioned earlier, and essential details about them.
As mentioned earlier, you need Bonus Shop points to unlock cheat codes and bonus rewards in the Resident Evil 3 remake. They're not really hard to earn. But you will need a significant amount of them to purchase a lot of the things in the shop.  The good news is that you can come by these points in several different ways. Of course, the easiest and most convenient way is by slaying foes during the campaign. Though it's important to mention that killing enemies during your first gameplay can use up a lot of ammunition, especially if you have low accuracy, so be a bit wary with them. However, you needn't fret too much about this because you'll have plenty of chances to obtain points as you persistently progress through the game.
Another way to grab hefty quantities of points is by winning at challenges. You can find challenges in the Records list in the Main Menu. If you plan things out properly, you can obtain points to your full potential in your second shot at campaigning!
How to obtain Secret Weapons in Resident Evil 3?
After you've finished the main campaign, you can find several seriously destructive weapons offered to you. We can't stress enough that it's to your advantage to grab one of these toys as soon as possible, especially the ones which are on the comparatively inexpensive side, for it'll truly come in handy later – especially the infinite ammunition that most of these weapons possess. As mentioned before, you can obtain points by finishing challenges apart from taking down opponents. You can even obtain a unique achievement by collecting all of these bonus weapons, as described below:
Hot Dogger – 7200 Points
Samurai Edge – 5600 Points
MUP Pistol – 8000 Points
Rai-Den Pistol – 12000 Points
CQBR Assault Rifle – 28400 Points
Rocket Launcher – 62400 Points
Special Items And Tools in Resident Evil 3
Apart from bonus weapons, the game also features certain special items and tools that will prove to be quite helpful in your quest to reach campaign goals faster in your subsequent rounds. It's important to mention, though, that you cannot hope to obtain all of these bonus items without finishing the campaign at least twice. So don't sweat it if you're finding it hard. Just be patient and plan out what bonus items you wish to buy so that you can go through future campaigns without too much hassle.
Here are the items you have to consider:
Bolt Cutters – 2800 Points
Lockpick – 2800 Points
Recovery Coin – 4000 Points
Iron Defense Coin – 4000 Points
Assault Coin – 4000 Points
Crafting Companion – 4000 Points
A.R.S Combat Manual – 6400 Points
Hip Pouch – 4800 Points
Wrap-UP
This guide was to help the players of Resident Evil 3 Remake, who were finding it difficult to unlock the bonus shop. After following our guide, they will be able to do so easily. We hope this guide comes in handy to help you experience richer and even more exciting gameplay in your subsequent campaigns in the Resident Evil 3 remake. If you have any queries or feedback, feel free to comment down below with your Name and E-mail ID. Likewise, check out our iPhone Tips and Tricks, PC tips and tricks, and Android Tips and Tricks for more such tips and tricks. We urge you to participate in the $100 giveaway by subscribing to our YouTube Channel. Thank You.