Got a Lenovo Vibe P1/Turbo smartphone? Want to enjoy Latest Custom ROM? Then first thing is first. First, to break into the Android Ecosystem of Modding and Updating Custom OS, you need to Unlock Bootloader on Lenovo Vibe P1/Turbo. To break it, we will help you to Unlock Bootloader on Lenovo Vibe P1/Turbo with the simple step below.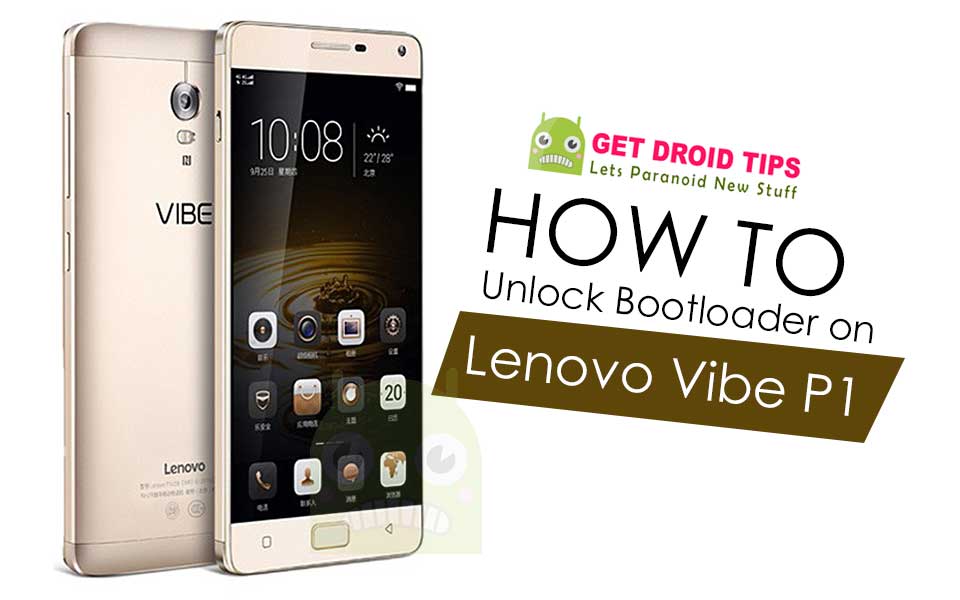 Remember: This guide is to Unlock Bootloader on Lenovo Vibe P1/Turbo Smartphone. If you unlock the bootloader you may void the warranty. By Unlocking Bootloader you can install TWRP, Flash Rooting Zip file or custom ROM on your phone. Read more about What is Bootloader unlocking below. Follow this guide on How to Unlock Bootloader on Lenovo Vibe P1/Turbo. Try this only on Lenovo Vibe P1/Turbo smartphone. This method to unlock bootloader on Lenovo Vibe P1/Turbo is simple to follow. But please do read the steps below carefully.
What is Unlock Bootloader ?
A Bootloader is a code that runs when we turn on our device. This code initializes some hardware and then loads the kernel and ramdisk, and gets the boot process going. So this process is known as Bootloader. The same concept applies to all the technical stuff such as Laptop, PC, Smartphones, and any such device. Every Android OEM manufacturers lock the bootloader even though it is Open Source. So if you want to try any CUSTOM ROM, it is impossible to load the CUSTOM ROM without the Unlock Bootloader. So Manufacturer made a policy of making the smartphone with an Unlocked Bootloader will void the warranty. They want you to stick with the Stock ROM. Unlock Bootloader allows you to Root your android smartphone, Flash TWRP, and Custom ROM in a simple easy method.
PRE-REQUISITE TO UNLOCK BOOTLOADER ON Lenovo Vibe P1/Turbo
Works on all Lenovo Vibe P1/Turbo including model XT 1686
Charge your phone up to 80% or 70%
You will Lose a warranty if you unlock the bootloader, So prepare for it.
Unlock Bootloader may wipe all your data, So make sure to Backup your Smartphone.
Make sure you have followed the steps properly. Don't Skip and Read ! – We are not responsible for any damage that you make to your phone.
What Do You need ?
STEPS TO UNLOCK BOOTLOADER ON Lenovo Vibe P1/Turbo
To unlock bootloader on Lenovo Vibe P1/Turbo, first, you need to flash Stock ROM with P1a42_S272_160506_ROW_QPST using QPST (If you have different ROM installed, then flash S272 (by selecting rawprogram0.xml) – Follow this method to flash stock ROM on Lenovo Vibe P1/Turbo.
After flashing the above S272 firmware, Now enable the Developer Option, To Enable the Developer Option, Go to your Settings -> About -> Software Information -> More -> Now Tap on the Build Number 7-8 Times until you see a toast message "Developer option enabled"
Go back to settings -> Now you need to enable the OEM Unlock by going to Settings -> Developer Option and Enable OEM Unlock and USB Debugging


Download and Extract the Downloaded ADB fastboot Zip file on your PC
Now connect your phone to Computer using USB Cable.
When you connect your Phone to Computer, please wait until all the drivers get installed.
In your ADB fastboot folder open a command prompt window by pressing Shift Key + Right Mouse Click
Now type the command in your command window

adb devices

If you see a pop up to allow USB Debugging on your phone, Click OK
Now type the command below to reboot your phone to bootloader

adb reboot bootloader

Once your phone reboot into bootloader, make sure your phone shows the bootloader locked and then type the command below to make sure fastboot drivers are installed properly.

fastboot devices

This command will list the connected devices. If your phone's serial number shows up you are good to go and may continue. If the phone is NOT listed this indicates that your drivers are not installed correctly. In order for you to continue you must fix your drivers so that your phone is listed under fastboot devices.
To check if your device is in locked or unlocked bootloader status, enter the command below

fastboot oem device-info

If it's in locked status, follow the command below

fastboot oem unlock-go

That's it ! Your device will be unlocked. hah! Have fun!
If you have any querries or doubts related to unlock bootloader on Lenovo Vibe P1/Turbo, Please leave a comment below. Thank you