Sea of Thieves is a refreshingly ambitious game that aims to lure players into a large, open-world multiplayer environment where you can attack by rival pirate ships, from the islands you are passing through or by skeleton Ships. The game is developed in-house by Microsoft Studios, and this is the reason behind it being exclusive to Microsoft Windows and Xbox One devices only. However, the gameplay is quite enticing and eye-pleasing. If you are new to this, you can somehow find it difficult but not for more than 2 hours since it is an addictive game.
Now talking about the gameplay, you get to see several items. And one of them is the Crew Tag. The crew tag has several benefits associated with it. Many users out there had a lot of doubts regarding the Crew tag, staring form "what is its use" to "how to turn it on." So after so many how-to guides on this Sea of Thieves, we again have this with us. If you are one of the users who have doubts about Crew tags, then you are in the right place. So let's gets started.
Why Do You Need Crew Tag?
When you play Sea of  Thieves, you have an option to show off your crew tag above your shipmates. When you are playing the game, then these crew status tag will tell you what the crewmates are doing from a faraway distance. This comes handy to know what they are doing when you are somewhere else. So many of our users did have a question in their mind, that how they can set crew tags, well you have your guide below.
How to unlock Crew Status Tag:
Turning on Crew Tags in Sea of Thieves is a cakewalk. All you need to do is open your options menu. Then in the option, tap on the gameplay settings. From here, go the gameplay options. Now, the Crew status Tag is the fourth option on the right side, and it is automatically in the off position. And when you toggle this to switch on. Then you should see what your crew members are doing any necessary action there.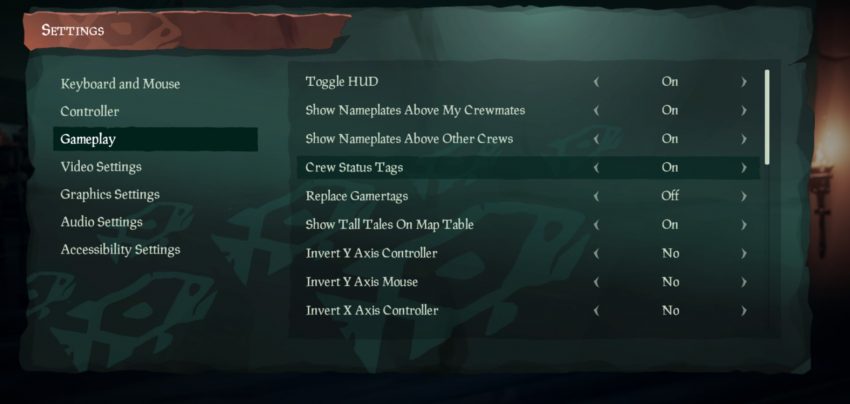 With the setting on, you need not be close to your crewmates, as you can see their name above their heads. It is easy to locate them while wandering the island or exploring the caves without having to worry about where the other one goes.
Wrap-UP
This guide was to help the players of Sea of Thieves using Crew Tags. After following our Guide, we hope all your problems have been resolved. If you have any queries or feedback, feel free to comment down below with your Name and E-mail ID. Likewise, check out our iPhone Tips and Tricks, PC tips and tricks, and Android Tips and Tricks for more such tips and tricks. We urge you to participate in the $100 giveaway by subscribing to our YouTube Channel. Thank You.