LeEco has started rolling the official Stock Android 6.0 Marshmallow for LeEco Le 1s and Le 1s Eco today. The Company tweeted and also officially announced the build to Download in the LeEco Forum for its member. Here i will give the download link and also will guide you on How to update Marshmallow on LeEco Le 1s and Le 1s Eco. Remember if you are from India then you can Wait for the OTA Update of Android 6.0 Marshmallow for LeEco Le 1s and Le 1s Eco. Download the Stock Marshmallow ROM for LeEco Le 1s and Le 1s Eco below. The update for the LeEco Le 1s and Le 1s Eco with Official Marshmallow wrapped under EUI 5.8.017S is rolled out to the region India starting today. The update will be anytime soon on your device. If you are still waiting and you haven't received the update, then here is our guide on How to Update Android 6.0 Marshmallow for LeEco Le 1s and Le 1s Eco Manually. Now you can download the STOCK ROM Marshmallow for LeEco Le 1s and Le 1s Eco here below. To install Stock ROM on your LeEco Le 1s and Le 1s Eco, you should be using previously upgraded to EUI 5.5.014S. If not Upgarded, please upgrade.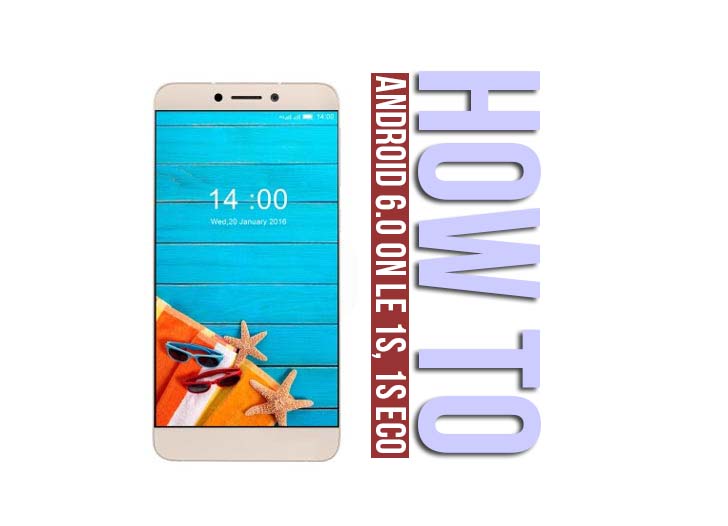 What is in Android 6.0 Marshmallow ?
Android 6.0 Marshmallow was another codename for the new version of Android after Google's Android 5.0 Lollipop. It was unveiled on Google I/O 2015. This is the eighth major version of the Android operating system. This has a huge incremental and feature on this update. IT brings you a feature which saves a lot of battery on your phone called Doze mode. This feature will keep your phone idle while you dont use the phone. Marshmallow primarily focuses on improving the overall user experience of Lollipop, and introduced unique features like Now On Tap, new permissions architecture, a new power management system, Native Fingerprint support, and other internal changes.
This is an Official LeEco Le 1s and Le 1s Eco Stock Marshmallow Firmware – EUI 5.8.017S – for India Region
Firmware – EUI 5.8.017S
EUI 5.8.017S
Region – India
Model – LeEco Le 1s, LeEco Le 1s Eco
OS : Android 6.0 Marshmallow
READ THIS CAUTION :
So before jump into the manual upgradation setup, please make sure you are running the stock firmware and also you have a good amount juice with at least 80% Charge. If not please charge the phone. Backup your phone in case if you need it later. If you brick the device we are not responsible. Do it at your own risk. Remember this guide is to update marshmallow on LeEco Le 1s, LeEco Le 1s Eco.
Pre-Requisite :
This Marshmallow ROM is Supported for LeEco Le 1s, LeEco Le 1s Eco.
You must be running EUI 5.5.014S to upgarde to Marshmallow EUI 5.8.017S
Your Phone should be fully Stock, if not Install the last version EUI 5.5.014S
Please back up all data in your phone to your PC or any other devices to prevent accidental data lost
Please make sure your phone has enough battery charge or is connected to a charger before upgrade.
It will take 15 minutes approximately to complete the upgrade. Please be patient during the process and do not power off your phone.
Follow Step 2 from Upgrade Guidelines to upgrade your phone to 14S.
After upgrading from Android 5.0 to Android 6.0, the system bottom code logic will change and reverting or downgrading to Android 5.0 will not be possible.
STEPS FOR HOW TO UPDATE MARSHMALLOW FOR LEECO LE 1S AND LE 1S ECO MANUALLY
[button color="red" size="22px" type="square" target="blank" link="http://forum.le.com/in/eui_detail.html?euiid=208″]DOWNLOAD ROM[/button]
First of all Download the Marshmallow ROM Package
Now move the package zip file to PC, Laptop or Mac Computer
In your PC, Laptop or Mac Computer, change the upgrade file name to update.zip (no capital letters) and place the zip file under the Root menu of the phone.
Connect your phone to computer and Move the update.zip file to your LeEco Le 1S or Le 1S Eco smartphone
Go to your phone and tap on System Update, then tap on the top-right button with the 3 vertical dots to see more options and tap on Local update to begin your upgrade.
Now Wait for few minutes until the phone upgarde completes. The device needs to reboot after the Upgrade is done.
Congryts, You have flashed Android 6.0 Stock firmware Marshmallow for LeEco Le 1s and Le 1s Eco.